Poland closes airspace to Russian defense minister's plane, demands 'non-military' flight status
Published time: 29 Aug, 2014 14:50
Edited time: 21 Aug, 2018 10:07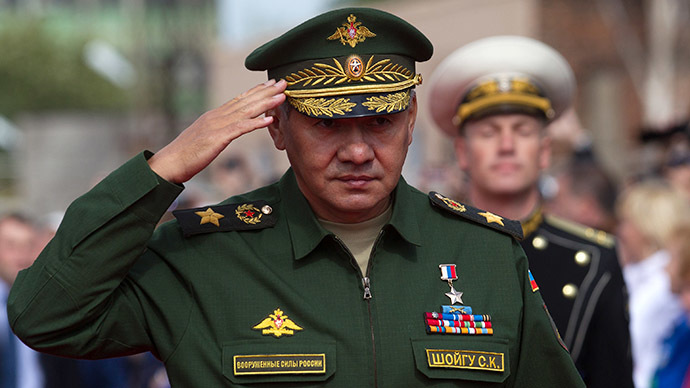 Poland has allowed the plane of Russian Defense Minister Sergey Shoygu to fly over its territory, after the plane changed its status from military to civilian. Earlier the country barred its airspace to the plane.
MORE:Moscow warns of reprisal over Poland's 'outrageous' airspace closure
The Russian defense minister's plane has left Bratislava's airport, according to the Slovak Interior Ministry, RIA Novosti news agency reported.
The plane has received permission to fly over Poland after "the pilot has already provided the plan of the civilian flight," the press secretary of the Armed Forces Operational Command (DORSZ) told the Itar-Tass news agency.
Poland stated that the flyover was refused due to the plane's changed status: it was changed from civil to military for unknown reasons, according to the spokesman for Poland's state air navigation services agency, PAZP, as cited by Reuters.
A military flyover can only take place if the aviation authorities are informed no later than 72 hours before the flight.
The Russian Defense Minister was returning from the celebrations of the 70th anniversary of the Slovakian national uprising that took place in the town of Banská Bystrica.
After Poland banned entrance into its airspace for the Tu-154 plane, it had to take a U-turn and landed in Bratislava an hour later.
A crewmember told RIA Novosti that the return route of the plane was the same as the outward one.
"There were no problems with flying over Poland this morning. It emerged in the evening, and without any explanation," he said.
Russia's Foreign Ministry has declared that Poland closing its airspace to Shoygu's plane is "a major violation of norms and ethics of the communication between states."
"In the context of the celebration in Slovakia, [it can be regarded as] a blasphemous move against the historical memory and services of those who saved Europe from fascism," First Deputy Foreign Minister Vladimir Titov told Interfax news agency.
The Polish Civil Aviation Authority believes that the flight of the Russian Defense Minister was not a civilian one, but a military one, so the body "has nothing to with the situation," the authority's press secretary said.
The Slovak Interior Ministry has said that Shoigu's plane landed in Bratislava after it was denied permission to fly over Poland and Ukraine, Reuters reported.
Ukraine has not confirmed that it barred entry to its airspace for the Russian Defense Minister's plane.
Meanwhile, during the celebrations Slovak premier Robert Fico said that Slovakia is set to oppose any new sanctions on Russia at a meeting of EU top officials which is scheduled for Saturday.
"Economic sanctions based on unverified data are ineffective and unfair," Fico said.
In May, a similar situation happened involving a plane carrying Russian politicians, including Deputy Prime Minister Dmitry Rogozin. The plane was forced to land in Chisinau, in Moldova, after both Ukraine and Romania closed their airspace to the Russian Rusjet Yak-42.