Russian scientists to set up lab in Guinea to fight Ebola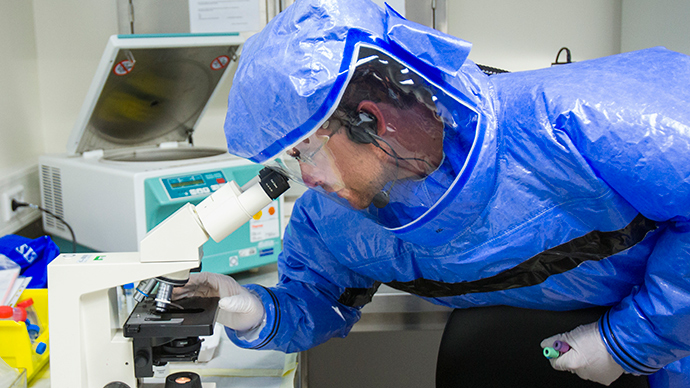 A team of Russian virologists, epidemiologists and bacteriologists is leaving for Africa to organize laboratory diagnosis of the Ebola virus in Guinea, where the outbreak of the deadly fever is spreading fast.
Russia's consumer watchdog Rospotrbnadzor is dispatching a mobile laboratory to Guinea to help contain the Ebola hemorrhagic fever virus in response to a direct request from Guinea's government.
The cargo jet to Guinea's capital Conakry leaves from Moscow's Ramenskoye airfield on Thursday evening.
The team includes several dozen Russian epidemiologists, virologists and bacteriologists from medical centers in Novosibirsk and Saratov. They will arrive in Guinea in about a week to operate the mobile laboratory, Aleksandr Semyonov, lab chief at the Pasteur Institute of Epidemiology and Microbiology in Saint-Petersburg, told the RIA news agency.
"We've agreed with Guinea authorities that our experts will launch a field laboratory to help with in vitro diagnostics to fight Ebola fever," Semyonov said, specifying that the installation will operate in a tent camp specially equipped with KAMAZ trucks.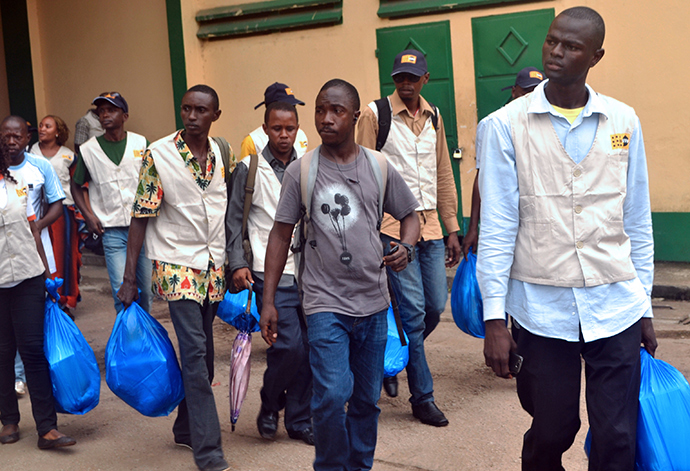 Russia already has a vaccine against Ebola that has proved to be successful, Semyonov revealed. "We'll see what will happen next," he added.
The latest Ebola epidemic has already claimed 1,229 lives, and 2,240 infected people remain quarantined in hospitals throughout Guinea, Liberia, Nigeria and Sierra-Leone.
There is no internationally recognized vaccine against Ebola fever, although pharmaceutical companies from Canada, Japan and the US have announced development of potential vaccines.
Russia's Vector State Research Center of Virology and Biotechnology based in Koltsovo, in the Novosibirsk region, developed Reaferon-Lipint several years ago. This vaccine proved effective in dealing with Ebola virus during laboratory tests. Now it is hoped it can be brought to Guinea to save the lives of those infected with the deadly virus.
Meanwhile, the World Health Organization does not expect a reliable vaccine against Ebola fever to be developed before 2015.
Dr Chan in @NEJM: In the #Ebola-affected countries, only 1-2 doctors are available for every 100,000 people - concentrated in urban areas

— WHO (@WHO) August 21, 2014
Although several countries say they have developed a vaccine against Ebola virus, infected people outnumber supplies of vaccine available worldwide, argued British epidemiologist Oliver Bradyin in his article for The Nature.
There are four categories of people that should be treated with anti-Ebola vaccines:
1) those infected with Ebola and those who have physical contact with them, i.e. their relatives
2) medical personnel treating the Ebola patients
3) personnel of the Ebola quarantine centers and locals from the Ebola-affected areas
4) people that could carry Ebola virus outside Africa
At a rough estimate, epidemiologists will need at least 30,000 Ebola vaccine doses to curb the epidemic at its current level, which is far more than all the anti-Ebola vaccines doses available at the moment.
Although Russia's cold climate couldn't be a barrier for the Ebola virus, there wouldn't be a serious epidemic because Russia has strict medical procedures (inherited from the USSR) that prevent outbreaks of contagious diseases. The country is also expert at diagnostic procedures against viruses.
#INFOGRAPHIC 1,229 people have now been killed by the Ebola virus, according to WHO data pic.twitter.com/O1tXU9S8j8

— Agence France-Presse (@AFP) August 20, 2014
To date there have been two Ebola virus fatalities in Russia, but both were medical personnel who violated the terms and conditions of dealing with dangerous organisms during experiments in medical centers, Russia's Gazeta media outlet reported.
All previous outbreaks of the deadly virus have been registered in the tropical forests of Central and Western Africa. The infection is spread through direct contact with blood, body fluids and tissue of infected humans and animals.
You can share this story on social media: