Aussie MP brands Chinese 'bastards,' attracts Beijing's wrath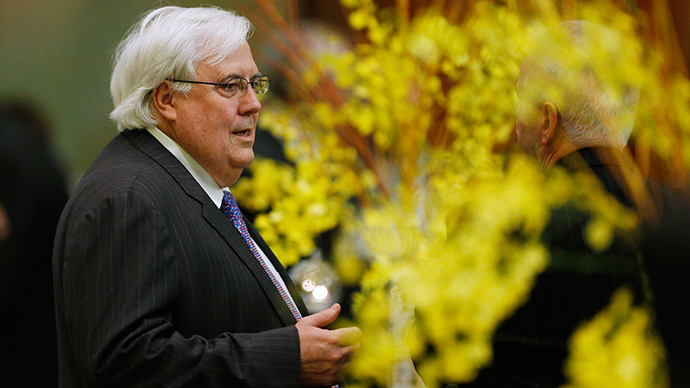 Australian MP Clive Palmer referred to the Chinese people as "mongrels" who "shoot their own people." One government-owned newspaper said the comments exposes Australia's "unfriendly attitude toward China" and should be punished.
Palmer, a billionaire mining magnate with his own political party, the Palmer United Party (PUP), unleashed his barrage of undiplomatic comments during a live interview on the Australian Broadcasting Corporation's Q&A program on Monday night.

"We've had three judgments in the Federal Court and the Supreme Court of Western Australia and an arbitration against these Chinese mongrels," said Palmer, whose Mineralogy mining company is currently embroiled in a legal showdown with Chinese-owned Citic Pacific Mining.
Palmer loses latest round in legal stoush with Chinese giant CITIC - ABC Online: Sky News AustraliaPalmer lose... http://t.co/GUju0UW3NE

— news (@newest11news) August 20, 2014

The Aussie tycoon went on to say that the Chinese were "communist, they shoot their own people, they haven't got a justice system and they want to take over this country. And we're not going to let them."

He added that the Chinese government members were "bastards."

China's state-owned Global Times newspaper jumped into the fray with an editorial that demanded that not only Palmer be punished, but the Australian government as well.

"China cannot let him off, or show petty kindness just because the Australian government has condemned him," the paper said in its Chinese and English editions.

"China must let those prancing provocateurs know how much of a price they pay when they deliberately rile us," it added.

The paper also advised placing sanctions on Palmer's Chinese companies and banning him and his executives from entering the country.

The Chinese embassy in Australia called the comments "absurd and irresponsible" and issued a clarification on the relationship between the countries.

"We believe that a sound China-Australian relationship serves the fundamental interests of both countries. It is and always will be supported by the two peoples," it said, the Guardian reported.

Australian officials were quick to respond to Palmer's remarks.

Australia's Foreign Minister Julie Bishop called the comments "offensive, unnecessary and unacceptable for a member of parliament to make." Palmer should have refrained from displaying business "bitterness" in public, she added.

Bishop said she would contact the Chinese embassy to emphasize that the Australian government does not share Palmer's "abusive" views.

Meanwhile, Palmer has attempted to explain his remarks, saying he has been a "major supporter of the Chinese" over the years, before launching into yet another lecture that will certainly not ingratiate him to Chinese officials.
My #qanda comments not intended to refer to Chinese people but to Chinese company which is taking Australian resources & not paying #auspol

— Clive Palmer (@CliveFPalmer) August 18, 2014
"What is unacceptable is a Chinese state-owned enterprise that abuses the legal system for commercial gain in a global strategic effort to control resources," Palmer said.

Bilateral annual trade between China and Australia is nearly $150 billion, amounting to more than 20 percent of Australia's overall trade.
You can share this story on social media: