Siberian elders vote to bury 2,500yo mummy to stop quakes, floods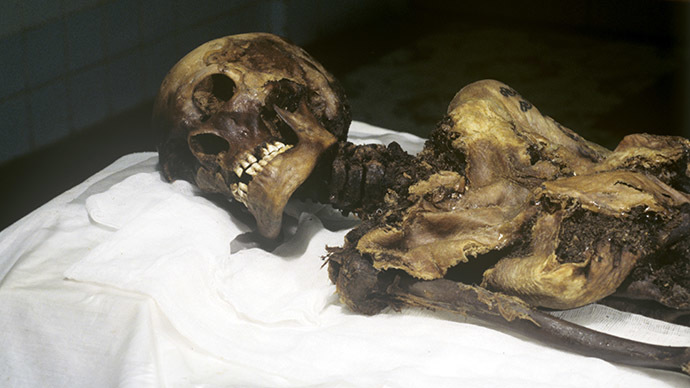 A council of elders in Russia's Altay Region voted to bury the mummy of a woman who lived in the region in the 5th century BC. Altay locals believe that her excavation from her tomb back in 1993 angered her spirit and causes natural disasters.
The mummy, dubbed the Siberian Ice Maiden in English-language sources and the Princess of Ukok, the Altay Princess or Ochi-Bala domestically, was unearthed from a subterranean tomb at the Ukok Plateau, close to borders with Kazakhstan, China and Mongolia. The remains have spent most of the time thereafter at a research facility in Novosibirsk, as scientists conducted facial reconstruction, DNA tests and other research projects on the Maiden.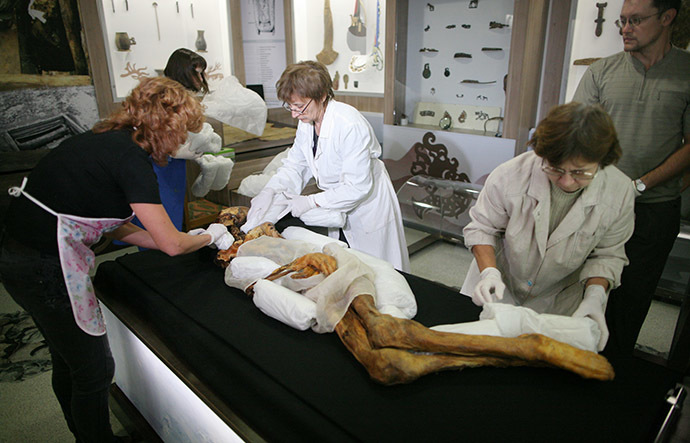 But in 2012, the unique specimen was returned to the Altay Region to be placed at a special mausoleum at a local national museum. Many people in Altay believe that the remains to belong to a legendary ancestor and a powerful princess.
Some even say that her tomb was placed to keep a gate to the underworld closed and that the absence of the guardian has led to natural disasters in Altay, including the 2003 earthquake and this year's record floods.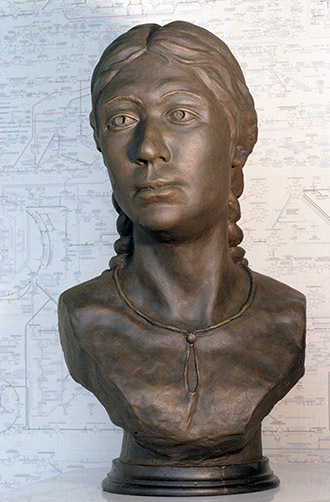 The council of elders, which includes elders of major Altay clans and spiritual leaders, voted Monday to have the Ice Maiden buried again. The decision comes after years of campaigning by activists, who believe that the relic's proper place is in its original tomb.
"The council of elders has taken its decision, so the mummy of the revered woman will finally be buried," said councilman Akay Kine.
The planned burial however may not prove to be simple. For starters, local legislation would have to be changed to allow the archeological find to be treated as simple human remains. Regional authorities reportedly are not going to oppose this.
The scientists may not be thrilled to lose the remains, considering that new research techniques may allow them get new scientific data in the future. Latest checks on the mummy in 2011 showed that it is well preserved and shows no sign of deterioration.
And proponents of the burial are yet to agree on a ceremony which would satisfy their mystically-minded supporters.
Ironically, DNA tests on the Ice Maiden, and other remains of people who belonged to the nomadic Pazyryk culture that inhabited the Ukok Plateau, proved that she cannot be an ancestor of the people living in the Altay Region now. The Pazyryk are genetically closest to Siberian Ket and Selkup peoples, but are further from the Altay people than from, for example, Germans, Basques or Russians.
You can share this story on social media: