​Assange not planning to leave Ecuadorian embassy now, contrary to reports – lawyer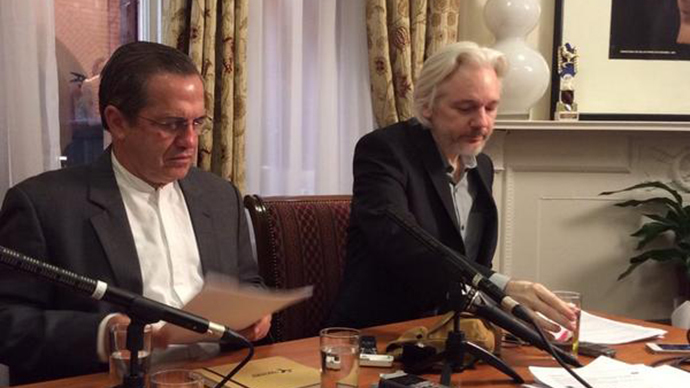 Julian Assange's lawyer Kristinn Hrafnsson has denied widespread rumors that the Wikileaks creator is planning to leave the Ecuadorian Embassy in London, where he has been holed up for the past two years, despite a serious heart condition.
The initial information was circulated by Sky News, which suggested the fugitive leaker was to spell out his next move following a public exit, while being in dire need of hospital treatment for a number of medical reasons.
Hrafnsson has told RT that it's no secret Assange would love a chance to see the outside world again, but strongly denied Sky's reports, saying that despite his wishes, the leaker has not made plans for an official announcement of a departure from the embassy in the immediate future.
READ MORE: Assange's health could drastically worsen in embassy – lawyer
RT's Polly Boiko spoke to a Wikileaks spokesperson, who also denied the rumors as entirely false, although much commotion could be seen happening around the embassy earlier.
Ecuadorian Foreign Minister Ricardo Patiño enters the embassy. Says nothing. #assange@lbc

— Tom Swarbrick (@TomsonSwarb) 18 августа 2014
Police are stationed around the clock at the London compound, ready to arrest the Wikileaks founder if he sets foot outside.
You can share this story on social media: