Israeli military restarts Gaza offensive as peace talks stall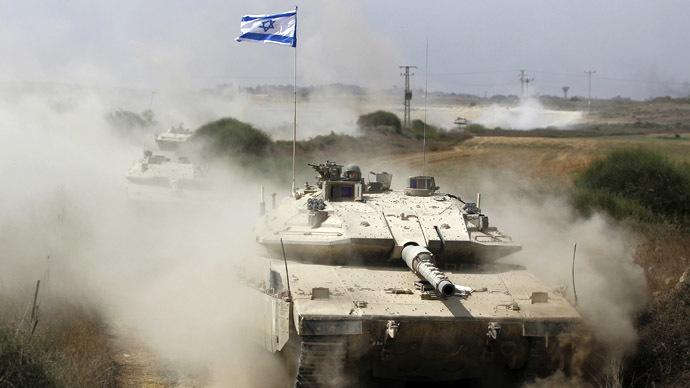 Blasts are rocking Gaza, smoke is rising over the city, apparently from an Israeli air strike, Reuters reports. This comes after Israeli authorities ordered military to respond to "at least 18 rockets from Gaza" by attacking "terror sites," the army said.
"The renewed rocket attacks by terrorists at Israel are unacceptable, intolerable and shortsighted. Hamas' bad decision to breach the ceasefire will be pursued by the IDF (Israel Defence Forces), we will continue to strike Hamas, its infrastructure, its operatives and restore security for the State of Israel," Lieutenant-Colonel Peter Lerner, an Israeli military spokesman said in a statement.
The first Palestinian fatality – a boy, according to Al-Arabiya – has reportedly lost his life in the Israeli strikes. Six other people have been wounded.
Among the rockets allegedly fired by Gaza, one was intercepted by the Iron Dome system over the southern Israeli city of Ashkelon. Two more rockets fell in open areas without causing casualties or damage, Haaretz reported.
In response to the renewal of rocket fire by Gaza terrorists at Israel, we are striking terror sites in Gaza.

— IDF (@IDFSpokesperson) August 8, 2014
The Israel military stated that it responded to the initial attacks by firing "across Gaza." Palestinian sources reported IDF artillery fire on the north and east of the strip.
According to Gaza police, an airstrike by the Israeli forces targeted a housing project in the north, and that casualties were reported there.
Another attack hit a farm to the south of Gaza city, they said, as quoted by AP.
Strikes followed from Israeli tanks to the north of Gaza, and from gunboats in the territory's central area.
No casualties have been reported yet.
The exchange of fire comes after Hamas stated it wouldn't extend the 72-hour truce beyond 5am on Friday.
Peace deal negotiations stalled, and a delegate told Reuters that the talks had been "difficult," without "reaching a final result."