Ukraine eyes singer blacklist after nationalists disrupt concert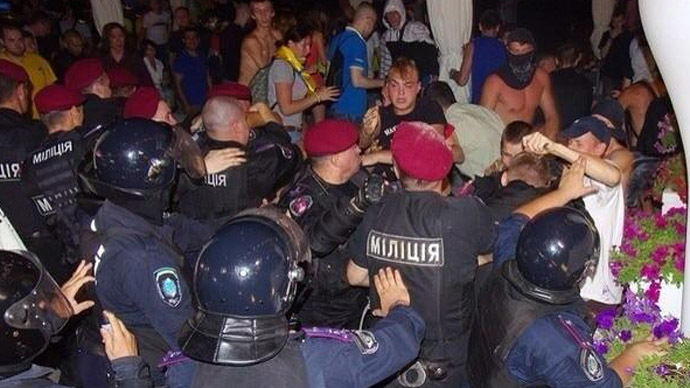 Kiev may ban 'pro-Russian' singers from performing in Ukraine after scuffles in Odessa, where dozens of nationalist activists tried to disrupt a concert by Ukraine's contender for Eurovision 2008, who they deemed not patriotic enough.
Ani Lorak was due to perform in Odessa nightclub 'Ibiza' on Sunday. But local activists from 'Euromaidan', a group declaring Ukraine's integration with the EU as its primary goal, banded together with the nationalist party Svoboda and radicals from the right-wing Right Sector to derail the event. Ukrainian nationalists have been targeting Lorak since May, when she traveled to Moscow to receive two music awards, which was deemed traitorous by some people back home.
The tension has been building up for days ahead of the concert, with the protesters finding support from high in the Ukrainian government. Culture Minister Evgeny Nishchuk said boycotting performances by Lorak "and the likes of her" is "a good and necessary deed."
MT @euromaidan Clash in #Odesa between police&protesters outside resort where Ani #Lorak was set to perform.11injured pic.twitter.com/LKI1nRRWGn

— Euromaidan Press (@EuromaidanPress) August 3, 2014
The club management tried to defuse the confrontation. One of the Odessa Euromaidan leaders, Mark Gordienko, announced that the activists would not stage any protest at the event in exchange for material compensation.
"A pretty good sum will be transferred to the governor's foundation and 50 percent of Lorak's performance fee will go there as well," he said as cited by the local media, adding that the money would go to fund Kiev's military campaign in the east of the country.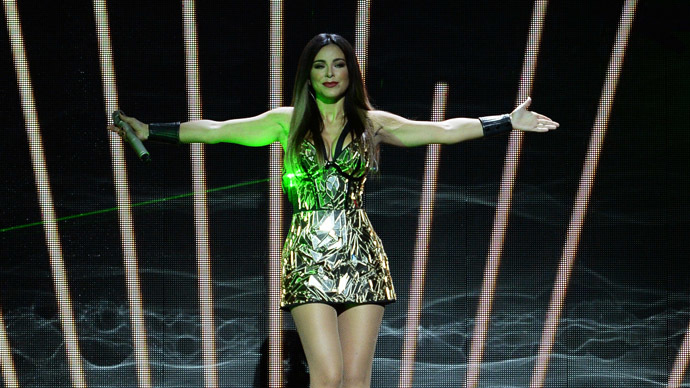 The deal however failed, and on Sunday night about 200 protesters, some of them armed with bats and wearing body armor, showed up in front of the club to confront the guards and police officers surrounding it.
Ani Lorak concert, this evening in #Odessa. Pravy Sektor and Svoboda thugs were there too.... pic.twitter.com/aRmC8Oun2T

— Olivier Fehr (ر) (@ofehr_en) August 3, 2014
The stand-off went violent on several occasions as the protesters tried to force their way into the club. One police officer was taken to hospital after being hit with a metal pipe on the head. One of the protesters was reportedly injured as well, while three were arrested.
The anti-Lorak club eventually withdrew, egging a local police station on their way. There are calls on the social networks for activists to gather again on Monday evening with Molotov cocktails and tires to revenge police interference with the protest.
Lorak's concert had to be postponed by about two hours due to the protest, but eventually took place.
В Одессе националисты попытались сорвать концерт Ани Лорак http://t.co/gV0Phb33REpic.twitter.com/UJLSd9GsQ3

— Первый канал (@channelone_rus) August 4, 2014
Commenting on the clashes in Odessa on Monday, Anton Gerashchenko, an aide to Interior Minister Arsen Avakov, said the ministry is preparing a blacklist of some 500 Russian performers, who would be banned from entering Ukraine for "supporting the annexation of Crimea and the partitioning of Ukraine".
He added he didn't believe that "Lorak's guilt is serious enough to prevent her from performing in Ukraine," because she hadn't made any public comments on the Ukrainian crisis.
"She only went for some sort of music award. We shouldn't execute her for that," Gerashchenko wrote on his Facebook page.
Можно подумать, Лорак убивать пришла #Одесса. Ей пришли сказать ГАНЬБА! Но мусора добились своего, кровь, мясо,аресты pic.twitter.com/PkYO1us6qB

— Новости Украины (@Dbnmjr) August 3, 2014
Lorak is just one of several Ukrainian performers, who drew criticism from Ukrainian nationalists for touring Russia. The nationalists say earning money there is unpatriotic for Ukrainians.
The Ukrainian singer, who holds Ukraine's most prestigious honorary performer title, People's Artist of Ukraine, and also served as a UN Goodwill Ambassador, is best known for her participation in the Eurovision Song Contest in 2008. She took the second place at the event, losing to Russia's Dima Bilan.
You can share this story on social media: