US citizen detained in North Korea after leaving Bible in bathroom
Published time: 2 Aug, 2014 13:55
Edited time: 4 Aug, 2014 12:08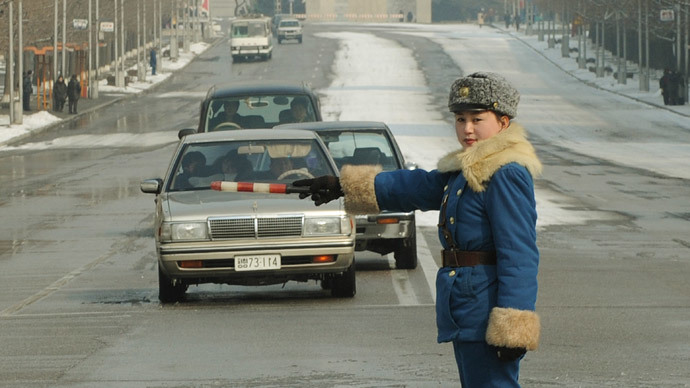 US tourist Jeffrey Fowle was arrested by North Korean authorities for leaving a Bible in a nightclub bathroom in the industrial city of Chonjin. North Korea now has three Americans in custody.
Fowle, 56, is suspected of deliberately leaving a bilingual English-Korean bible in the toilet at the Chongjin Seamen's Club – a gathering place for visiting mariners that serves local dishes – just before departing with his traveling companions, AP and Reuters reported.
N.Korea sentences American to 15 years hard labor

To make the police's work easier, the Holy Book reportedly contained Fowle's name and phone number, as well as photos of himself and his family. The American was arrested three days after the incident on May 7, as he was preparing to board a flight at Pyongyang's Sunan Airport.

Fowle, who is employed as a municipal worker in Ohio, has a wife and three children.

In an effort to explain his actions, Fowle said the Bible had "fallen out of his pocket" when using the squat toilet – a type of toilet traditionally found in eastern countries that has no seat. However, the book was too large to be pocket-sized, the source said.

When travel guides asked the group if anyone had left anything at the club, Fowle admitted it was him, saying he "must have dropped it."

The other Americans currently detained in North Korea are Kenneth Bae, a Christian missionary of Korean-American origin, and tourist Matthew Miller.

Bae was arrested in November 2012 and sentenced to 15 years in a labor camp.

Miller, 24, was arrested in April on charges, the exact nature of which still remains unclear. North Korean officials said Miller entered the country with a tourist visa, but ripped it up upon his arrival, saying he wanted to apply for political asylum.

"I expect soon I will be going on trial for my crime and be sent to prison," Miller said. "I have been requesting help from the American government, but have received no reply."
1/2 Still unsure why #JeffreyFowle did it. People in the Seamen's Bar were among the kindest I met in #NorthKorea. I owe them my life.

— Ben Mack (@benaroundearth) August 2, 2014
In their first appearance since being detained more than three months ago, Miller and Fowle told a AP Television News crew in Pyongyang that "they are in good health and are being treated well," with officials allowing them to take daily walks. The brief meeting with the detained Americans was conducted under the condition that the location must not be made public.

Fowle said he fears his situation will worsen once the trial begins.

"The horizon for me is pretty dark," he said. "I don't know what the worst-case scenario would be, but I need help to extricate myself from this situation. I ask the government for help in that regards."

AP, which was permitted to ask the pair questions, said it was not clear whether they were speaking on their own initiative, or if their commenTim Wall