Twitter account info requests surge 46%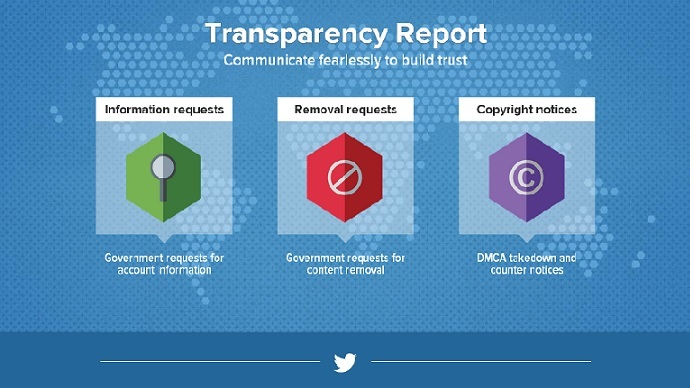 The number of requests for account information Twitter received from countries around the world has increased by 46 percent in the first half of 2014, the social networking site revealed in its fifth transparency report.
Between January and June this year Twitter received 2,058 requests overall from a total of 58 different countries including from eight countries who had previously never lodged requests before.
The US was in first position with 1,257 requests, 72 percent of which resulted in information being handed over. In number two position was Japan with 192 requests, of which just 36 percent were complied with.
There were also 432 demands to remove content – a stunning 620 percent rise when compared to the first half of 2013. Turkey, which periodically banned Twitter over the last year, submitted 186 new requests in 2014. France, which made Twitter remove a flood of anti-Semitic tweets back in 2012, made 108 new requests. Russia came in third with 32 requests, while the US made 31 requests for data to be removed.
There was also an increase of the number of DMCA copyright requests by 27 percent. Of the 9,069 requests 76 percent were taken down. The requests affected nearly 10,000 accounts, resulting in 30,000 tweets and 15,000 photos and videos being removed, which also included Vine accounts.
Twitter also announced that it wants to be allowed to make public the number of requests it receives from official government agencies, such as the NSA.
The site wants to be allowed to publish information that "will be more meaningful to Twitter users, and more in line with the relatively small number of non-national security information requests we receive."
Twitter also requested to be able to tell the public when it gets zero requests, but as of Thursday, there they had received no response from the US Department of Justice.
"At this point, over 90 days have passed, and we still have not received a reply. Therefore, we are weighing our legal options to provide more transparency to our users," the company said.