Australian police issue arrest warrants for citizens fighting in Syria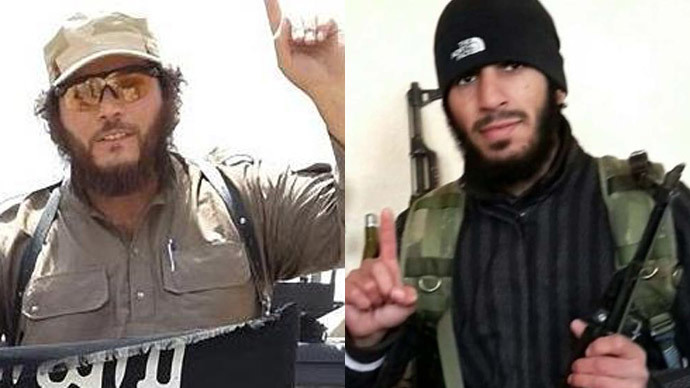 Australia's Federal Police have issued arrest warrants for two of the country's citizens fighting as jihadists against government troops in Syria. The two were photographed holding decapitated heads of Syrian soldiers.
Khaled Sharrouf and Mohamed El-Omar, Australian citizens of Arab descent, are now wanted back home on terrorism charges, the Australian Broadcasting Corporation reported Tuesday.
"As soon as they set foot on Australian soil, they will be taken into custody," Australian Federal Police counter-terrorism chief Neil Gaughan told ABC in an interview.
The photograph of Sharrouf and El-Omar was published last week in a Twitter account of the al Qaeda-linked offshoot Islamic State. The pictures depicted the heads of five soldiers from the Syrian Army's 17th Division murdered by jihadists in Syria's Raqqa province. Late last week pictures of El-Omar holding severed heads were published in a Twitter account allegedly belonging to Sharrouf.
Mohamed Elomar llegó de Australia y se unió a uno de los grupos terroristas más sanguinarios de Medio Oriente: pic.twitter.com/9fEA6IXiIR

— Corcho Jorge MatiasΨ (@corcho1316) July 25, 2014
Sydney-based Sharrouf and El-Omar left traveled to Syria late last year, ABC reported, where they joined Al Qaeda-linked Islamists forces fighting the Syrian government troops. Reportedly, they took part in fighting in both Syria and Iraq as members of the Islamic State, also known as ISIS/ISIL
Mohamed El-Omar is a nephew of one of Australia's most well-known terrorists, The Australian reported in May.
Five years ago a man with a similar name, Mohamed Ali El-Omar, along with five other perpetrators, was tried and jailed as a result of Australia's longest running terrorist trial in 2007-09. The defendants were accused of conspiring to commit acts of terrorism on Australian soil in the so-called Pendennis plot between July 2004 and November 2005.
The six men were purchasing guns, explosives and chemicals to carry out a violent attack. El-Omar, a butcher by trade, was sentenced to a maximum term of 28 years in prison.
Aussie jihadi "Khaled Sharrouf" is fighting for the Islamic State in Syria and boasts about it on twitter. pic.twitter.com/t4RAkueC6j

— American Jihad Watch (@Watcherone) July 26, 2014
The Australian government has become increasingly concerned about evidence that the country's citizens are actively participating in terrorist activities in the Middle East. Earlier this month a suicide bomber who killed five people in the Iraqi capital, Baghdad, was allegedly recognized as 18-year-old Australian citizen Adam Dahman.
"The Australian government came out very strongly on Friday criticizing the type of behavior that those two gentlemen are allegedly involved in, [saying] that they should not set foot back in Australia," Gaughan told ABC. "If they do, we can assure the Australian community that we have first instance warrants for their arrest."
Fears of Australian jihadists returning home are being used by the Australian government to adopt new, more severe intelligence legislation.
Just last week, Australia's Attorney General, George Brandis, said the authorities were monitoring the activities of Australian citizens believed to have fought overseas – while they are abroad and when they return home.
"There is evidence that they are trained in terrorist tradecraft to perform acts of domestic terrorism in the event that they return either to their home countries or go elsewhere after they have been in theater," Brandis told ABC. "So that is a new and very alarming development."
Brandis added: "No Australian should ever think is that this is a problem that exists on the other side of the world."
"Because while it may take shape on the other side of the world, the number of Australians who are participating in this war fighting in Syria and Iraq shows that this is a problem that exists and germinates within our suburbs, within the suburbs of Sydney and Melbourne and Brisbane," Brandis said.
You can share this story on social media: