Warships parade across Russia on Navy Day (PHOTOS, VIDEO)
People across Russia gathered for Navy Day festivities on Sunday, showing their support to naval soldiers. Ships, submarines, aircraft, troops, and even robots were paraded at harbors in Vladivostok, Sevoromorsk, St. Petersburg, and Sevastopol.
Navy Day, which commemorates the victories of Russian sailors, is celebrated each year on the last Sunday in July.

The Pacific Fleet's large landing ship, Nikolay Vilkov, appeared before the crowd in Vladivostok. Also present were the large anti-submarine ship Marshal Shaposhnikov, fleet destroyer Bystry, and the parade's flagship – guard missile cruiser Varyag. Alagez, a unique ship designed to rescue submarine crews, also took part in the festivities.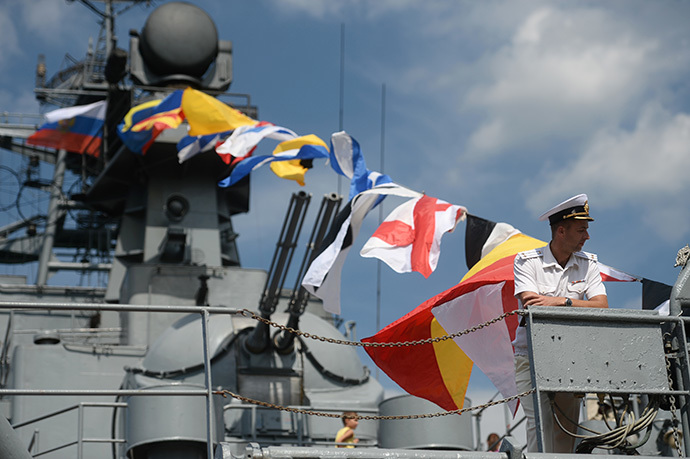 The naval aviation and deep-sea manned rescue vessel AS-30 also debuted at the Vladivostok parade this year.

A Platforma-M robot was also used to simulate a fight with saboteurs. A Navy helicopter was tasked with finding the "enemy" with an acoustic power station, accomplishing the mission in five minutes.

One of the surprises of the show was a waltz performed by tugboats, with the vessels spinning to a tune performed by the Pacific Fleet's orchestra. Amphibious APCs which descended from the Peresvet landing vessel and made it all the way to shore left the crowd impressed.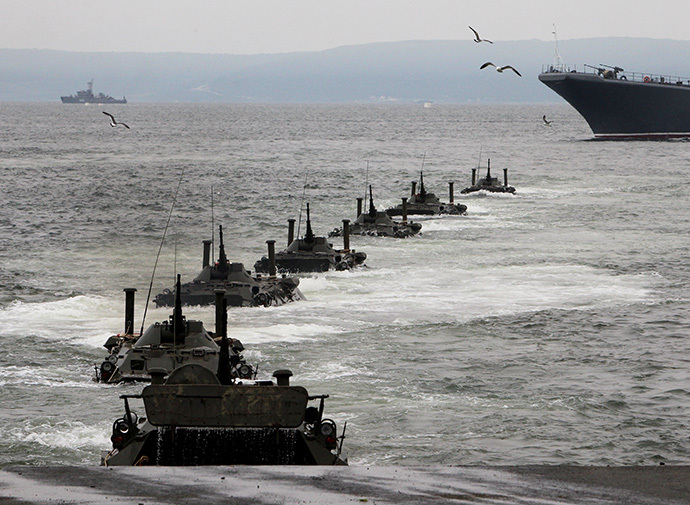 The celebration in Vladivostok concluded with a fireworks display, which was seen from almost everywhere in the city.
Putin arrives in Severomorsk, promises more ships
Russia President Vladimir Putin went to the northern city of Severomorsk aboard the heavy aircraft-carrying cruiser Admiral Kuznetsov. There, he congratulated military sailors and pledged more investment into the Navy.

"The might and glory of our fleet will only increase. Its defenses readiness and mobility will be boosted; its material and technical base will be strengthened; its coastal infrastructure will be modernized. New ships will be built," Putin said.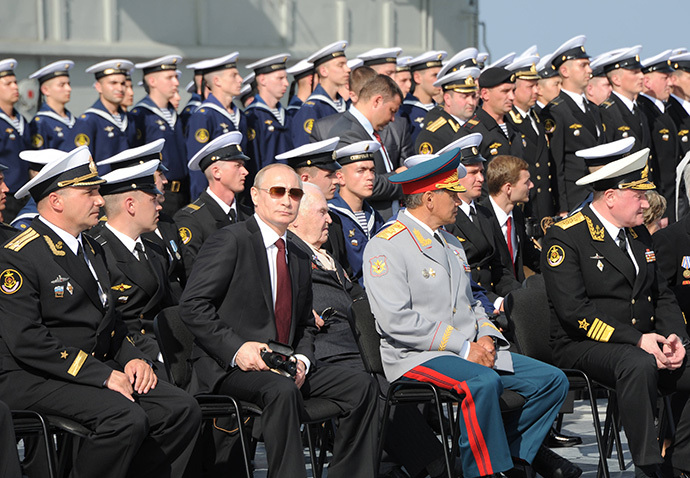 The Navy performed 43 expeditions this year, which were aimed at protecting Russia maritime interests and countering piracy, the president said.

Twenty-six new warships have been built in the country, seven of which have already been passed to naval forces, he said. The construction of 60 military vessels is currently underway at shipyards across Russia, he added.

In his speech, Putin paid special attention to the Black Sea Fleet. Moscow acquired its main base in March, following the Republic of Crimea and Sevastopol's accession to Russia.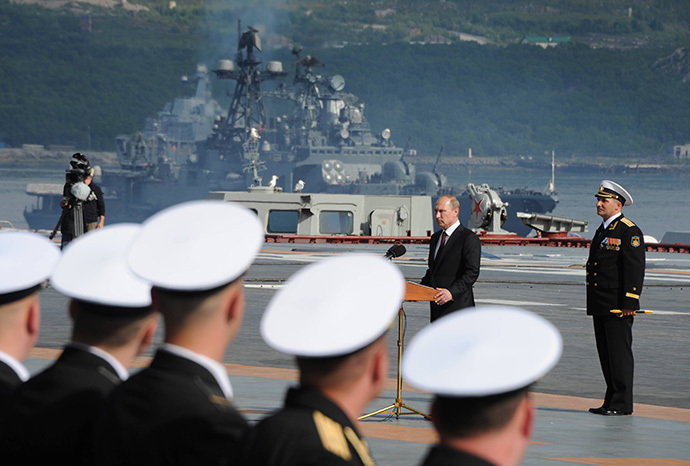 "Strengthen the combat power of the Black Sea Fleet is, of course, among our priorities. We'll modernize its vessels and create a modern military and social infrastructure," he promised.
Sevastopol celebrates first Navy Day as Russian city
Sevastopol also marked Navy Day with a sea parade, which was attended by thousands of new Russian citizens.

This year's parade was especially spectacular, as a ban on the use of aviation and missile firing was removed.

Eighteen ships and boats, 28 aircrafts and helicopters, 10 support vessels, and 19 units of coastal forces took part in the display.

"The Black Sea Fleet has been and always will be playing the most important role in insuring stability in the region. The toughness and self-possession of our sailors allowed the Crimea to reunite with Russia while maintaining peace at the peninsula," Admiral Aleksandr Vitko, a Black Sea Fleet commander, said.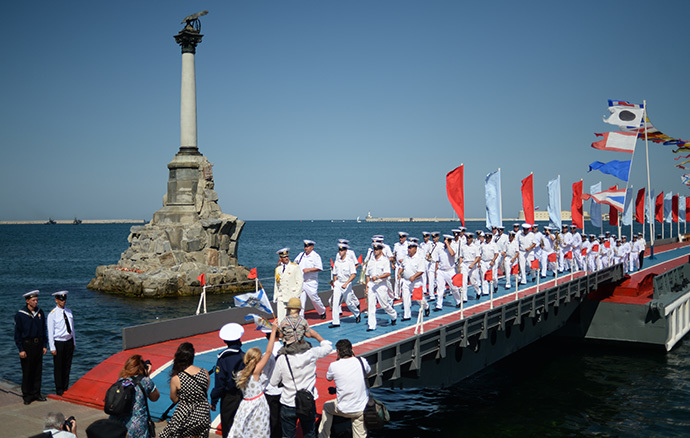 Russia begins construction of two submarines
The construction of two new submarines has begun at Sevmash shipyard in the city of Severodvinsk, located in Russia's northern Arkhangelsk Region.

The strategic missile submarine Knyaz Oleg and multi-purpose nuclear submarine Krasnoyarsk "will become the backbone in the next several decades," Deputy Defense Minister Yury Borisov said.

Russia's deputy prime minister, Dmitry Rogozin, who also arrived in Severodvinsk, stressed that equipping the country's Navy with modern technology is especially important when NATO is trying to impose "its own agenda" on the world.

The Russian Navy is currently in possession of 60 submarines; 10 of those are strategic nuclear subs and more than 30 are multi-purpose subs.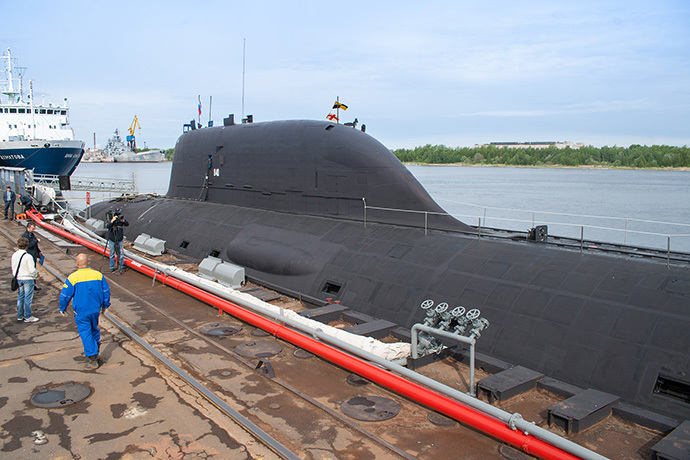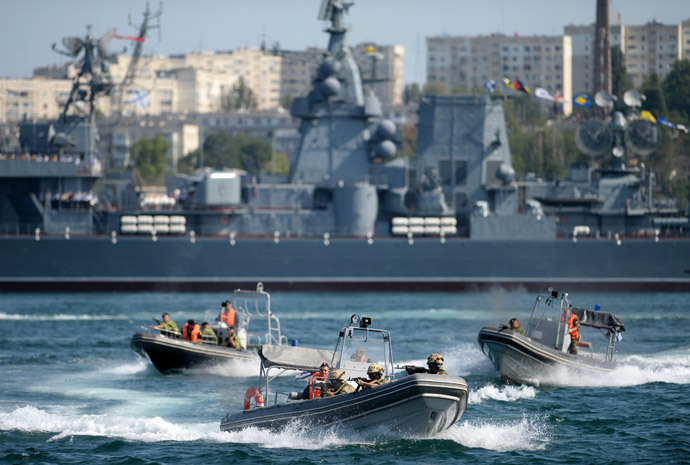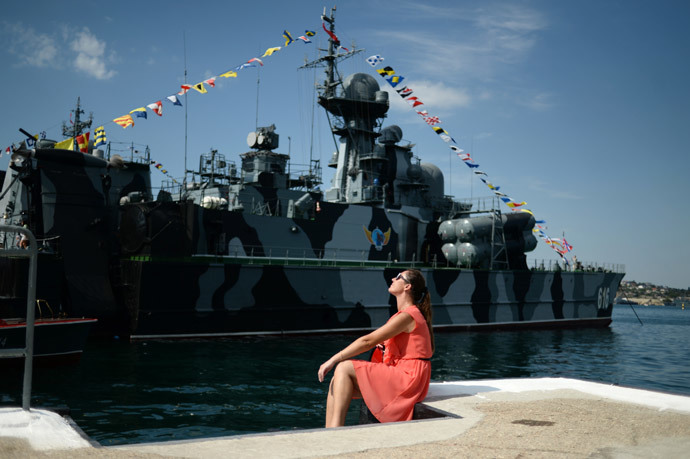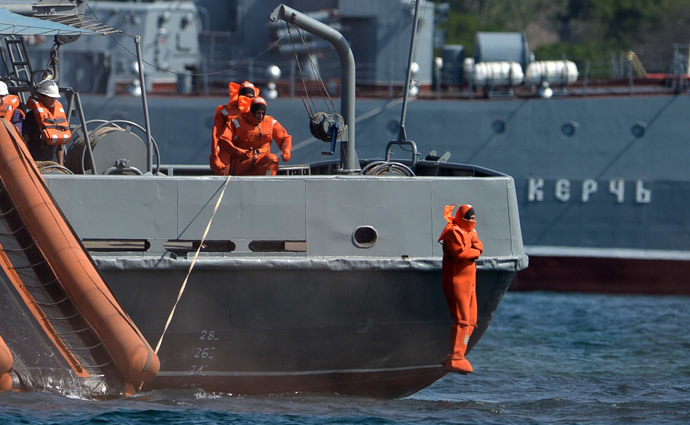 You can share this story on social media: