Armed Australian soldiers, police to deploy to MH17 crash site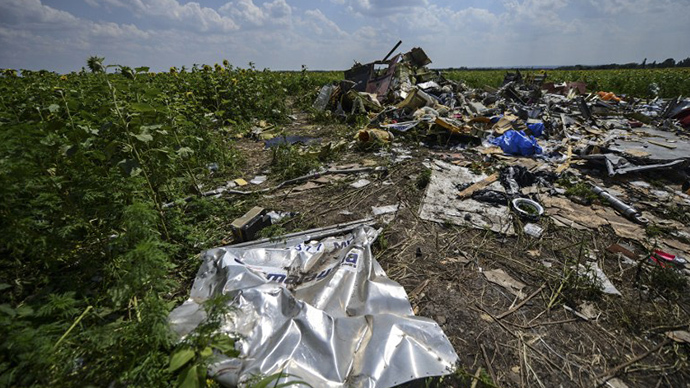 A proposed multinational force to further secure the MH17 crash site in eastern Ukraine will now include over 100 armed Australian police and soldiers. The move comes shortly after 40 unarmed Dutchmen had been deployed to "further stabilize the area."
The additional Australian personnel were discussed by Prime Minister Tony Abbott with President Putin, and will join a contingent of 90 Australian Federal Police (AFP) currently in London, awaiting an order for deployment. The decision will come once Ukrainian President Petro Poroshenko gives the go-ahead and the parliament approves the decision, Reuters reports.
Malaysia Airlines MH17 plane crash in Ukraine LIVE UPDATES
The Australian PM told the press that "This is a humanitarian mission, with a clear and simple objective… I expect the operation on the ground in Ukraine, should the deployment go ahead, to last no longer than a few weeks."
Later on Friday, Canberra announced a small contingent of Australian soldiers would also be deployed to provide back up to the police tasked with securing the site.
On Thursday an announcement was made on the deployment of the first batch of 50 Australians. That number climbed to 90 by Friday.
For its part, the Dutch government announced on Thursday it was sending 40 unarmed police to the MH17 crash site to "further stabilize the area", shortly after the Australian PM's conversation with President Putin that would allow a bolstered multinational force on the ground.
As 50 Australians are in London awaiting an order for deployment to the scene, the Dutch police are set on "examining means to further stabilize the surroundings… it requires international discussions, it requires a legal mandate," Prime Minister Mark Rutte said.
"It's absolutely not certain that this is all going to work. It's very complex and requires many partners," Rutte continued, adding that the operation "must happen very carefully, which is why the cabinet is seeking ways to strengthen our commitment on the ground in the coming days, but that will happen step-by-step…"
An additional 23 investigators will be provided by the Dutch to accompany the 40 unarmed royal military policemen, according to AFP.
At the time, the Dutch PM refused to comment on whether the Netherlands and Australia are in talks to draft a new UN Security Council resolution to allow armed personnel into Ukraine. This appears to be changing.
Meanwhile the flight recorders, transported to a UK lab, have been unsealed and their memory copied for analysis. The inspection revealed no evidence of tampering with the devices, which may be crucial for investigation, the Interstate Aviation Committee reported on Friday, an international body tasked with investigating all civil aviation incidents in most of former Soviet Union.
You can share this story on social media: