If Russia is behind MH17 crash, where's the evidence? – Defense Ministry
Russia has so far been the only nation to release evidence related to the MH17 crash, the Defense Ministry said, urging other countries to follow suit. Though there have been a lot of claims of Russia's involvement, none have been backed by proof.
Malaysia MH17 crash: 10 questions Russia wants Ukraine to answer
The US claims its intelligence data and satellite imagery confirm that the missile which downed MH17 was fired from rebel-controlled territory. So far it's only a claim that has to be supplemented by proof, Russia's Deputy Defense Minister Anatoly Antonov said in an emotional address released on Thursday.

"Where is this data? Why hasn't it been made public? Is it because it is still being cooked, if I may say so?" Antonov asked in the statement. "By the way, one of the four US experts reportedly said that Russia may have been involved in creating conditions for the launch of this missile. It was nice, of course, of the other three that they did not say anything, but what about the fourth? Does he have any grounds to make such accusations? Or is it something predetermined?"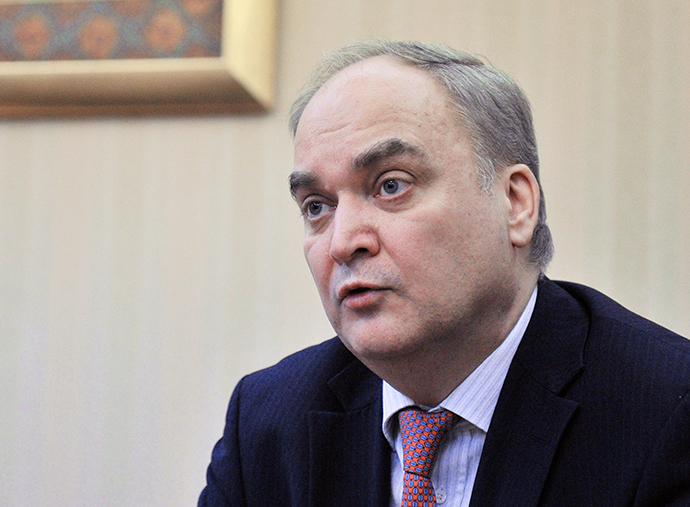 Antonov wondered how the bulk of accusations that Russia has been facing could possibly be based on unverified material taken from social media.
"US intelligence officials refer to some photos posted on social networks which allegedly show a missile launcher crossing the border between Russia and Ukraine. What exactly are they talking about? Are they talking about a picture of a Ukrainian Buk being transported somewhere by Ukrainians on a prime mover with a white cab, made in the town of Krasnoarmeysk, which has long been controlled by the Ukrainian military? Or maybe they are talking about a photograph of Buk No. 312? If so, there is another picture of the same launcher rolling as part of a Ukrainian armor column. Gentlemen, are you implying that this is the launcher that fired the missile? If so, demand an explanation from Kiev."
Antonov reminded that following the plane crash, the Russian Defense Ministry released monitoring data related to the accident. Based on this information, the ministry developed a number of questions for Ukraine and other countries which are blaming Russia for the tragedy. The questions have remained unanswered.
The Russian Defense Ministry would like to know, for example, why the US rules out the possibility that the plane was shot down by the Ukrainian military.
"This begs the question: are US experts ready to assume responsibility for their claims? Do they know where all the SAM launchers are deployed in Ukraine? What do they have to say about the monitoring data presented by Russia? Do they ignore it simply because there is nothing for them to say?"
Speaking about accusations of Russian military build-up on the border with Ukraine, Antonov recalled "nine instances of Russian territory coming under fire in the course of June and July" from Ukraine. One of those instances turned fatal for a Russian citizen, Andrei Shulyatyev.
"What if US territory was shelled from a neighboring country and, God forbid, a US citizen was killed?" Antonov asked.
"What would the United States do? I think the answer is obvious. Yet Russia is behaving in a reserved and responsible manner. It is therefore self-evident who is trying to provoke whom at the border. Why don't you take note of the constant rocket shelling of Donetsk and Lugansk instead, which claims civilian lives?"
10 more questions Russian military pose to Ukraine, US over MH17 crash
You can share this story on social media: