Israeli tank strikes Gaza hospital kill 4, scores injured - medics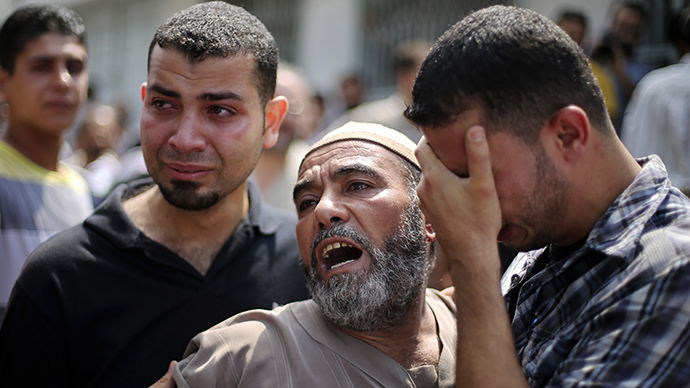 Four Palestinian's have been killed and dozens wounded after an Israeli tank shell hit the third floor of Al-Aqsa hospital in central Gaza, according to a Health Ministry spokesman.
Ashraf Al-Qidra said that the third floor housed an intensive care unit and operating theaters. Other shells had fallen around the hospital, he added, with officials calling on the Red Cross to help evacuate patients.
A doctor at the hospital, Fayez Zidane, told the station that shells hit the third and fourth floor as well as the reception area.
"There is still shelling against the hospital," he said speaking to AP. He said he found bits of a rocket, presumably from one of the projectiles.
Zidane appealed to the Red Cross and a nearby hospital to send help.
There have been conflicting reports about the number of people injured following the attack. Reuters has put the figure at 16, while AP says 60 have been wounded, including 30 medics.
The Israeli military had no immediate comment. In the past it has accused Hamas Islamist militants of firing rockets from the grounds of Gaza hospitals and of seeking refuge in the buildings.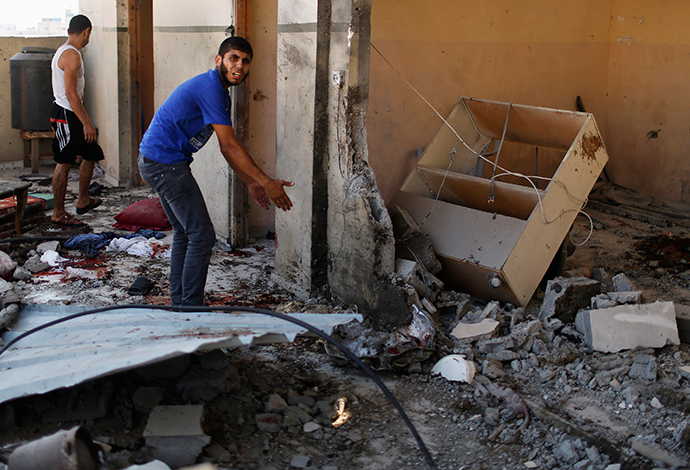 The Palestinian death toll has now risen above 500, since the Israeli army started its offensive in Gaza on July 8. Gaza health officials put the exact figure at 518, which includes over 100 children.
Meanwhile, Medecins Sans Frontieres (Doctors Without Borders) has called on Israel to stop shelling in the Gaza Strip, saying it is complicating efforts to provide care. In a statement published on its website Sunday, MSF said, "the majority of the dead and wounded in Gaza are civilians and medical workers are also coming under fire."
The organization also said it had witnessed two paramedics who had died and two others who were injured whilst trying to rescue wounded from Shujaiyeh. In addition, MSF said, "a clearly identified MSF vehicle escaped an air strike 300 meters away." It added that Israeli authorities had promised secure movements for the organization from the Erez border crossing to Gaza City "so that an incoming surgical team could be picked up."
In addition, MSF cited its field coordinator in Gaza, Nicolas Palarus, saying, "United Nations shelters are now overcrowded and hygiene conditions are extremely worrying," Haaretz reports.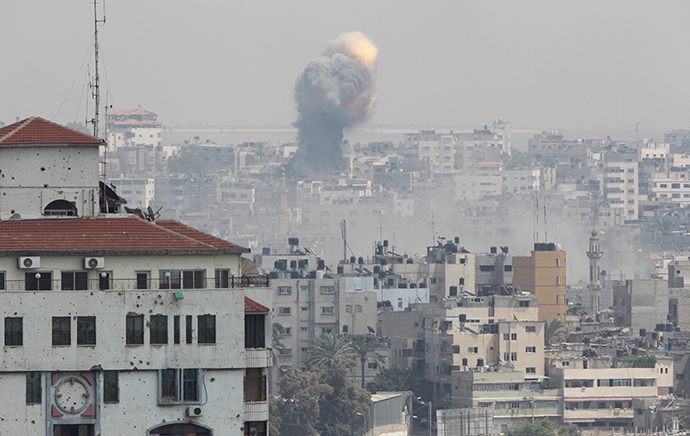 Seven Israelis killed in Gaza in last 24 hours
The IDF death toll from the hostilities in Gaza has risen to 25, with seven Israeli soldiers killed in the last 24 hours, Haaretz reports.
There has also been a major rocket barrage over southern and central Israel, with two rockets intercepted over Tel Aviv.
There were also reports of two terrorist cells infiltrating southern Israel via a tunnel from the Gaza strip on Monday and residents were ordered to remain inside and roads were closed.
The death toll in Gaza has now reached 508 with 3,130 wounded, since the operation began 14 days ago.
You can share this story on social media: