'They were falling from the sky:' Witnesses of MH17 crash tell their stories
Remains of the bodies, crashed parts of the plane, still burning engines – that was the dramatic and gruesome picture that local residents saw when the Malaysian plane crashed in the sky over Donetsk Region in eastern Ukraine.
Malaysia Airlines MH17 plane crash in Ukraine LIVE UPDATES
No signs of trouble were in the air on Thursday afternoon - the day of the tragedy which killed 298 people on board the plane heading from Amsterdam to Kuala Lumpur.
"My wife and I were having dinner when we heard a strange noise sounding like clapping," says Dmitry, a local resident.
When they went out of the house, they saw a body - more precisely, the remains of a body - lying nearby. Dmitry believes that it must have fallen from a high altitude.
"The only thing left on the body was a T-shirt. It was a man. The legs were broken, I saw practically no blood," added Dmitry, "Now you can smell this odor over here – there are no words to describe it. Here is my house, and it all happened right here."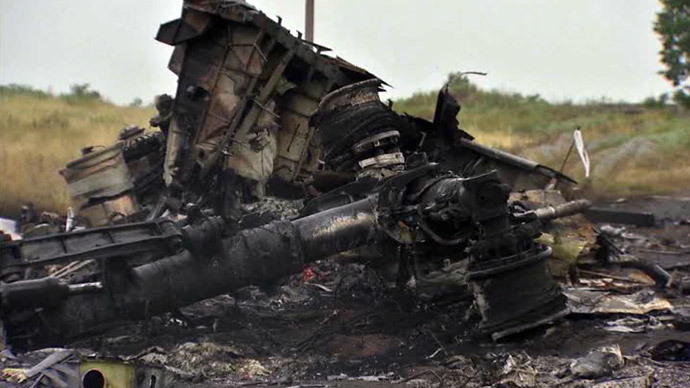 Aleksandr, another local who witnessed the plane falling from the sky, was watching TV but when he heard "a roar and two explosions." He went out to see what was going on.
"[I] saw a spinning plane without a wing with something falling out of it. The plane was shot down," he told RT. "There were explosions in the sky. And apart from the loud sounds of the plane itself, I heard the buzz which fighter jets make."
Falling dead bodies were also a shock for the family of Marina, another village resident.
"I just stepped out of my house and heard thunder. My husband came out after me and saw the body of the woman fall. He thought it was me. He nearly turned grey," she told Ruptly.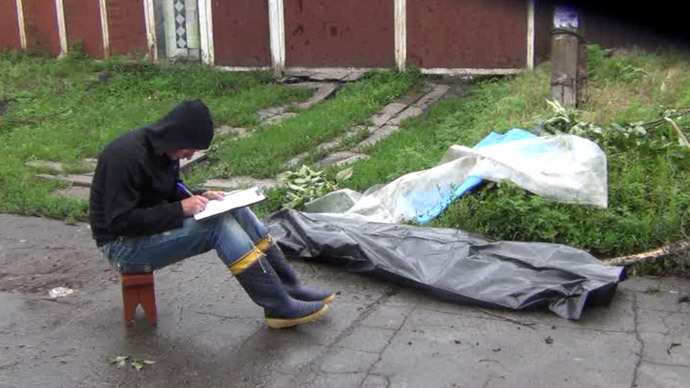 Marina says that now she is very afraid to go outside and since the accident she "didn't step away from her courtyard."
The plane crash site is just near several coal mines. Mining is the major industry of eastern Ukraine's area of Donbas, which includes Donetsk and Lugansk Regions.
When the plane fell, nearby coal miners immediately dropped their work and rushed to the scene to help.
"There are 30 people in our shift and just two of them went to work, others came here to help," said Pyotr, a local miner.
He says he has been living with his family his whole life in the region.
"I've been working in this coalmine for 40 years. And now I just want to help, that's all. Our own government is bombing us."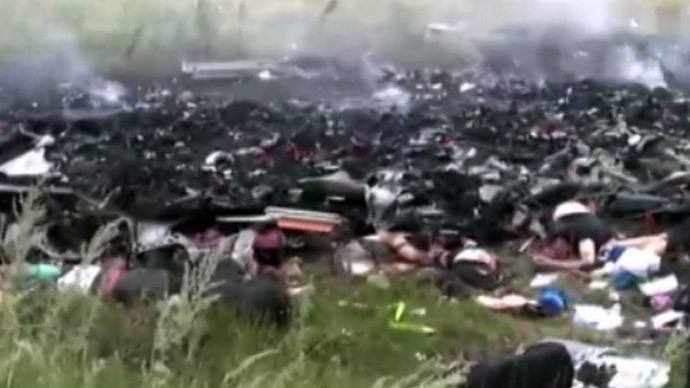 The cause of the crash is yet to be established by investigators. The OSCE observers have arrived at the site of the crashed plane for forensic analysis to define what exactly happened to the Boeing 777.
Both Kiev and the eastern Ukrainian self-defense forces deny responsibility and are trading blame.
Donetsk self-defense troops declared that they simply don't have the military equipment to shoot down a plane from a 10,000-meter altitude, while Kiev said it could not have fired a missile at the passing civilian plane because it had no Buk missile launchers deployed in the region.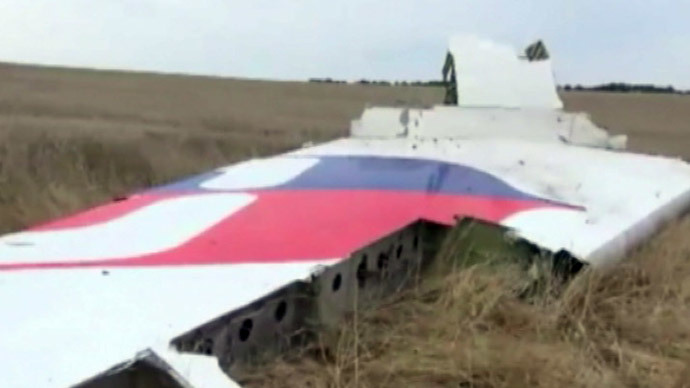 Questions over why Malaysian plane flew over Ukrainian warzone
Meanwhile the Russian Defense Ministry said that the Ukrainian military has several batteries of Buk surface-to-air missile systems with at least 27 launchers, capable of bringing down high-flying jets, in the Donetsk Region where the Malaysian passenger plane crashed.
Moscow calls for intl probe into Malaysia MH17 flight crash – Russia's UN envoy
Later it added that a Ukrainian Buk anti-aircraft missile battery was operational in the region and deployed at a site from which it could have fired a missile at the airliner.
You can share this story on social media: