Pro-Palestinian march turns violent in Paris, synagogue attacked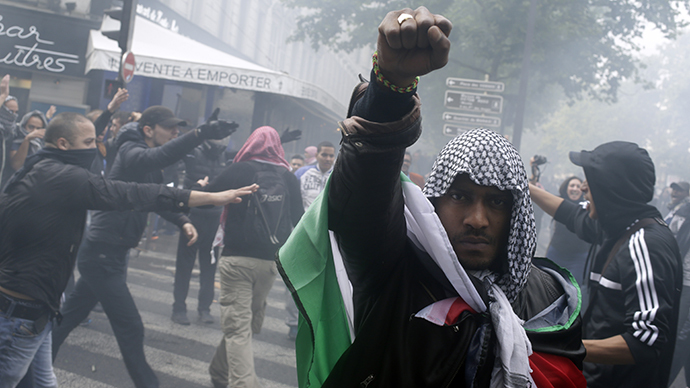 Thousands of people marched in Paris on Sunday to protest Israel's Operation Protective Edge which has left over 160 Palestinians dead, most of them civilians. Some demonstrators clashed with police and attacked a synagogue.
Around 10,000 protesters walked peacefully through central Paris. They carried a large banner saying: "Total Support for the Struggle of the Palestinian People," according to AP.
The demonstration turned violent at the end of the march on Bastille Square when some protesters started throwing projectiles at police officers, who in turn responded with tear gas, AFP reported.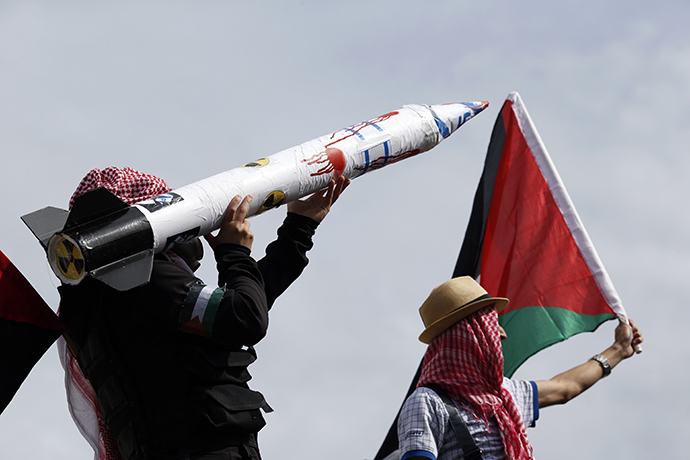 Police also blocked off a group of protesters from entering two synagogues, according to AP. One of the synagogues was attacked during a service, with worshippers briefly blocked inside. Police successfully pushed back the protesters, and those stuck inside were then able to leave, according to a police spokeswoman.
One of the people trapped in the synagogue told Israel's Channel 2 News that protesters threw stones and bricks at the building "like it was an intifada," The Times of Israel reported.
The French branch of the far-right Jewish Defense League said that one person was seriously injured and three were slightly hurt. However, this claim could not be verified.
The Israeli-Palestinian conflict has raised tensions in Paris, which is home to Europe's largest Muslim and Jewish communities.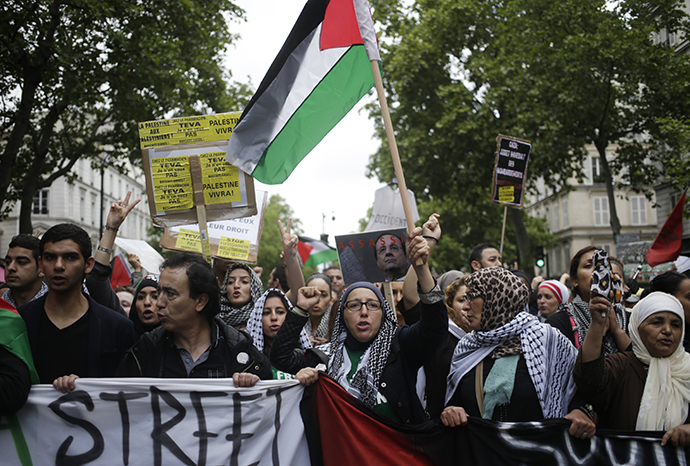 French Prime Minister Manuel Valls said the violence is "inadmissible," adding that "France will never tolerate using violent words or acts to import the Israeli-Palestinian conflict on our soil."
Before the protest turned violent, demonstrators shouted slogans such as "We Are All Palestinians!" and "Only One Solution, End the Occupation!"
"I came to say no to this massacre," protester Amid Hamadouch told AFP. "They are bombing innocent people. There are missiles being launched by Hamas, but the Israeli response is disproportionate. They are attacking the civilian population and not Hamas officials."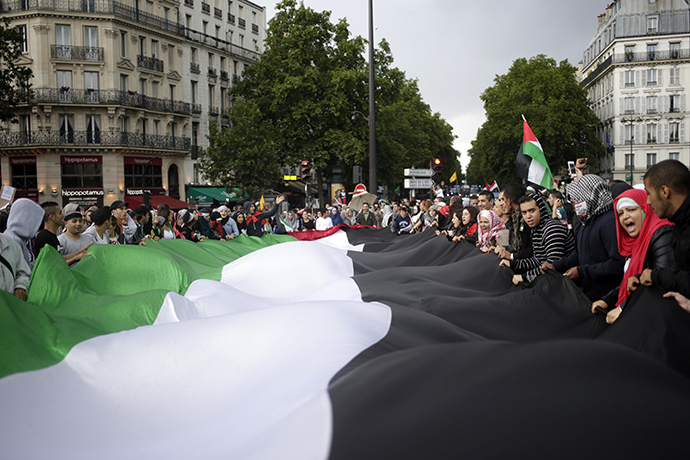 Meanwhile, in the northern French city of Lille, somewhere between 2,300 and 6,000 people held a peaceful protest. The numbers differ due to different accounts given by police and the organizers, AFP reported.
Operation Protective Edge entered its sixth day on Sunday, with a total of 167 Palestinians killed. Around 70 percent of those killed in Gaza were civilians, of whom 30 percent were children, according to the UN Office for the Coordination of Humanitarian Affairs.
Saturday was the deadliest day since the operation began, as Israeli airstrikes on Gaza killed 52 people.
You can share this story on social media: