Visa sabotage: UK bars Russian delegation from Farnborough Airshow over Ukraine crisis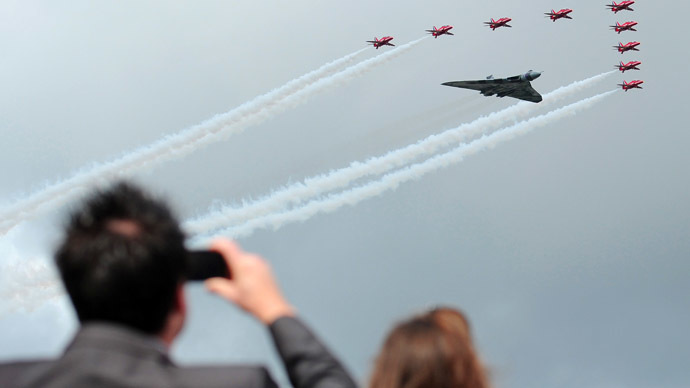 The bulk of the official Russian delegation set to attend the UK's Farnborough Airshow this weekend were refused British visas based on Moscow's stance regarding the Ukraine crisis. The move derailed state arms exporters' planned mil-tech negotiations.
"Due to Russian actions in Ukraine, no representatives from the Russian government have been issued HMG (Her Majesty's Government) invitations to FIA (Farnborough International Airshow) 2014," a British Foreign Office spokesperson told Itar-Tass.

The spokesperson also said that London has taken "clear action" to remove Russia from the list of countries eligible to buy British planes or equipment, "in order to discourage Russian attendance" at FIA 2014.

Seventeen members of the Rosoboronexport delegation, the state intermediary agency for Russia's exports and imports of defense-related goods, were scheduled to attend the event. However, only five were granted a British visa. Key Rosoboronexport negotiators, including Sergey Kornev, the head of the delegation, were denied visas.

Among the people denied a visa were mostly those representing Russia's state corporations – Roskosmos space agency, Rosaviatsia air transport agency, Rostech innovative technologies corporation, Irkut aircraft corporation, Sukhoi aircraft corporation, Rosoboronexport defense exporting, and others. Overall, 74 Russian corporations and firms applied to participate in the Farnborough Airshow.

Earlier, the Russian embassy in the UK filed a note with the Foreign Office demanding an official explanation.

"The Russian embassy in Great Britain regrets the disruption of the visit of the main part of the Russian delegation for the Farnborough-2014 international aerospace exhibition hosted by the UK," the note reads.

An unspecified source in the Russian delegation told RIA Novosti news agency that due to Russia's absence at FIA, "important military-technical cooperation negotiations scheduled for Monday between Rosoboronexport and foreign partners have been virtually disrupted."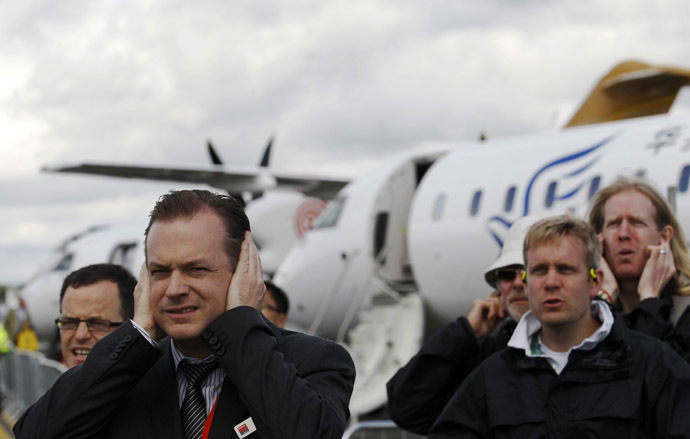 The source stressed that all necessary documents had been applied for well in advance - over a month ago. As a rule, British officials do not comment on national visa policies.
The official representative of Russia's embassy in the UK, Aleksey Dobrinsky, said that it wasn't just top officials who have been denied visas. Technical specialists have also been rejected.
For that reason, the previously announced live presentation of Russian assault helicopters at Farnborough on Monday will not go ahead.
Most Russian journalists that were supposed to be accredited for Farnborough-2014 will also stay at home.
Aleksandr Velovich, official representative for Russia, Ukraine and CES enquiries at the Farnborough International Airshow, told The Financial Express that the crisis in Ukraine and resulting tensions between Russia and Western countries have forced Russia to adopt a scaled-down presence at this year's Farnborough show, shifting focus to space industry and civil aviation stands.
Farnborough-2014 international aerospace exhibition will open on Monday, July 14, and will last a week, with tens of billions of dollars' worth of contracts expected to be signed. Back in 2012, Farnborough racked up $72 billion worth of contracts, with 750 aircrafts sold.
Two years ago, when the Farnborough-2012 air show took place, Britain played the same card, delaying visas for a number of the Russian delegation till the very last moment. There also were problems with the Russian Knights aerobatic team, which had difficulties getting permission for its military hardware to leave the UK.
"This is not the first case when Russian representatives failed to take part in international exhibitions [in the EU]," Dobrinsky stressed, giving several examples.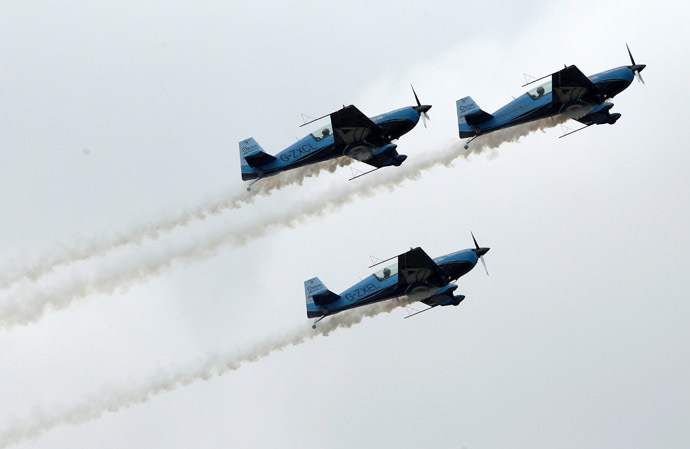 In May, private Russian companies were unable to take part fully in the Info Security Europe 2014 exhibition, Europe's largest industry event in London, and suffered financial losses as a result (prepaid stands, participation fees, hotels, airline tickets etc.), because some Russian participants were not granted British visas.
On another occasion, visas were not granted to specialists who planned participation in SANA 2014, the 26th International Exhibition of Organic and Natural Products, held in early June in Bologna, Italy. And before that, in April, a significant number of Russian writers were unable to visit The London Book Fair to present their books, again because of rejected visa applications.