ABC airs Gaza bombing devastation images - says it's in Israel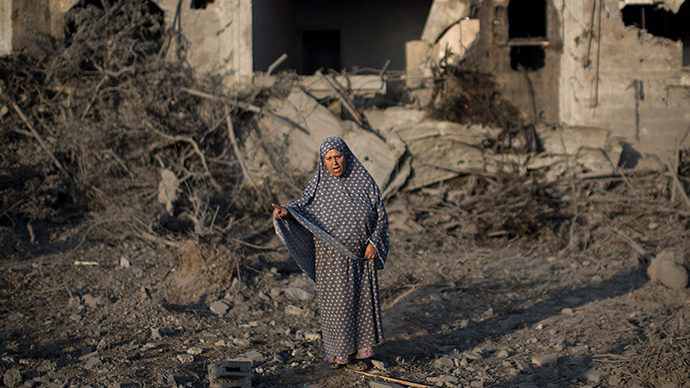 In the latest case of Western mainstream media confusing the geographical location of warzones, an ABC News anchor described footage of Gaza homes shortly after their destruction by the IDF as belonging to Israel.
On July 8, veteran ABC news anchor Diane Sawyer, 68, opened up a news segment, entitled Under Attack, with the following introduction: "We take you overseas now to the rockets raining down on Israel today, as Israel tried to shoot them out of the sky, all part of the tinderbox, Israelis and Palestinians [sic]."

In two images that accompanied Sawyer's narration, she says, "Here are two Israelis trying to salvage what they can, while a woman is standing speechless among the ruins."
There was just one problem: The images of wide-scale physical destruction and human suffering shown in the images were not from Israel, but rather from the Gaza Strip, where the locals have been enduring days of aerial bombings.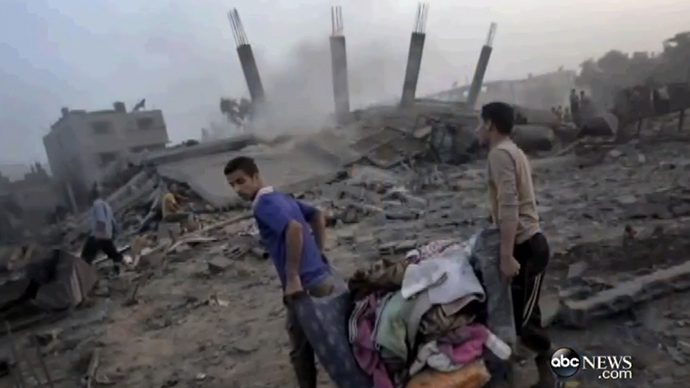 Israeli airstrikes on Gaza killed four more Palestinians on Friday, raising the death toll from the four-day offensive to at least 85. Missile lobs into Israel have so far caused no fatalities, due in part to Israel's Iron Dome aerial defense system.

Following Sawyer's introduction, ABC correspondent Alex Marquardt commented on Israelis "running in terror as sirens wail."
ABC News Statement: http://t.co/mrQrvwoUPOpic.twitter.com/niZYuWpQ1D

— ABC World News (@ABCWorldNews) July 10, 2014
According to Peter Hart, a commentator with Fairness and Accuracy in Reporting (FAIR), ABC incorrectly identifying the real victims in Gaza, where dozens of people are dying, is less an error in judgment than a "reflection of a worldview."

"[T]here's a pretty well-established pattern of corporate media trying to paint the conflict as between equals, a type of false balance that treats the threats to Israeli lives and Palestinians lives as similar," Hart wrote in his blog. "There are no reported Israeli deaths. But the fact that dozens of Palestinians had died, including several children, by the time ABC aired its report apparently did not cause them to consider this more newsworthy than Israeli fear."
Did ABC make a simple mistake--or did they reveal something fundamental about how they view Palestinian lives? http://t.co/kuNI5jLBC4

— FAIR (@FAIRmediawatch) July 10, 2014
This is not the first time Western media has reconstructed the world map. CNN, which has had its share of embarrassing geography blunders, mistakenly relocated the eastern Ukrainian city of Slavyansk all the way south to the Crimea, the peninsula that voted in a referendum in March to join the Russian Federation following the outbreak of political strife in Ukraine.
CNN map places East Ukraine's Slavyansk in Crimea
In Dec, 2011, Fox News provided footage of riots in Athens, showing protesters throwing Molotov cocktails, rocks and bottles.The problem with that news report - which painted a terribly inaccurate picture of the post-election atmosphere in the Russian capital - is that Fox said the events were happening in Moscow, even though the shops pictured in the report clearly had Greek signs and infrastructure.
In May 2012, the BBC faced heated criticism after it accidentally posted a photograph taken in Iraq in 2003 to tell the story of children being killed in Syria.

The picture, posted under the heading "Syria massacre in Houla condemned as outrage grows," shows a young Iraqi child jumping over multiple white body bags containing skeletons found in a desert south of Baghdad.

The photographer of the grim picture, Marco di Lauro, said he nearly "fell off his chair" when he saw the image, claiming he was "astonished" at the failure of the media to check their sources.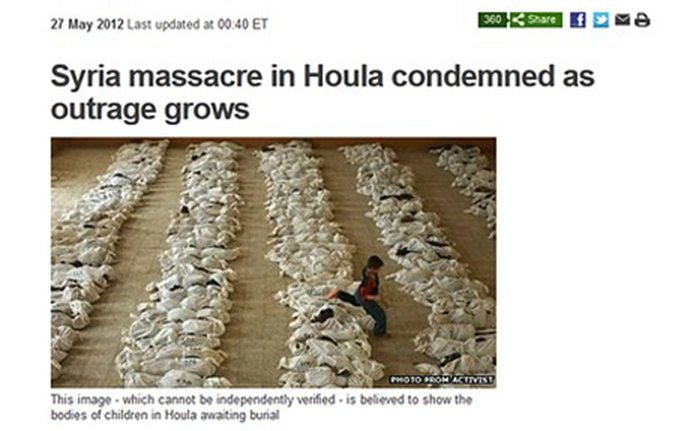 You can share this story on social media: