Kidnapped Israeli teenagers shot 10 times with silenced gun – US investigators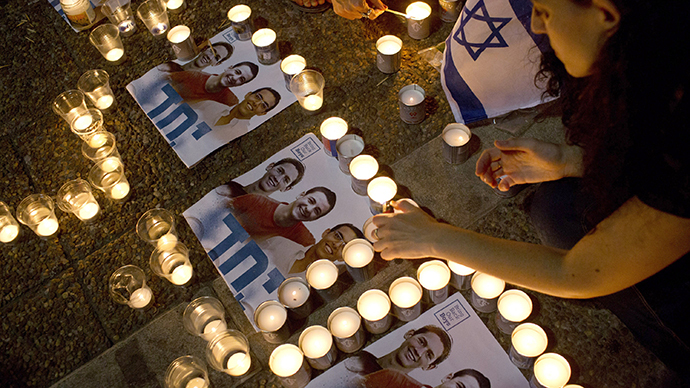 The captors of three Israeli teenagers abducted in June shot the victims 10 times with a silenced gun, a US official involved in the case told Reuters. The official disclosed the last words of one of the teens, who managed to call the police.
One of the victims – 16-year-old Naftali Fraenkel – held American citizenship, which gives the FBI the right to take part in the investigation.

According to the American official, who spoke on condition of anonymity, US investigators believe the captors planned to kill the three teenagers from the beginning, which explains why they used a silenced weapon.

This version of events contradicts previously voiced speculation that Eyal Yifrah, Gilad Sha'ar, and Naftali Frenkel were only shot after the captors "panicked" following Gilad's call to inform authorities that he had been kidnapped. Israeli authorities have accused Hamas of being behind the abductions.

Investigators believe that two Hamas militants were disguised as religious Jews. One was allegedly driving a car which the three teens got into, while the other was sat in the front passenger seat.

"They've kidnapped me!" Sha'ar said during the phone call, as quoted by Reuters.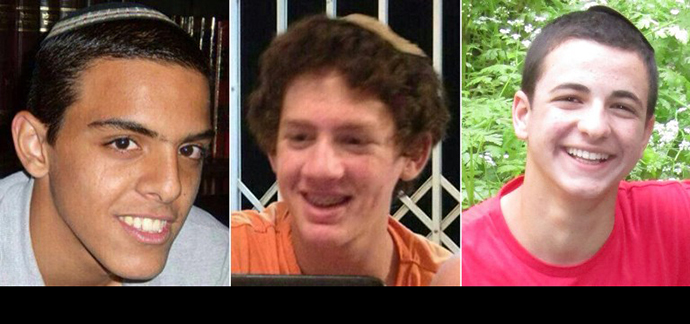 The FBI, which has a mandate to investigate cases of Americans abducted abroad, was handed a copy of the recording just a few days after it was obtained by Israeli security services. The audio was analyzed in the United States.
According to the official, an Arabic-accented male voice can be heard on the tape shouting, "
Head down!
" as Sha'ar tries to tell an emergency service operator that he and the other two teens had been kidnapped.
Distorted, tinny sounds heard on the tape after the male voice's shouting were found to be consistent with shots from a silenced firearm, the US official said.
"
There were 10 gunshots,
" he added.
Israeli officials have not commented on the claims, saying they are
"not going public with anything"
while the investigation is continuing.
"
We haven't even caught the kidnappers yet, so we're not going public with anything more now
," an unnamed Shin Bet source told Reuters.
The kidnappings and murders of the three Israeli teenagers have sparked mass protests and caused a new wave of conflict between Israel and Palestine. The situation deteriorated between the two sides after Palestinian teenager Mohammed Abu Khudeir was abducted and burned alive. The act is believed to have been in retaliation for the abductions and killings of the Israeli victims.
Israel and the Gaza Strip have been exchanging rocket fire in recent days. Israel launched 'Operation Protective Edge' and called up 40,000 army reservists. At least 30 Palestinians have been killed since the operation began.
You can share this story on social media: