Gaza rocket hits Jerusalem as Palestinian death toll reaches 25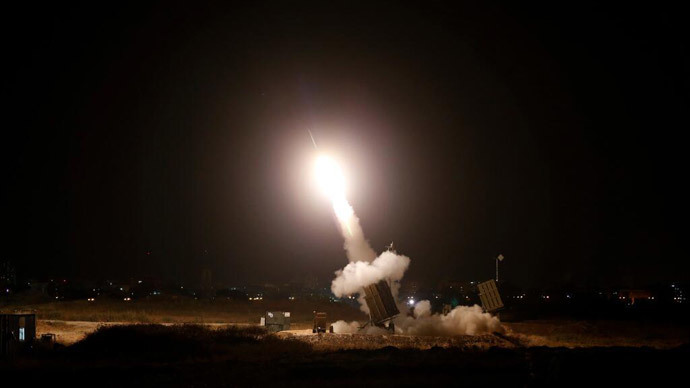 IDF has confirmed that a rocket launched from Gaza hit Jerusalem, as air raid sirens continue to sound through southern and central Israel. Authorities say there have been no casualties reported following the latest long-range Palestinian rocket salvo.
Read RT's story on Israel's 'Operation Protective Edge'
Meanwhile, Israeli warplanes have struck the home of senior Islamic Jihad militant Hafiz Hamad, killing him and five members of his family, Gaza health officials say. The Palestinian death toll in Gaza now stands at 25, with over 100 injured.
IDF tweeted that 117 rockets have struck Israel in the past 24 hours, and an additional 29 were intercepted by the Iron Dome.
Earlier on Tuesday, Hamas claimed that it fired several rockets at Jerusalem, Tel Aviv, and Haifa. "For the first time, the Izz ad-Din al-Qassam Brigades strike Haifa with an R-160 rocket, and strike occupied Jerusalem with four M-75 rockets and Tel Aviv with four M-75 rockets," reads a statement by the group.
However, Israeli media stated that the sirens which rang through Binyamina, located near Haifa, had apparently been falsely activated.
BREAKING PHOTO: People in Jerusalem bomb shelter moments ago. pic.twitter.com/f4eeWo63xy

— Israel Breaking ✡ (@IsraelBreaking) July 8, 2014
The Israeli army broadcasted a radio message in Arabic, warning Gaza Strip residents to keep away from militants.
"For your safety, get away from Hamas and their hiding places. Don't go near them. They're endangering your lives. For your safety, don't let them near your homes, don't let them hide in your homes," The Times of Israel quoted the army's Arabic-language radio message as saying.
In response to constant rocket fire, #IDF hit 50 terror targets today making a total of 200 since the beginning of Operation Protective Edge

— IDF (@IDFSpokesperson) July 8, 2014
The Mateh Yehuda Regional Council, located in the Jerusalem district, reported several hits, including one in the town. Jerusalem is located some 80 km (50 miles) north of Gaza.
There were no immediate reports of casualties or damages. "We are not getting reports of casualties from any of the impact areas," chief military spokesman Brigadier-General Motti Almoz told Israel's Channel 10 television.
But Ynet contradicted Almoz's statements, claiming that nine people had been treated for injuries and anxiety attacks.
IDF confirmed that a Gaza rocket hit the Israeli city of Hadera. Haaretz stated that in a further strike, four rockets were fired at Be'er Sheva, southern Israel, three of which were intercepted. However, one of the rockets exploded in an open field.
There were also reports of several explosions in the skies over Israel's Sharon area, located north of Tel Aviv. Local residents reported hearing a large explosion in the city itself, according to The Times of Israel.
And now jerusalem area - listening to the radio has never been so surreal - report after report of incoming rockets and their areas

— Barak Raz (@BarakRaz82) July 8, 2014
You can share this story on social media: