'Because he's my friend': 7yo Canadian raises over $54K for buddy's surgery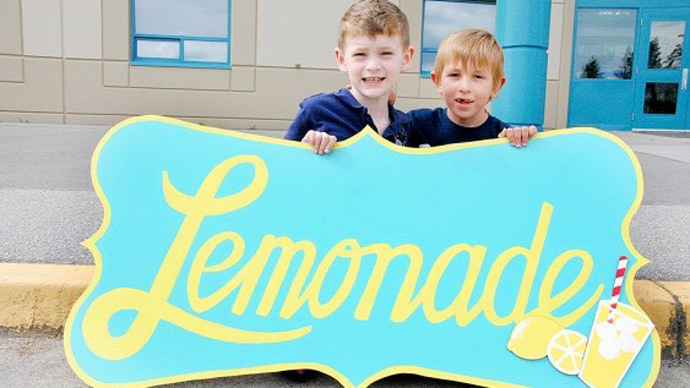 His best friend suffers from cerebral palsy, so 7-year-old Quinn from Canada started selling lemonade to help pay for expensive surgery. With his small business, supported by a crowdfunding campaign, Quinn made over $54,000, giving his friend hope.
He aimed to raise $20,000 – the sum his buddy Brayden Grozdanich, also 7, needed to have surgery that would enable him to start walking without braces.
Quinn Callender's story about his best friend touched the hearts of many people. And to everyone's surprise, the total amount of funds raised exceeded $54,000.
It all started when Quinn learned that Brayden needed costly surgery that can only be done in the US. He asked his mom to help him set up his money-raising lemonade stand.
"After I watched one of (Brayden's) physiotherapy things, and I saw how hard it was for him, I asked my mommy and daddy if I could build a lemonade stand to raise money," Quinn told the CTV Vancouver News as he was selling lemonade along with Brayden last Sunday.
"I want to be able to play more games with him," Quinn explained to CBS.
Brayden undergoes painful physiotherapy on a daily basis to help him walk. His right arm and leg have been affected by cerebral palsy, a disorder that constricts muscle movement and tone.
"He gets very frustrated because he'll try to do something, and he'll get mad at himself because he'll fall," Brayden's mom, Toni Grozdanich, told CTV News. "Like when he gets tired, he'll trip a lot easier because his legs just sort of drag behind him."
Brayden could get treatment in Canada for free, but, as his father explains, the surgery in New Jersey is less invasive than the one available at home.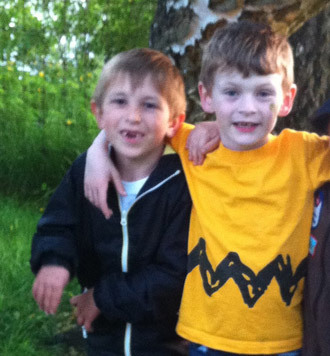 Their modest lemonade selling event outside a local grocery store attracted customers and garnered media attention. Television news teams from the Vancouver channels flocked in to film the boys.
Wearing matching blue shirts with a slogan reading "When life hands you lemons… make lemonade," Quinn and Brayden sold the beverage to passersby, many of whom donated $20 bills.
To support Quinn's initiative, his mother came up with the idea of starting a crowdfunding campaign and the response was overwhelming.
"He built (a lemonade stand) out of cardboard, and I said "let's think bigger than that,"' Quinn's mother Heather Roney, said as cited by CBC.
So they launched a campaign on You Caring, where Quinn asked for help for his friend Brayden, "He is a really good guy," the boy wrote.
His mother also shared the link on her Facebook page.
"I shared it, and my friends shared it, and it took off from there," she said.
Now with Quinn's and many other people's help, Brayden's parents have been able to book surgery for him in August.
"It will help me walk better," Brayden told journalists.
You can share this story on social media: