At least 4 NATO troops reported killed in Afghan suicide bombing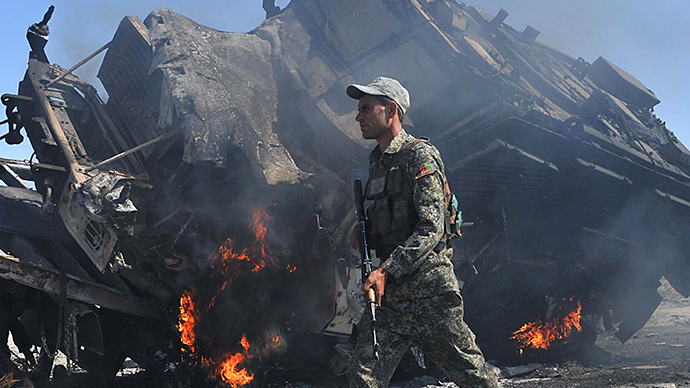 Four NATO troops from Czech Republic have been killed in a suicide attack in Afghanistan's Parwan province, the ISAF confirmed. The blast also killed two Afghan policemen and at least 10 civilians, local police said.
A spokeswoman for the Czech general staff in Prague later said the four dead were Czech soldiers, and that another Czech had been seriously injured.
Earlier Ziaul Rahman Sayedkhili, a senior police officer in the eastern province of Parwan, said the blast had killed six NATO servicemen.
He said a joint ISAF-Afghan force was deployed to the village of Qalandar Khil to investigate a rocket attack on a military base, which happened two days ago, and was targeted by the bomber.
"There was a suicide bomber on a bicycle who detonated his explosives which killed 10 local civilians, two policemen and six ISAF soldiers," Sayedkhili said.
Bagram District Police Chief Mohammad Masoom Farzaye said at least 11 children were killed in the attack.
#AFG. Update : 11 student (aged 8 to 12) and two police were killed in #Parwan province suicide attack this morning. official: by Pajhwok

— Mustafa Nassiry (@MustafaNassiry) July 8, 2014
The Taliban claimed responsibility for the suicide bombing, which targeted a convoy of NATO forces in the city of Charikar, which located some 70 km north of Kabul, local media reported.
The incident was the deadliest this year for foreign troops deployed in the strife-torn country. The ISAF troops are preparing to withdraw from Afghanistan after 12 years on the ground.
The bombing comes amid growing tension in Afghanistan, as presidential hopeful Abdullah Abdullah rejected Monday the preliminary results of last month's election, which put his rival Ashraf Ghani in the lead.
Some of Abdullah's supporters called on forming an alternative government, should Ghani be declared Afghanistan's new president.
The developments prompted rebuke from US Secretary of State John Kerry, who warned against any attempt to seize power in Afghanistan illegally.