Bahrain expels top US diplomat after meeting with main opposition group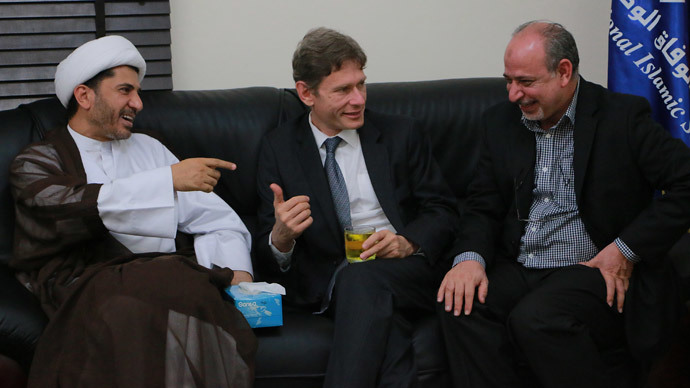 Bahrain's Sunni government has expelled a top US diplomat citing interference in the country's internal affairs following his meeting with the main opposition Shia group.
Bahrain asked US Assistant Secretary of State for Democracy, Human Rights and Labor, Tom Malinowski, to immediately leave the country as he is "unwelcome" because of interference in the country's internal affairs, the kingdom's Ministry of Foreign Affairs said in a statement as cited by Bahrain News Agency.
The Sunni-led government explained the move by saying that holding meetings with some political groups and excluding others is "contrary to diplomatic norms and relations between states."
"These activities have included holding meetings with one party, leaving out others who represent different parts of society, which is indicative of an approach which discriminates amongst the people of this one nation," the state media quoted the ministry as saying.
The ministry added that its decision was based on a recommendation by the bicameral parliament taken at an extraordinary session held in July 2013.
Malinowski has been ordered to leave following his meeting with the leading Shia opposition group Al-Wefaq National Islamic Society. He arrived in the Gulf kingdom on Sunday to strengthen bilateral ties and was scheduled to stay for three days.
Following the statement, Washington said that its diplomat has not left Bahrain.
"Our team is in close touch on the ground with the government to figure out what happened here," US State Department spokeswoman Jen Psaki said at a press-briefing on Monday. "Our officials are in close touch with Bahrain government officials on the ground and we'll see what transpires over the next several hours."
Bahrain said that it hopes the diplomat's "unfortunate acts" will not impact the "strong and solid relations" with the US.
The island nation situated near the western shores of the Persian Gulf is home to the US Navy's 5th Fleet. It has been gripped by anti-government Shia-led protests since the start of Arab Spring revolutions across the region in 2011. The Shia population of Bahrain complains of discrimination and lack of democracy in the oil-rich kingdom, which has been ruled by the Al Khalifa royal family for decades. The protests are often brutally dispersed by police forces who use large amounts of tear gas and excessive force. Hundreds of anti-government activists have been sentenced since the protests began sparking even more contempt among the Shiite-majority of the archipelago state.
You can share this story on social media: