Fatalities as bridge collapses in World Cup host city, crushes several vehicles (VIDEO)
At least two people were killed and 19 people injured as an overpass collapsed in the Brazilian World Cup host city of Belo Horizonte, according to the Minas Regais state health department.
A city bus and several vehicles were crushed after a part of a bridge, which was under construction, fell onto a busy highway. A fire department station believed one person remained trapped in a vehicle under the rubble.
Um Uno foi esmagado na queda do viaduto http://t.co/mM0iBQWmaBpic.twitter.com/jCKaWrwSWg

— Estado de Minas (@em_com) July 3, 2014
O'Globo's footage showed a yellow commuter bus crushed under part of the bridge. G1 said another two trucks and a vehicle were also smashed.
The injured were taken to Odilon Behrens and Risoleta Neves hospitals. Two ambulances and eight fire trucks arrived to perform rescue operations, Military Police informed local press. A helicopter from the Fire Department also assisted in the rescue. Authorities believed an additional fatality was possible.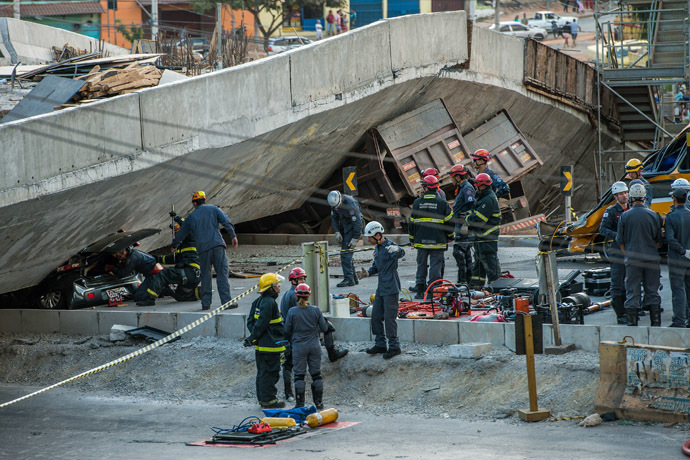 In an interview with Globo News, Lieutenant Colonel Edgard Estevo from the Fire Department said the rescuers were having difficulty accessing the car under the rubble.
"We need to stabilize the area to access the site safely and to study the situation at the bottom [of the rubble]" Estevo said, referring to the possibility that the rest of the structure might crumble.
URGENT: 1 person reportedly killed as bridge collapses in #WorldCup2014 host city, crushes bus http://t.co/YNexfiytVfpic.twitter.com/h8sOWofKgM

— RT (@RT_com) July 3, 2014
The accident occurred in the north of the city where the Argentinian national team's camp is situated.
"We were traveling normally and then there was a terrible noise," Renata Soares, who said she was on the bus at the moment of the accident, told GloboNews TV. "I am sure that more people in other cars were underneath the debris."
The overpass was one of the many infrastructure projects built to improve Belo Horizonte's public transport network. It was supposed to become one of the links connecting the city center with the airport, but had not been finished in time for the World Cup and was still under construction.
Belo Horizonte is to host a semifinal match on July 8. The city's Mineriao Stadium has already staged five games at the event.
MORE: Bridge under construction collapses in #WorldCup2014 host city, crushing cars and bus http://t.co/23xial5CnFpic.twitter.com/hFPqiMHuPs

— RT (@RT_com) July 3, 2014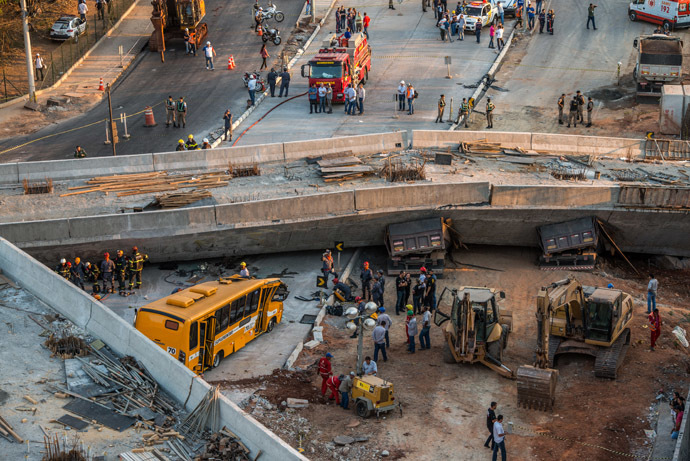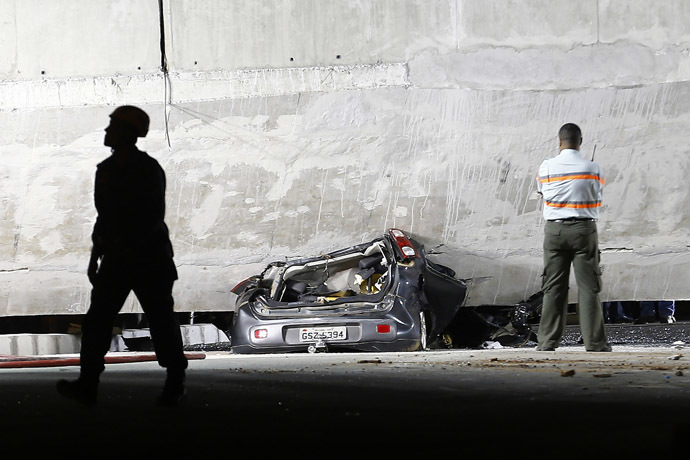 The Friday incident was the second major accident this year attributed to World Cup preparations in Brazil. In early June a construction worker was killed when a concrete portion of the São Paulo monorail collapsed. Last year two construction workers were killed when a large crane collapsed at the construction site of a stadium in the capital.
You can share this story on social media: