PayPal freezes out NSA-proof, encrypted ProtonMail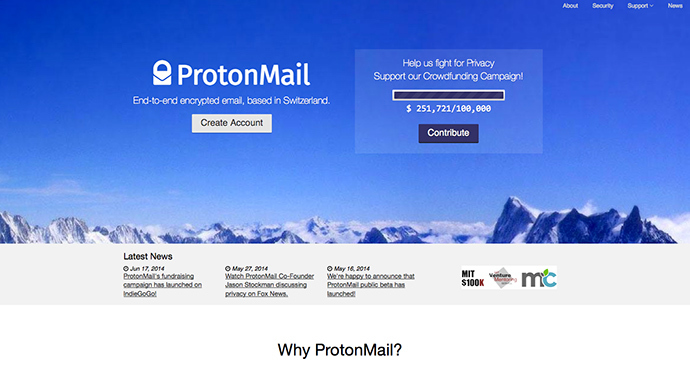 PayPal has restricted payments to and from ProtonMail, a Swiss-based email service offering full end-to-end encryption, "pending further review." When pressed, PayPal questioned the legality of the anti-snooping service.
ProtonMail announced the payment freeze in a statement Tuesday, saying PayPal had made no attempt to contact them before shutting them out.
"When we pressed the PayPal representative on the phone for further details, he questioned whether ProtonMail is legal and if we have government approval to encrypt emails, the statement read.
"We are not sure which government PayPal is referring to, but even the 4th Amendment of the US constitution guarantees: 'The right of the people to be secure in their persons, houses, papers, and effects, against unreasonable searches and seizures….' It seems PayPal is trying to come up with ANY excuse they can to prevent us from receiving funds," ProtonMail said.
ProtonMail said credit card and Bitcoin contributions are still possible, and remain hopeful that bringing attention to the issue might help convince Paypal "to do the right thing."
Developed by scientists both at the European Organization for Nuclear Research, CERN, and the Massachusetts Institute of Technology (MIT), ProtonMail came about as a direct result of the NSA Scandal and the closure of Lavabit in August.
A sneak peak at ProtonMail+ pic.twitter.com/VsEkixgL5x

— ProtonMail (@ProtonMail) June 10, 2014
ProtonMail's servers are based in Geneva, Switzerland, meaning user data is outside the jurisdiction of both the US and the EU. Administrators of the service have no access to user data, messages are stored and transmitted in completely encrypted form and never leave "the ProtonMail environment," and users are completely anonymous, as the creators say no metadata or other information is saved.
What's more, the service offers "self-destructing messages," whereby sent messages are deleted automatically from the recipient's inbox after they expire.
This isn't the first time PayPal has gotten in hot water with government transparency and personal privacy advocates.
Installing servers at an undisclosed location in Europe. pic.twitter.com/6u87KAA687

— ProtonMail (@ProtonMail) October 3, 2013
In December 2010, the online payment service "permanently restricted" the account used in fund-raising efforts by WikiLeaks.
At the time, PayPal justified the move by saying that "our payment service cannot be used for any activities that encourage, promote, facilitate or instruct others to engage in illegal activity."