Porn shock for Madrid's new electric bike hire system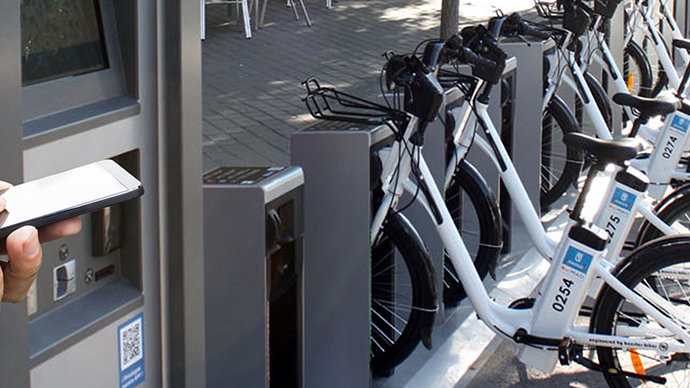 The inaugural week of the brand new electric bike hire system in Spanish capital, Madrid, was marred by hackers, who put a pornographic clip on the display screens of docking stations around the city.
The touchscreens of the BiciMad terminals showed an obscene clip of a faceless man moving his penis up and down, delivering a shock to unsuspecting users, the El Pais newspaper reports.

The operator of the bike hire system, Bonopark, said that they are aware of the hacker attack, but refrained from further comments on the matter.

The majority of the system's bicycles were gifted by Madrid's city hall to journalists and cycling associations.

One of the first to learn about the porn hack was former director of the Spanish news agency EFE, Ignacio Bazarra.

"BICIMAD's docking stations hacked with porn. Madrid Town Hall should speak up about all these disasters," Bazarra wrote on his Twitter page after posting a picture of one of the hacked terminals.
Los terminales de @bicimad hackeados con porno. El Ayuntamiento de Madrid debería explicar tanto desastre @bici_madpic.twitter.com/a6wAo63mGP

— Ignacio Bazarra (@iBazarra) June 29, 2014
Besides porn, there were plenty of other – more trivial – glitches plaguing the docking stations during the first week.


Bonopark blamed the problems on the "huge demand" from Madrid citizens. However, only around 3,300 people – Madrid's population is 3 million - became members of the system in its first seven weeks.

The BiciMad bike hire system offers 123 self-service stands for 1,560 electric bicycles around the center of the city.

This March, Bonopark was sued by Spain's bicycle industry association (AMBE) after it detected numerous malfunctions in the BiciMad system.

Safety concerns may also shatter the Spanish capital's attempts to become a 'bike-friendly' city like Barcelona.

"There are places it is quite easy to ride a bike, but other areas where it is extremely dangerous. It is often scary to ride a bicycle in Madrid," Pascual Berrone, urban development expert from Madrid's IESE business school, told AFP ahead of BiciMad's launch.

Madrid taxi drivers also don't seem to be too happy about the innovation by the city's authorities.

"This is going to create problems for drivers. None of them are used to cyclists. It is going to be more dangerous," Juan Carlos Gordillo, a taxi driver, told The Local.

Even Bonopark's director, Miguel Vital, acknowledged that the "project will have problems and there will be incidents," but added that all of the shortcoming "will be resolved through our efforts."