US pressured Denmark to close Kurdish TV so Rasmussen would become NATO chief – lawyer
The US put pressure on Danish authorities to close the Kurdish Roj TV channel in order to appease Turkey. This was done so Anders Fogh Rasmussen's position as NATO secretary general would be secure, the station's lawyer told RT amid WikiLeaks revelations.
WikiLeaks documents released back in March suggest Rasmussen abused his powers during his time as Denmark's prime minister, in order to secure his future job.
In 2009, Denmark reportedly agreed to start legal action against Roj TV, a Kurdish separatist channel that was broadcasting from Copenhagen, in order to appease Turkey. In return, Ankara said it would back Rasmussen as the future NATO chief.
"There were some conflicts of political character between Denmark and Turkey. And the US intervened because they liked very much [for the] then-Danish prime minister to become secretary general. And therefore they felt confident with him as a secretary general," Roj TV lawyer Bjorn Elmquist told RT.
"There was big pressure from the US to think in a creative manner how to indict and how to prove that Roj television was promoting terrorism. And in the end, the indictment was there. And within hours after that indictment it was announced that there was an agreement between the Turkish government and the other NATO countries to decide for the previous Danish prime minister to be secretary general."
Roj TV began broadcasting in 2004. In 2010, it was accused in Denmark of promoting terrorist activities. It was officially shut down in February 2014.
Turkey maintained that Roj TV was a mouthpiece for the Kurdistan Workers Party (PKK), which fights for the rights of the Kurdish minority – and is considered a terrorist organization in Turkey and the West.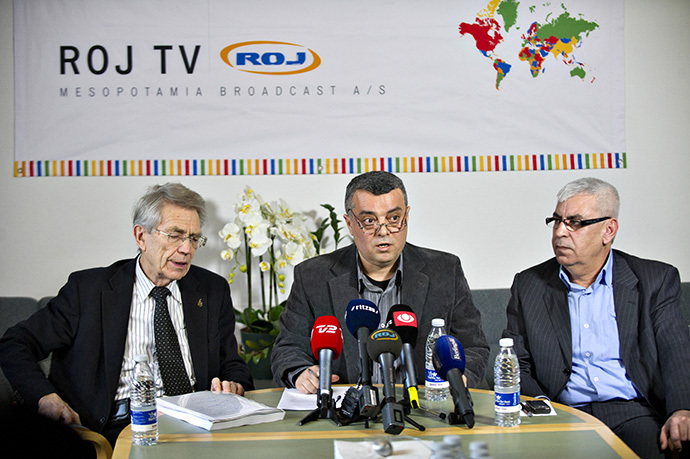 In fact, Turkey had on three different occasions unsuccessfully complained to the Danish Radio and Television Board about Roj TV, with the watchdog ruling that the channel's reporting standards matched those of other TV stations in Denmark, Elmquist added.
"We have a special independent committee on television in Denmark, which would issue the certificates. And the Turkish government had on three different occasions complained to the committee. And each time they concluded that the coverage of the conflict between the PKK, the Kurdish guerrillas, and Turkish security forces was just like the coverage you would find at the big Danish news television stations," he said.
"So, we thought that also the courts would respect the freedom of expression, the freedom of press, the freedom of information, but it didn't occur."
When NATO was asked to comment on the leaks about the deal to appoint Rasmussen, its press office directed RT to the Danish judicial authorities, insisting that the courts were fully independent.
"We do not comment on alleged leaked documents. However, in general I can say that in real democracies, such as Denmark, the courts are fully independent. For any other inquiries, I refer you to the Danish judicial authorities," press officer Ben Nimmo from NATO's Public Diplomacy Division told RT in a letter.
Kurdish activist Dilar Diriq said that Turkey has been after Roj TV ever since it launched.
"They repeatedly filed complaints, but they were unsuccessful until Rasmussen became NATO's secretary general in 2009. And Turkey did not make it a secret that Roj TV's closure was a condition for them to support Rasmussen. And suddenly in the next year, the Danish government decided to prosecute Roj TV. This really does not come as a surprise because there had been several anti-Kurdish policies that were adopted by European governments to appease Turkey," she told RT.
The 2009 WikiLeaks diplomatic cable sent by Terence McCulley, then-deputy chief of mission at the US embassy in Copenhagen says that the Danish promised to come after Roj TV.
"Danish pledges to intensify efforts against Roj-TV -- among the measures offered Turkey for not blocking former PM Rasmussen's appointment as NATO secretary general -- have given additional impetus to the investigation while also prompting senior officials to tread carefully, to avoid the appearance of a quid pro quo (i.e., sacrificing freedom of speech in exchange for a high-level post)," the cable states.
The cable also says that "no clear evidence has been found to connect the broadcaster with the PKK," but that the Danish are being encouraged to "think creatively about ways to disrupt or close the station."
You can share this story on social media: