Digital dashboards: Google unveils voice-enabled Android Auto interface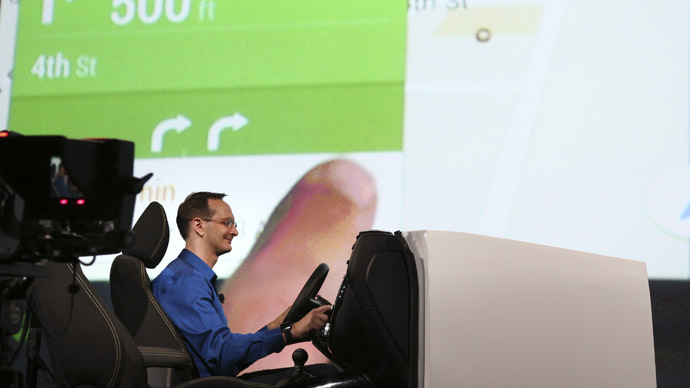 Google has officially entered the world of car technology, unveiling its Android Auto interface on Wednesday. Using an Android smartphone as the brain, the new system will turn dashboards into mobile devices that can be fully navigated by voice.
According to the internet giant, users will simply plug an Android phone into a car's console, allowing the vehicle's center display to become a larger-screened interface for the phone.
The new system is designed to provide a distraction-free interface that allows users to access music playlists, check traffic conditions, make phone calls, and send and receive text messages without taking their hands off the wheel.

"Most importantly, Android Auto is completely voice enabled, so you can keep your hands on the wheel and your eyes on the road," Patrick Brady, director of engineering for Android, said as he showed off the new system's features at a Google I/O developer event in San Francisco.

Also at the event, Android product manager Andy Brenner performed a quick tour of the audio, messaging, and navigation applications in a faux car.

Most of the on-stage demonstration was dedicated to showing how the voice system works. The smartphone-powered dashboard will be able to read text messages that users receive while on-the-go, and allow them to dictate and send responses.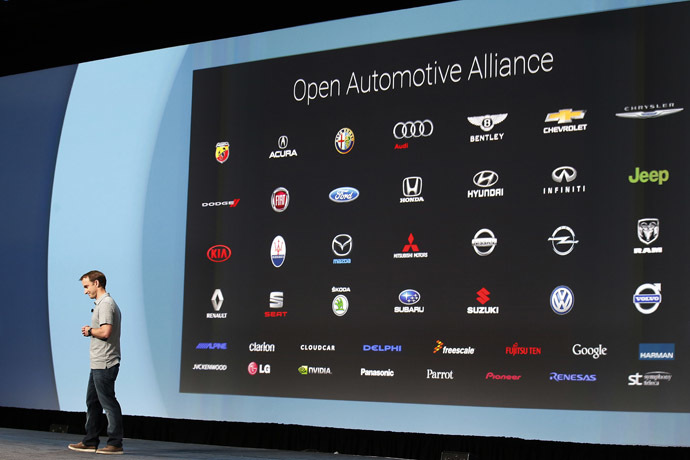 Google Maps will also be completely voice enabled. In addition to giving directions, it will also provide the opening and closing hours of museums, shops, restaurants, and other public locations.

Steering wheel-mounted controls and a console touchscreen will be available.

Android Auto will be featured in cars from partners that are members of the Open Automotive Alliance, including major carmakers from around the world. The first cars compatible with the system will be available by the end of the year. Google mentioned that more than 40 auto companies have signed onto its software development alliance, but did not say which of them will build Android Auto into their cars this year.

Android Auto is an answer to Apple's CarPlay system, which the rival company presented earlier this year.

Google is also attempting to challenge Apple through its new Android TV, which is designed to compete with Apple TV. Company executives have demonstrated Android TV, which users will be able to control with either a smartphone or a smartwatch.

This is not Google's first attempt at a set-top box; it has offered Google TV through device makers such as Logitech, Sony, Vizio, and Asus since 2010. The internet giant's previous efforts, however, failed to catch on with consumers, although it has had success with the Chromecast streaming media stick that lets users play internet videos using smartphones, tablets, and computers running the Chrome browser as remote controls.
You can share this story on social media: