ISIS supporters vow to avenge any US airstrike in Iraq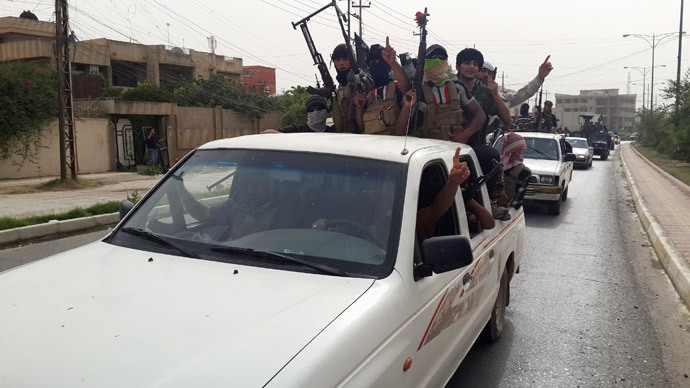 Supporters of Sunni Islamists waging a campaign of terror across Iraq have vowed that any US airstrikes against its fighters will be met with attacks on Americans. The group has also threated to commandeer its own Air Force as Iraq risks disintegrating.
All you need to know about ISIS and what is happening in Iraq
A twitter account with 21,000 followers, dubbed the "League of Supporters", called for ISIS sympathizers to post messages warning America not to carry out airstrikes.
"This campaign reflects the messages sent by all the Sunni people all over the world to the American people ... (It's) a threat to every American in the event of an American strike on Iraq," the message read, according to Reuters.
Hundreds of supporters posted tweets in a similar vein, with one saying: "As our martyred sheikh Osama bin Laden said, you need not consult anyone about killing Americans."
Another posted that the "American infidel" would be a target for strikes if the US interfered in "the affairs of the Islamic State in Iraq and the Levant."
On Tuesday, unidentified bombers reportedly launched an airstrike on ISIS positions in the northern Iraqi city of al-Qaim. Iraqi television claimed they were US planes, but the Pentagon has denied responsibility.
ABC News cited a US official as saying that the Syrian air force is thought to have launched the air strike. The US has "pretty good information that the Syrians are behind the fighter aircraft bombing in western Al Anbar," the official said.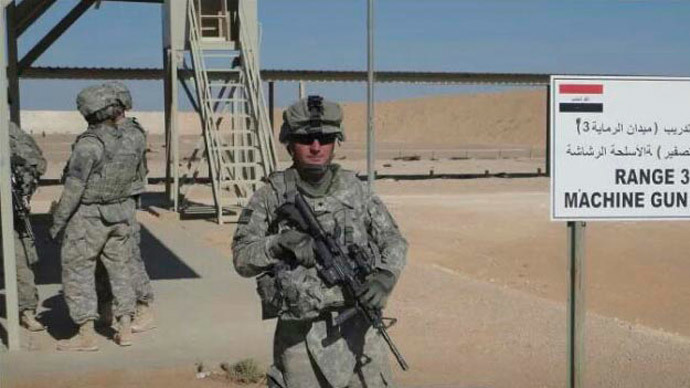 Iraqi Prime Minister Nouri Maliki has been pleading for US airstrikes since last week, though the White House has remained non-committal, saying they remain "an option."
Iraq's own air force has been carrying out strikes on insurgent strongholds over the past week.
Meanwhile, as ISIS attempts to stave off US airstrikes, the group is threatening to neutralize Iraq's air capabilities by taking control of Balad Airbase, Iraq's largest airfield and one of the United States' primary military outposts during its occupation of the country, The Daily Beast reports.
"We assess the group continues to threaten the air base and Iraqi Security Force control of the air base as it moves south towards Baghdad," a senior US intelligence official told reporters on Tuesday.
If ISIS manages to wrest control of the base from Iraqi security forces, they would gain access to Russian-manufactured transport helicopters, surveillance planes and a fleet of pick-up trucks fitted with high-caliber machine guns.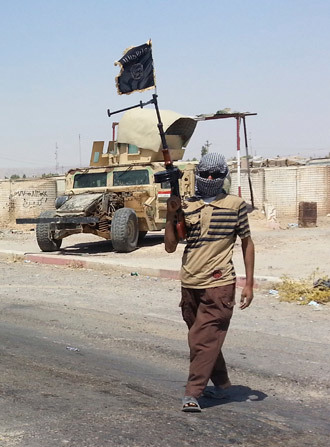 Although it remains unknown if fighters among the militant's ranks would be able to use or operate the aircraft, an Iraqi commander told NBC news without air power, they would be on an equal footing with ISIS.
The militants renewed their attacks on the airbase on Wednesday, and seized several small oil fields.
Meanwhile, ISIS has managed to seize on Social Media to promote high quality propaganda videos, which show their military exploits in Syria and Iraq.
Of the 6,000 ISIS insurgents currently believed to be fighting in Iraq, half are said to be foreigners. The terrorist group has used their well-produced videos to attract Western fighters. On Tuesday, a senior US intelligence official told CBS news that some of them were Americans.
The Sunni insurgents have already seized large parts of the north of the country from the Shia government, pushing Maliki to request support from the United States and neighboring Shia states.
The official said the group was well-positioned to hold onto its territorial gains within the country, but would risk overstretching its forces if it pushed south into Baghdad. He added that they intended to target US interests.
On Tuesday, the first of up to 300 US military advisers began their mission in Baghdad to assist the Iraqi army, though the Pentagon has stressed they are merely there as advisors and will not take on a combat role.
"This isn't about rushing to the rescue," Rear Admiral John Kirby told reporters.
"These teams will assess the cohesiveness and readiness of Iraqi security forces ...and examine the most effective and efficient way to introduce follow-on advisers," Kirby said.
The United Nations says more than 1,000 people, mainly civilians, have been killed during the Sunni insurgents' surge in Iraq, which began some two weeks ago.
Read more: Unknown planes bomb ISIS positions in N. Iraq, Pentagon denies it's US
You can share this story on social media: