Tear gas, rubber bullets as ethnic Albanians clash with Kosovo police (PHOTOS)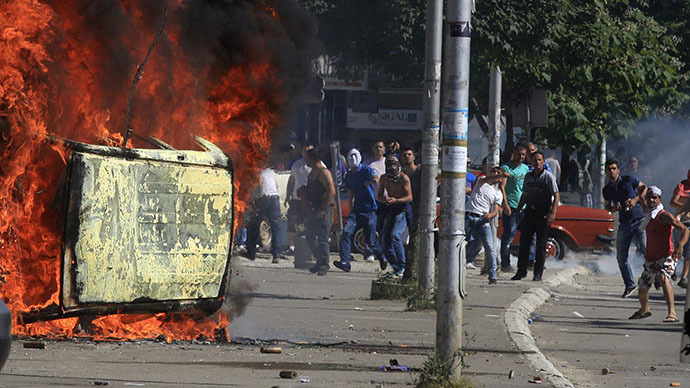 Several people, including police officers, have been injured as ethnic Albanians clashed with security forces in the city of Mitrovica. Police fired tear gas and rubber bullets to stop protesters who were hurling stones and burning cars.
Twenty one people have reportedly been injured, including 13 police officers and two journalists.
Hundreds of Albanians protested over Serb plans to erect a "Peace Park" on the Mitrovica Bridge over the Ibar River that splits the town into Serbian and Albanian neighborhoods.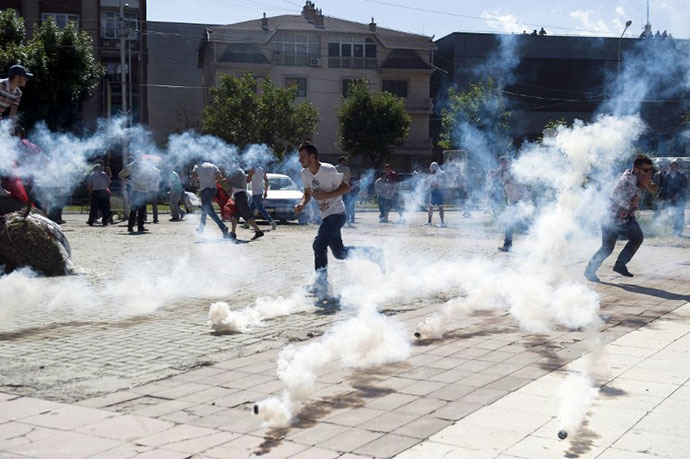 The bridge has been blocked by Serbs since 2011 until last Wednesday, when Serbs from northern Mitrovica removed barricades under an EU-brokered deal. However, shortly after large flower pots were still placed in the same spot to keep the bridge closed for traffic, but open for pedestrians.
The protest against the new blockade of the bridge was reportedly organized via social networks and was scheduled to start at 15:00 local time.
Clashes erupted when ethnic Albanian rioters started setting police cars on fire and hurling stones at security forces.
Police van on fire, protestors counter attacking with wheelie bins, rocks, spent tear gas canisters #mitrovicapic.twitter.com/oSXYMnfCfo

— Jack Davies (@jackoozell) June 22, 2014
As violence escalated, the NATO-led KFOR and the EU mission EULEX soldiers were deployed to back-up police and prevent the unrest from spreading.
American KFOR protects Main Bridge in Mitrovica: #Kosovohttp://t.co/j1tsbehTxO via @YouTube

— Марија Тодоровић (@Zlikiliki) June 22, 2014
Journalists in Pristina reported two explosions, presumably caused by burning cars. According to local Tanjug news agency, one of the EULEX's vehicles has also been burnt down.
This would seem to be source of explosion heard earlier #mitrovicapic.twitter.com/9W4wxECpNK

— Jack Davies (@jackoozell) June 22, 2014
Kosovo's local police head Zeljko Bojic said that the situation was calm hours after the clashes that erupted at around 15:30 local time. Increased police presence will remain at the site during the night and until the next morning.
On Saturday, the mayor of southern Mitrovica, Agim Bahtiri, said that "patience came to an end" and that the new barricade on the bridge over the Ibar River disguised as a park must immediately be removed.
His statement came in response to the plans voiced by the mayor of the Serb part of Mitrovica, Goran Rakic, to construct the so-called "Peace Park" on the bridge.
Ethnic Serbs in the north of Kosovo are reluctant to integrate with Kosovo's ethnic Albanian majority.
Serbia does not recognize Kosovo's independence, declared in 2008. Last year Kosovo's Parliament approved an EU-brokered agreement aimed at normalizing ties with neighboring Serbia.
The agreement was widely considered as a step toward Serbia's entry into the EU as the conflict with Kosovo was its main obstacle to joining the bloc. Both Belgrade and Pristina agreed not to block each other's efforts to seek EU membership.