US fired depleted uranium rounds in civilian areas during 2003 Iraq campaign - report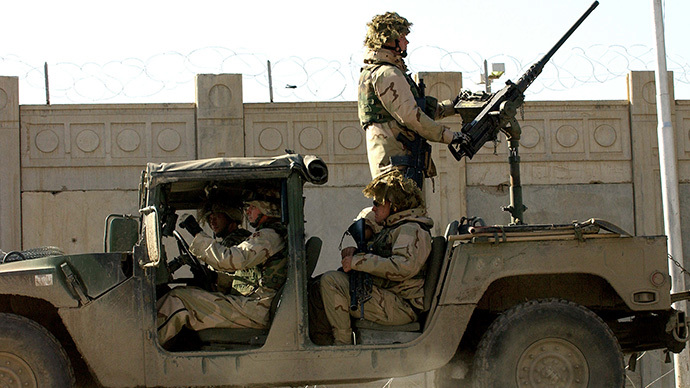 US-led forces in Iraq used depleted uranium weapons in civilian-populated areas during the 2003 military campaign, according to a new Dutch NGO study that also exposes a lack of adequate cleanup efforts by the invading troops.
Depleted uranium used by US forces blamed for birth defects and cancer in Iraq
For the first time the location of several sites where the invaders fired some 10,000 depleted uranium rounds were released by the Dutch Defense Ministry, and published in a study by Dutch peace group PAX.
US Forces Used Depleted Uranium Rounds In Civilian Areas in #Iraqhttp://t.co/NWst6QzOBq#tcot#tlot#Infowarspic.twitter.com/Vt44Pmk1v7

— Infowars Updates (@InfowarsUpdates) June 19, 2014
Most of the DU rounds fired by the US-led coalition were in heavily populated areas, the group says. Samawah, Nasiriyah and Basrah are just some urban areas where ammunition was deployed - with around 1,500 anti-armor rounds fired directly at Saddam Hussein's infantry forces.
Inside the body, DU's hazards are its chemical toxicity and radioactivity. DU primarily emits alpha radiation, although beta and gamma are also emitted from uranium's decay products. Inside the body, alpha radiation can disrupt cellular process and damage DNA, which can lead to an increased risk of developing different types of cancer, depending on which organ is exposed. DU is also a heavy metal and therefore chemically toxic.
The GPS coordinates of DU rounds were initially handed over to the Dutch Defense Ministry because the Netherlands was worried about the potential contamination of its own troops in the country. The ministry later shared the information with PAX under a freedom of information law.
Most of the firing locations remain unknown, as more than 300,000 DU rounds are believed to have been fired by US-led coalition.
NGO says that the health risks of more than 440,000 kg of DU fired by Western forces remains unclear, as "neither coalition forces nor the Iraqi government have supported health research into civilian DU exposure."
"Coalition forces were aware of the potential health and environmental impact of DU munitions, yet refrained from undertaking the necessary clean-up of DU outside their own bases," a summary of the report reads.
Wim Zwijnenburg, the author of the report, said the US Air Force knew of the consequences of using DU ammunition.
"The use of DU against these targets questions the adherence of coalition forces to their own principles and guidelines. They should be held accountable for the consequences," Zwijnenburg said, citing a 1975 memo from the Air Force Office of the Judge Advocate that restricted the use of such ammunition.
"Use of this munition solely against personnel is prohibited if alternative weapons are available," the memo said, because of "unnecessary suffering and poison."
According to an earlier PAX report, more than 300 sites in Iraq are currently contaminated with depleted uranium and it would cost at least $30 million to clean up.
You can share this story on social media: