Seizure, bloodshed could be aims behind Russian embassy attack – Lavrov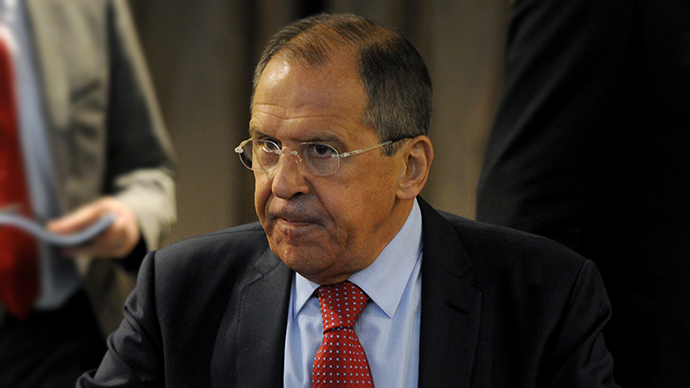 There are indications that "physical seizure" and bloodshed were the aims of the attack on the Russian embassy in Kiev, Russia's foreign minister told journalists.
READ MORE: Ukrainian FM chants 'Putin - f**ker' at vandalized Russian embassy in Kiev
"From our diplomats' point of view, the aim of the attackers was to physically seize the embassy building. There are also grounds to believe that they wanted bloodshed," Lavrov said.
The leading players in the attack on Russia's embassy were "fighters from Azov Battalion, created and financed by oligarch Igor Kolomoisky," who was appointed by Kiev authorities as governor of Dnepropetrovsk, Lavrov said.
Russian Ambassador to Ukraine Mikhail Zurabov believes the attack was thoroughly planned.
"In the conditions in which we (Russia) and Ukraine [have] lived for the last 20 years, of course there was no question that the embassy here should meet the same safety requirements as in Iraq," Zurabov told NTV channel. "But it looks like now we will have to reconsider our approach."
According to Russia's envoy to Kiev, there were two groups of "well equipped" young people between 25 and 30 years old who took no active part in the violence but were "absolutely ready to storm."
"They had baseball bats, metal rods, axes. Had they entered the territory of the embassy, I think we would not have avoided victims," he said.
Sergey Lavrov called the aggression "disgusting," adding that the violence faced by Russian diplomats is "good reason" for "our Western partners"to think about how Kiev's ruling regime is using "inherited" following the protests at Independence Square (Maidan) this winter.
As for Ukrainian acting Foreign Minister Andrey Deshchitsa using the offensive language addressed to Russian President Vladimir Putin, it was "beyond the bounds of decency," Lavrov said, calling the protest outside the embassy "bacchanalia."
"[This is] a good reason for our Western partners, who in every possible way support any steps by Ukraine's ruling regime, to think about how this regime is using powers inherited after Maidan," Lavrov said.
Speaking about the international community's reaction to the embassy attack in Kiev, Lavrov said that Russia is "disappointed" by Western leaders' position on the violence.
"Western partners assured me and our diplomats that they condemn the attack. However, when we drafted a certain resolution to the UNSC, it was Western partners who refused to support it," he said.
"They tried to link it with offers to condemn the downing of a plane in the southeast, with some other things that have no connection with the main point; diplomatic representatives' inviolability cannot have any conditions," Lavrov said, adding that such an attitude "does not add to the reputation of the schools of diplomacy in European countries and the US."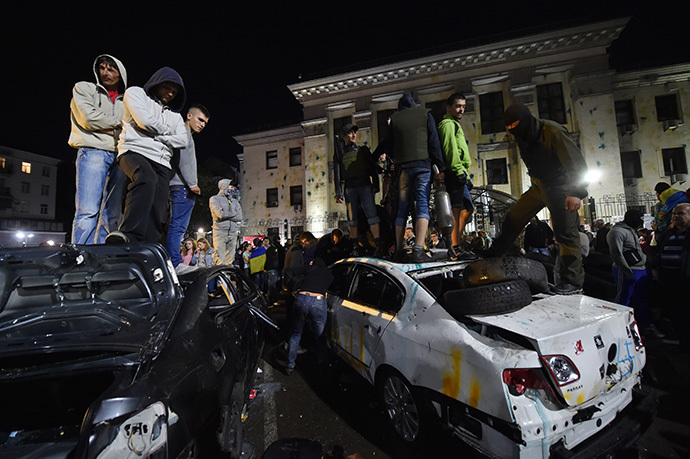 A third party behind Ukraine's 'arrogant intransigence?'
Touching upon the disagreement on gas prices between Russia and Ukraine, Lavrov said that he "can't get rid of the feeling" that there is a third country that is consulting Kiev "with the aim to make their position irreconcilable on all issues."
READ MORE: Gas talks stall because Kiev has little 'grasp of reality'
The foreign minister added that Russia would not like "some third party" to be behind such "arrogant irreconcilability."
Kiev, at the same time, enjoys "impunity" because Western partners – "at least some of them" – fence them off.
"This impunity is also shown in the arrogance with which the Ukrainian government behaves, in particular in negotiations on gas [supplies], rejecting those sensible compromises which the Russian side offers and that are understood and supported by the EU," Lavrov said. "We are worried that this impunity is showing up more and more often."
You can share this story on social media: