Kiev claims 50 'terrorists' killed in airstrike after losing 49 troops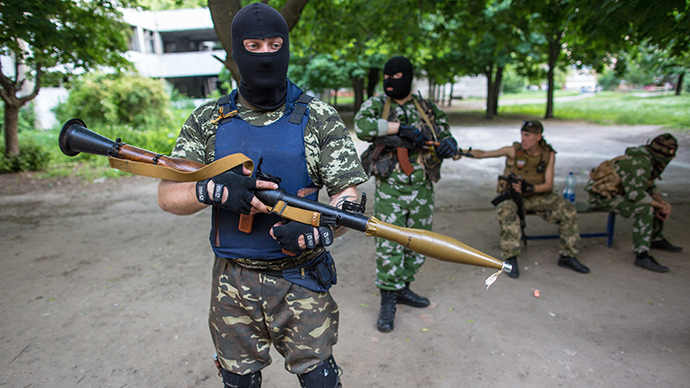 The Ukrainian troops claimed killing over 50 militants in Kramatorsk, eastern Ukraine, hours after losing a military transport plane with 49 people on board. The claims were not collaborated on the ground.
The massive casualty count among the 'terrorists', as Kiev calls local militias claiming sovereignty over Ukraine's Donetsk and Lugansk Regions, also includes some 150 injured military operation spokesperson Vladislav Seleznev claimed on his Facebook page. Kiev's forces also destroyed an ammunition depot, he added.
Seleznev also claimed that the majority of those killed and injured are "non-Slavs," without elaborating on how exactly this fact could be established, considering that the city remains under militia control.
Kramatorsk is a city located just south of Slavyansk, the Ukrainian militia stronghold besieged by Kiev loyalists since mid-April. The latest reports coming from the area didn't mention any spikes in the death toll of the ongoing military crackdown.
The reports come a day after a military transport aircraft carrying 49 Ukrainian troops was downed At Lugansk Airport. It was the largest-ever single loss Kiev acknowledged over the months of violence in eastern Ukraine.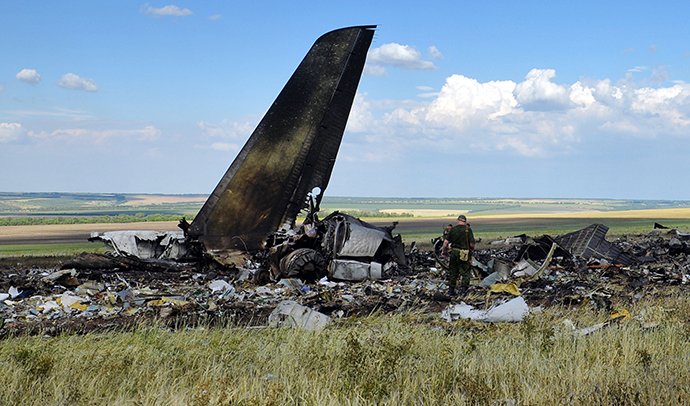 Seleznev's claims of a major victory near Slavyansk were mirrored by Ukrainian President Petro Poroshenko, who announced "a counter-offensive" phase in the operation in a televised address.
"You should know that today the Ukrainian army for the first time launched a counter-offensive. Our troops started to press terrorists," the president said. "I tasked the armed forces of Ukraine to take control of Ukraine's state border through which terrorists get weapons, equipment, support and money."
Poroshenko said Kiev gained control over 11 residential areas in southeastern Ukraine which were previously under the control of militias.
Kiev has been using increasingly indiscriminate and overwhelming military force in a bid to bring the rebellious provinces under its control, escalating from gun raids to mortar shelling to heavy artillery fire and airstrikes. The violence claimed several hundreds of lives of local civilians, militiamen and Ukrainian troops, according to conservative estimates.
Cities affected most by the crackdown, such as Slavyansk, have suffered serious damage in the onslaught and are facing shortage of essentials like water and medicine. Thousands of people fled the area, many of them going across the Russian border to find refuge.
You can share this story on social media: