Japan kills 30 minke whales in 'research' campaign following intl court ban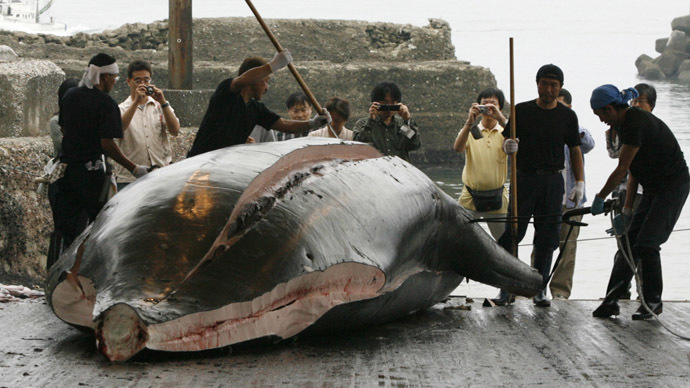 Japan has caught and killed 30 minke whales in the country's annual northwest Pacific "research" whaling campaign, officials said on Friday. The trip is the first since an international court banned such activities earlier this year.
The minke whales were caught off Ishinomaki, Miyagi Prefecture as part of the country's annual northwestern Pacific hunt – which takes place form April to June – according to Japan's Fisheries Agency. A second group of whalers is still at work.

In March, the International Court of Justice (ICJ) found that Japan's Southern Ocean efforts in the Antarctic whale hunt were illegal under international law. It was ruled that no further permits should be issued under Japan's scientific whaling program, saying that the campaign produced little actual research. The ruling also urged Japan to re-examine the program.

Japan's Ministry of Agriculture, Forestry and Fisheries said in April that it would submit a new plan for Antarctic whaling to the International Whaling Commission in 2015 for the purpose of resuming whaling in the region.

Japan has been conducting whaling research in three areas – the Antarctic Ocean, off the coast of the northwestern Pacific Ocean, and along the coast of the northwestern Pacific. The latter two are not as widely known as the Antarctic hunt and were not specifically mentioned in the court ruling.

Japanese whaling is a centuries old tradition which dates back to the 12th century. The Japanese whaling fleet departs twice a year. During the North Pacific campaign, whalers can kill up to 200 minke whales, 50 Brydes, 100 sei whales, and 10 sperm whales, according to the International Fund for Animal Welfare. Japan has hunted whales under a loophole in a 1986 global moratorium that allowed it to conduct lethal research on the mammals. Meat from the whales usually ends up in food markets.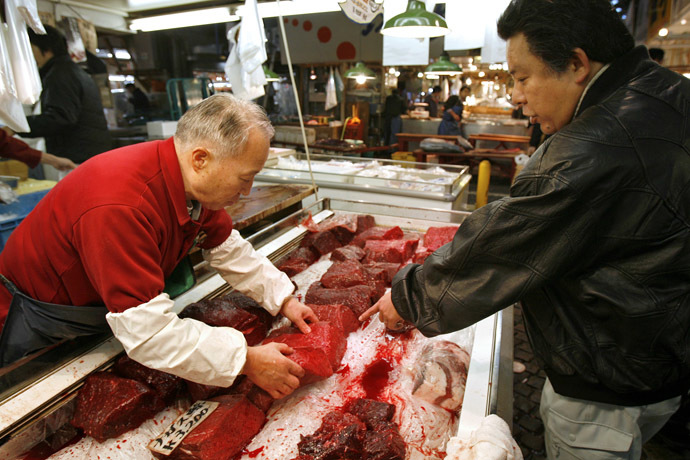 Tokyo said it intends to prove that the whale population is large enough to sustain commercial hunting. Japan's Prime Minister Shinzo Abe reiterated on Monday that the country aims to restart commercial whaling.

"I want to aim for the resumption of commercial whaling by conducting whaling research in order to obtain scientific data indispensable for the management of whale resources," he said at a parliamentary commission meeting. "To that end, I will step up efforts further to get understanding from the international community."
Sixty percent of Japan's residents said that research whaling should continue – despite an international court order to halt the hunt, and the fact that few Japanese regularly eat whale meat, according to an Asahi Shimbun newspaper survey conducted in April. Another survey by the newspaper in March 2002 showed that four percent said they were occasional consumers of whale meat, while nine percent said they have eaten it on rare occasions.

Environmental organizations have been staging various protests against whaling, which is also popular in Norway and Iceland.