NASA 'smells' Saturn's moon Titan, finds it 'aromatic'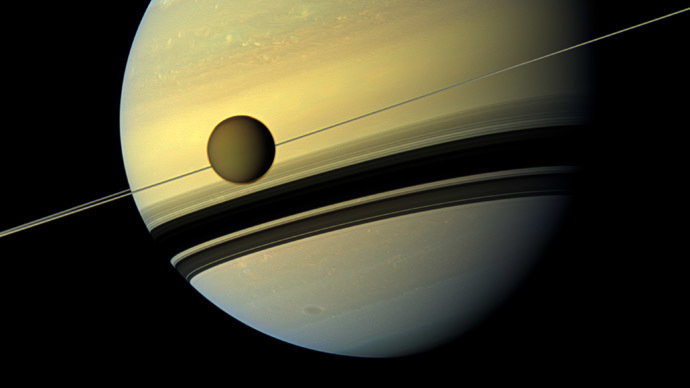 The US space agency has come up with a recipe that captures key flavors of Saturn's moon Titan – out of a need to understand a previously unidentified chemical composition hidden beyond its orange haze.
When NASA's Cassini spacecraft peered at the material gathered from Titan's atmosphere at alternate wavelengths, beyond the infrared spectrum, in the far infrared region, it suggested a molecular mixture the scientists wanted to decipher.
"Now we can say that this material has a strong aromatic character, which helps us understand more about the complex mixture of molecules that makes up Titan's haze," Melissa Trainer of NASA's Goddard Space Flight Center in Greenbelt, Maryland, told the press. However, Trainer did not detail the smell, but it might be close to gas station.
Scientists arrived at this in much the same way a chef tastes a dish and ascertains its components. By experimenting with combining gases in various ways and under differing lab conditions, NASA was able to approximate the initial mixture spotted earlier by Cassini. It was a matter of matching it as close to the captured colors as possible.
The trouble was always that Titan's atmosphere with its dark orange hue could be a result of a number of chemical mixtures, because what was visible from the outset is the sheer number of aromatic hydrocarbons in the moon's atmosphere.
But when scientists exhausted all the nitrogen and methane combinations possible, it occurred to them to try adding a third gas – benzene. That's when they got closer than anyone else at figuring out Titan's taste and smell. It was then a matter of juggling it with some other possible options, all belonging to the subfamily of aromatics – a type of hydrocarbon.
Co-author of the study and Cassini scientist Carrie Anderson's results were closely replicated when an aromatic containing nitrogen was combined with the first two gasses. And this is the first success science has ever had at "creating with lab experiments this particular feature seen in the Cassini data," Joshua Sebree, who led the study, said.
Now that the resulting mixture has given scientists a much bigger chance at understanding the precise mixture of gases in the unseen areas of Titan's atmosphere, the "veritable zoo of complex molecules" can only continue to give us a more expansive picture of "just how complex and wondrous this Earth-like moon really is," Scott Edgington of NASA's Jet Propulsion Laboratory said.
The project and accompanying study, published in Icarus, have been sanctioned by the space agency's Planetary Atmospheres program, although the Cassini-Huygens mission has been carried out in concert with the European Space Agency (ESA).
You can share this story on social media: