Car explodes in Ukraine's capital nr parliament as Poroshenko swears in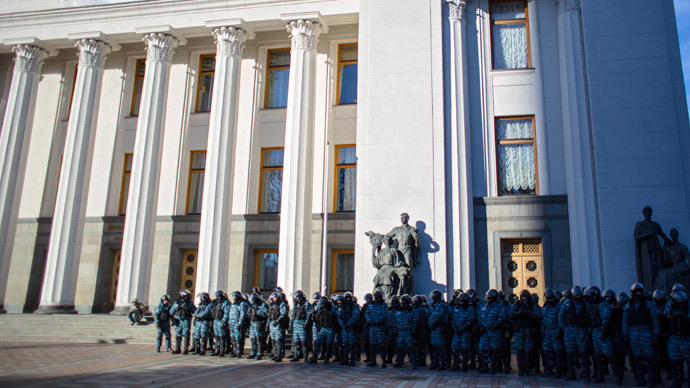 A massive blast rocked central Kiev not far from the seats of the presidential administration and the Ukrainian parliament as President Petro Poroshenko was taking his oath of office.
The explosion occurred at about 10:00 am local time (07:00 GMT), just as Poroshenko was entering the Verkhovnaya Rada for his inauguration ceremony.
The vehicle caught on fire. Police have not yet commented on what may have caused the blast.
"The Infiniti-make car belongs to a local, who is around 50 years old," the law enforcers said. Witnesses said the car exploded as it was heading deeper into the center. The traffic was partially sealed off.
Взорванный автомобиль в Киеве, на ул. Кутузова #Киев #Украинаpic.twitter.com/qqmb2nfQ91

— And. Sm. (@spear2) June 7, 2014
The car's driver, a Ukrainian national, got his thigh broken and severely wounded and two toes ripped off in the blast. He was immediately taken to a local hospital. The police are currently investigating the case.
The car's plate numbers were consistent with those from the eastern Ukrainian city of Lugansk, which has recently claimed its independence from Kiev, local news outlets claimed.
In April, the central government launched a full-scale military operation in the east, which refused to acknowledge the coup that ousted Viktor Yanukovich. In the snap May 25 election, billionaire Petro Poroshenko won with a landslide.
However, the crackdown on the east did not stop. Since Monday, 13 people have been killed in the Lugansk region by Kiev's troops, self-defense forces said. Ten of them were civilians.
On Saturday, Poroshenko called for peace and unity in Ukraine and urged the activists in the east to lay down their arms.
"Lay down arms and I guarantee amnesty to all those who do not have blood on their handsor does not provide financial support to terrorists," he said at the ceremony.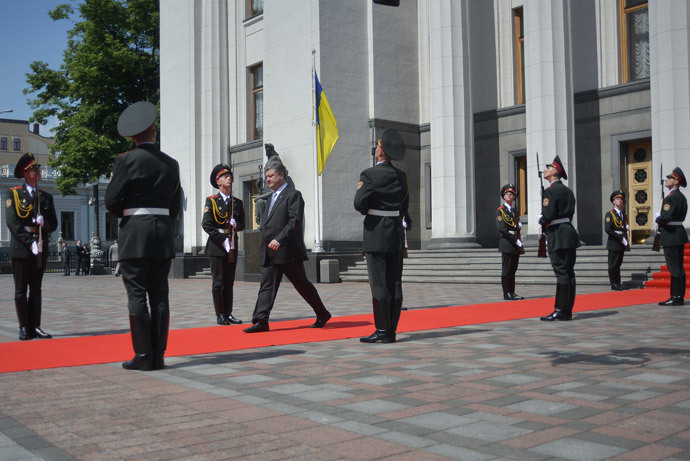 However, the head of the People's Republic of Lugansk, Valery Bolotov, told reporters the new head of state would hardly want to visit the region.
"I don't think he will want to come while the military operation continues," Bolotov said. "I don't see how he is going to restore order here except going on with the military actions."
Bolotov said negotiations with Kiev wouldn't start until Kiev troops withdraw from the territory of the Lugansk People's Republic.
You can share this story on social media: