Us or them: German peace researchers give EU-Ukraine policy failing grade
Published time: 6 Jun, 2014 11:47
Edited time: 6 Jun, 2014 11:54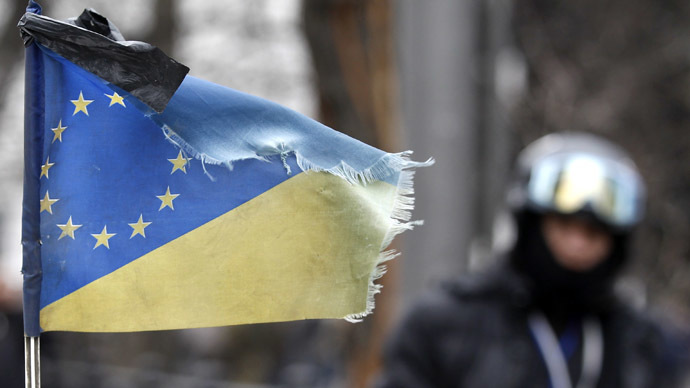 German Peace researchers have criticized EU foreign policy for putting Ukraine in "an unacceptable either/or" situation, which has both contributed to causing the ongoing crisis in the country and done little to alleviate it.
The assessment was made by five leading research institutes in their 'Friedensgutachten 2014' (Peace Report 2014), presented jointly in Berlin on Tuesday, Deutsche Welle reports.
"The European Union policy of essentially presenting Ukraine with an either/or choice in the form of the association agreement was a momentous mistake," said Ines-Jacqueline Werkner of the Protestant Institute for Interdisciplinary Research in Heidelberg (FEST).
"When the EU sided with the opposition on Maidan - against the regime with which it previously wanted to sign an agreement - it increased internal political polarization and excluded itself as a mediator and conflict manager," she said.
Werkner's words echo those of Russian Foreign Minister Sergey Lavrov who, just days before the ouster of former Ukrainian President Viktor Yanukovich in February, accused the EU of seeking to create a "sphere of influence" on its borders by telling Kiev it needed to choose either Russia or the EU.
German Chancellor Angela Merkel herself had warned against putting Kiev in an "either/or situation" back in December, shortly after Yanukovich rejected the EU-Ukraine Association Agreement.
Speaking at the time, Merkel said that "a country that lies between Russia and the European Union" should not be forced to make decisions that are "always understood [to be] either for the one or for the other."
Meanwhile, the researchers also said attempts by the foreign ministers of Germany, Poland and France to mediate in Kiev in February came too late. The ministers, representing the so‑called Weimar Triangle, arrived in the Ukrainian capital just days before Yanukovich's government was toppled, when tensions had long since boiled over.
The five institutes called for confidence-building measures, arms control and bilateral efforts to bring about the "stabilization in Ukraine." They also recommended decentralized round table talks and a bolstering of the Organization for Security and Cooperation in Europe's (OSCE) as an agent of conflict prevention.
They noted however, that the organization's political role and budget have consistently been curtailed in recent years, diminishing its capacity to influence events on the ground in Ukraine.
The researchers further recommend including members and supporters of Yanukovich's Party of Regions should in the government. They also rejected outright calls for Ukraine to join NATO, saying that Ukraine should form "a connecting bridge" between the EU and Russia.
They also warned against a new Cold War breaking out, saying that "dialogue and cooperation with Russia remain indispensable."