RCMP shooting: 3 police officers killed in gunman rampage in Canada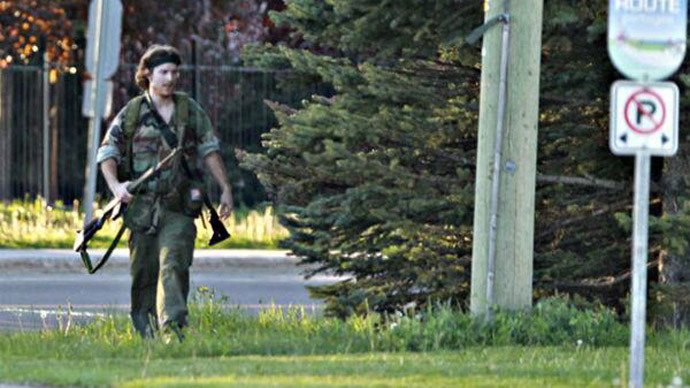 Three Canadian police officers have been killed and two others injured in a Moncton, New Brunswick, shooting. A heavily armed shooter was still at large hours after he first opened fire.
The Royal Canadian Mounted Police (RCMP) tweeted around 10:00 pm that the shooter was still at large along with an image of Borque wearing military fatigues and carrying what appeared to be a rifle in his hand.
Authorities combed through the Pinehurst subdidivison area of Moncton looking for 24-year-old Justin Bourque, warning residents that they should remain indoors and consider the man armed and dangerous.
Moncton is a small city of approximately 100,000 people located an esimated 90 miles (150km) northeast of St. John and 150 miles of Halifax, the largest city in the normally sleepy Canadian region.
This is 24-year-old Justin Bourque, still at large in Moncton, NB, Canada, having killed 3 RCMP & injured 2 more: pic.twitter.com/Ekp6Kp4xT1

— ☆☆☆☆☆☆☆ (@pettybooshwah) June 5, 2014
A number of buses were pulled off the road for their own protection and entrances to the Pinehurst neighborhood were blocked off.
Witness Will Njoku told CBC he was emptying his dishwasher and putting his family to sleep around 8pm (23:00 GMT) when gunshots rang out.
"Within 30 seconds I heard sirens," he said, adding that at least five more shots were fired after the sirens.
UPDATED: Three RCMP officers killed, two wounded in Moncton shootings http://t.co/aYZGiiuzfnpic.twitter.com/gdo5ZKZCOQ

— The Chronicle Herald (@chronicleherald) June 5, 2014
"We're scared, obviously. We're more terrified for the people who this shooter is basically in their backyard. I can picture these people's houses," he said.
New Brunswick Premier David Alward, while stressing that the situation is still developing, issued a statement saying he was "shocked and saddened" to learn of the night's events.
"On behalf of all New Brunswickers, I would like to extend my thoughts and prayers to those affected," he said. "I would ask New Brunswickers, particularly in those areas identified by police, to follow the situation as it develops and to listen to the advice of police."
At a media briefing on Wednesday police told citizens in the area to stay inside and lock their doors.
"We are professionals. We will ensure the security of the public. We are going to do that," said Constable Damien Theriault.