Hawaii to imitate Mars for NASA space parachute test
Published time: 1 Jun, 2014 23:15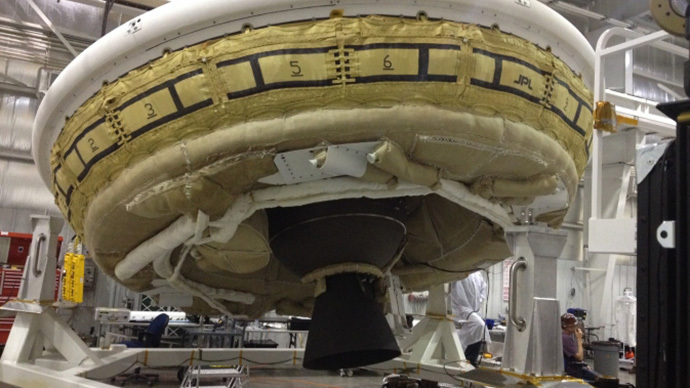 NASA is ready to test a saucer-shaped vehicle which the agency believes will play a vital role in Mars exploration by making it possible to land heavier spacecraft – and eventually humans – on the Red Planet.
Weather permitting, the first experimental flight will take place on Tuesday in the skies above the Hawaiian island of Kauai, which will serve to simulate the thin Martian atmosphere, AP reports.

Robotic landers and rovers travel to space at supersonic speeds, but the parachute technology currently used for decelerating dates back nearly 40 years. In fact, the technology helped deliver two landers to Mars as part of the Viking Program in 1976, as well as the Curiosity rover two years ago.

NASA has realized that a stronger and more reliable parachute will be required in order to send heavier cargo and human astronauts to the Red Planet.

Scientists working on NASA's Low Density Supersonic Decelerator mission (LDSD) took inspiration from Hawaiian pufferfish during their research.

A rocket-powered, balloon-like vessel called the Supersonic Inflatable Aerodynamic Decelerator (SIAD) borrows the pufferfish's rapid inflation technique, which the sea creature uses for protection.

The new supersonic parachute is over 33 meters in diameter – too large to fit into the wind tunnels that NASA typically uses for testing similar devices.

During the test, SIAD will reach a height of around 55 kilometers and accelerate to four times the speed of sound (Mach 4) as it falls.

A tube around the vehicle will inflate and slow it down before the parachute emerges, guiding the vehicle to a gentle splashdown in the Pacific.

Landing has always been "one of the big technology challenges for a human Mars mission," American University space policy professor Howard McCurdy told AP via email.

NASA engineers are keeping their expectations realistic, stressing that they may not succeed on their first try.

"As long as I get data, I'll be very happy," said project manager Mark Adler of the NASA Jet Propulsion Laboratory.

The space agency is planning more test flights for SIAD next year before deciding whether to use the new parachute on a future Mars mission.