Hundreds evacuated as heavy floods sweep across Russia's Siberia (PHOTOS)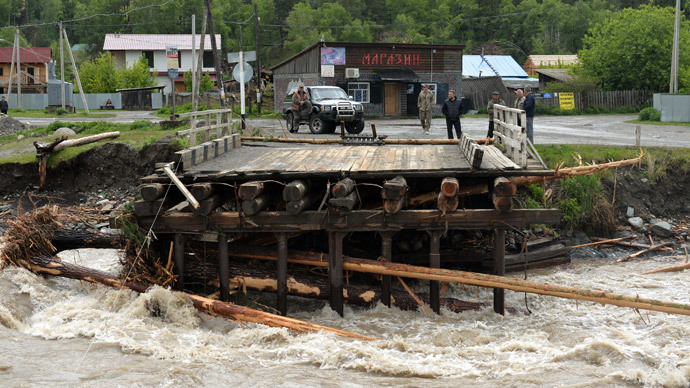 Hundreds of people have been evacuated and tens of thousands left without power after heavy floods struck southern Siberia. A state of emergency has been introduced in three regions.
Those areas are the Altai region, Khakassia Republic, and Altai Republic, said Russian Emergencies Minister Vladimir Puchkov, who added that a "high alert" has been issued for two other regions - Tuva Republic and Buryatia Republic.
Meanwhile, Puchkov also noted that other regions are at risk from the flooding - such as Sakha (Yakutia) Republic and the Amur region – due to the fact that rivers in southern Siberia have responded quickly to the heavy rains.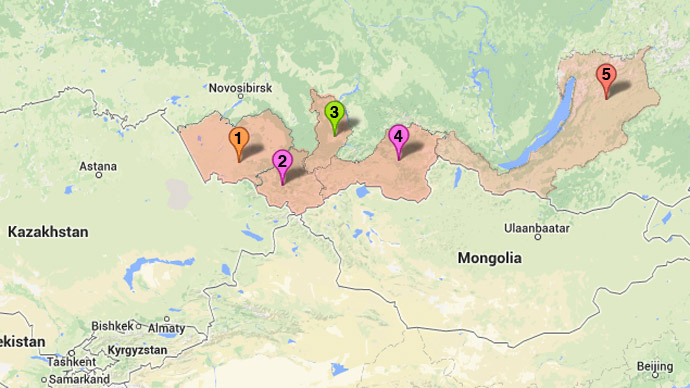 In the Altai Republic alone, the flooding has already destroyed 230 kilometers of roads and 1.5 kilometers of a federal highway which links Russia with Mongolia. Fifteen bridges were washed away.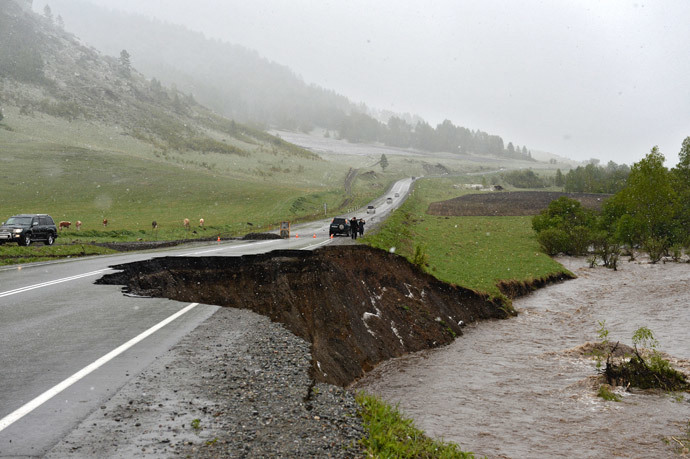 Heavy floods swallowed up nearly 1,000 houses in Altai Republic, where up to 3,500 people - including 927 children - live. Hundreds are now homeless and have been forced to seek shelter in temporary accommodation centers.
Emergency services have confirmed that one person has died and three are missing.
Several areas in the republic have been left without electricity after heavy rain brought down 48 utility poles.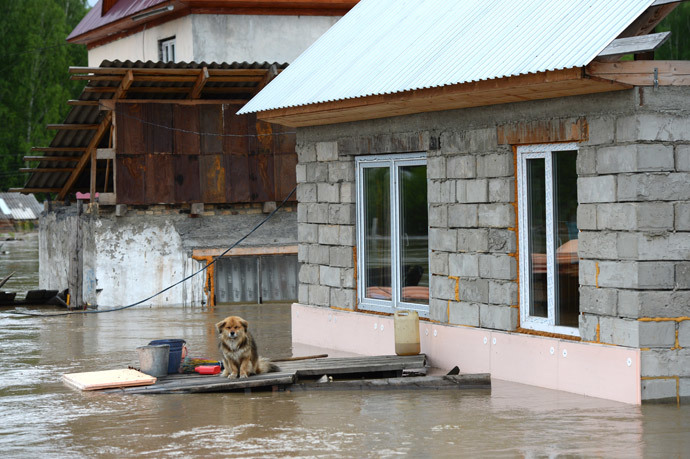 On Saturday, the ministry launched a massive rescue operation in the affected regions, evacuating hundreds of people. However, many domestic animals didn't survive, according to local officials.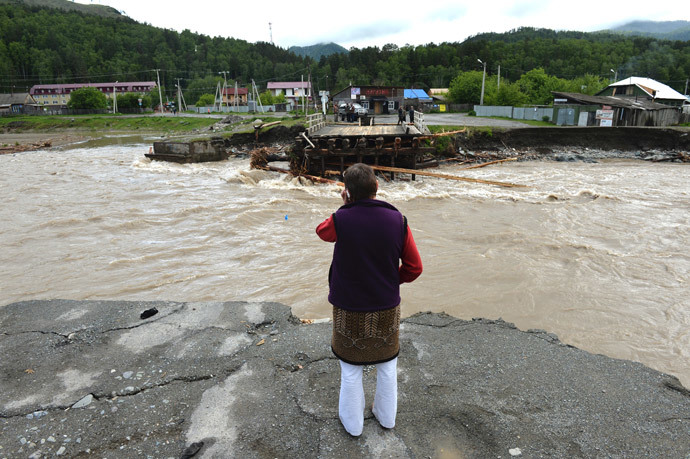 A local emergencies ministry estimates that nearly 4,000 houses have been damaged or destroyed by water in the affected regions. Roughly 8,000 people have been forced to evacuate.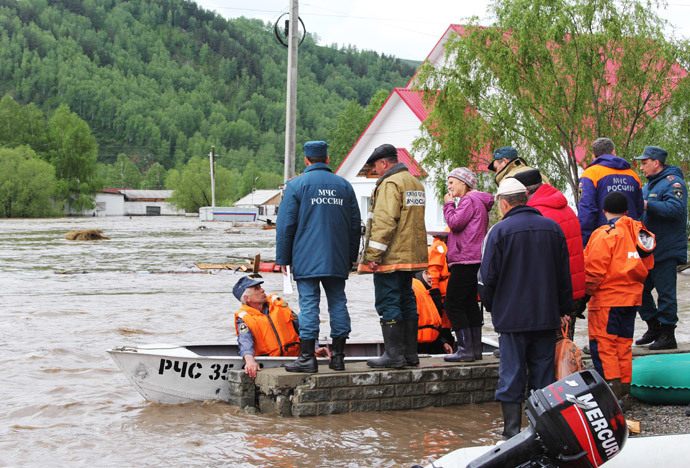 Humanitarian aid has already been delivered to the affected regions, including 12 tons of food.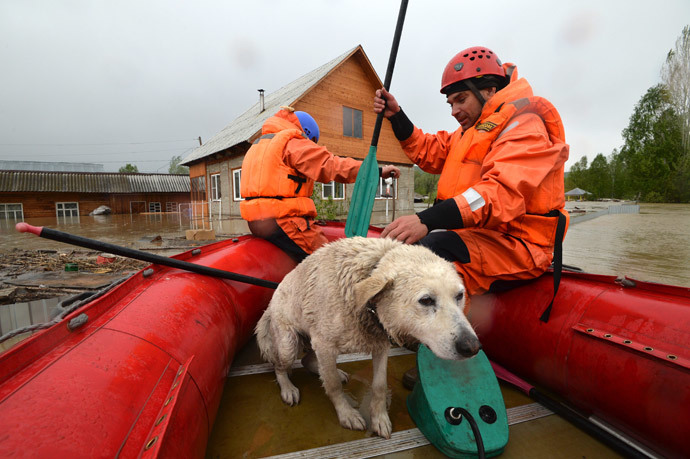 Наводнение #Алтайpic.twitter.com/zk8Z8KAyvg

— Евгений Демидов (@edemidov44) May 31, 2014
Наводнение #Алтайpic.twitter.com/8W1oI2WIGl

— Евгений Демидов (@edemidov44) May 31, 2014
Кадры наводнения #Алтайpic.twitter.com/kDK49LNC6s

— Евгений Демидов (@edemidov44) May 31, 2014
Кадры наводнения #Алтайpic.twitter.com/g3hj6Ka4Bi

— Евгений Демидов (@edemidov44) May 31, 2014
#Наводнение #Алтайpic.twitter.com/aR36OLOWMi

— Евгений Демидов (@edemidov44) May 31, 2014
По сост. на 31.05.2014 в зоне ЧС: 18 муниц образов, 3967 дома 9020 человек, в том числе 2046 детей @Lantratova #Алтайpic.twitter.com/mUYSmUhP1D

— #РусскаяВесна (@romanovvik1) May 31, 2014
наводнение pic.twitter.com/wasPFMrtpm

— Марина (@Toyma6277) May 30, 2014
Горный Алтай. Наводнение pic.twitter.com/Hvp45uvgW8

— Rual' Shef'ango (@Shef_ango) May 31, 2014
В Республике Алтай подтоплены 14 населенных пунктов, эвакуированы более 1,5 тыс. человек http://t.co/NmfIBqVGiOpic.twitter.com/VT4wRoGA8O

— Mikhаil (@mikhail3) May 31, 2014
наводнение pic.twitter.com/wasPFMrtpm

— Марина (@Toyma6277) May 30, 2014
You can share this story on social media: