US to work closely with EU to cut its Russian gas imports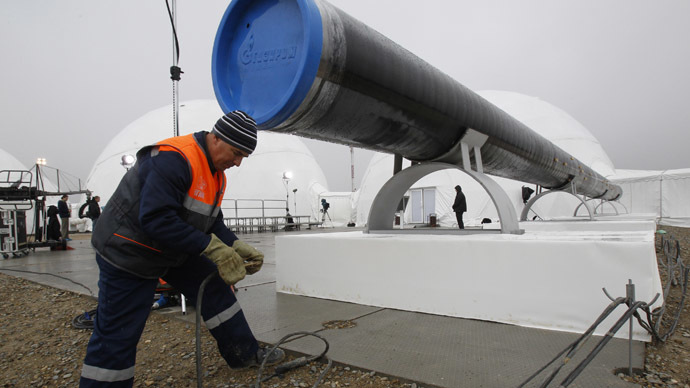 The US has pledged to help the EU cut down its gas imports from Russia and diversify its energy supply during President Barack Obama's visit to Europe next week, National Security Advisor Ben Rhodes said.
The topics up for discussion during Obama's visit - which is scheduled to take place June 2-6 - include US natural gas exports and the prospect of increasing US sales to the EU, according to the advisor.
"Over the last several weeks, we have already taken some steps to, through our licensing, increase the export of natural gas to Europe and we see that as part of the European energy picture and European energy diversification," Rhodes told reporters on Friday.
He added that the US will be discussing ways that the EU could diversify its gas imports, stating that tensions in Ukraine have highlighted the EU's energy dependency.
"The Ukraine crisis has brought into sharp relief Europe's energy dependence on Russia, so we are going to work closely with our European allies on the importance of both short- and long-term efforts to diversify their energy sources, to modernize their infrastructure and to limit Russia's ability to use energy as a tool of political leverage," Rhodes said.
Another important aspect of the trip will be the discussion of climate policy.
The situation in Ukraine has escalated, with Kiev launching a massive military offensive in the east which has claimed dozens of lives - both among the militias and local civilians.
On Friday, Ukraine's Defense Minister Mikhail Koval said that Kiev's army will continue its military operation against the country's east until the situation in the region stabilizes.
According to officials from the self-proclaimed People's Republic of Donetsk, over 100 people have been killed during the offensives.
UN High Commissioner for Human Rights Navi Pillay urged Kiev on Wednesday to refrain from using excessive force in Ukraine.
"I call on the Ukrainian authorities to ensure that no excessive force is used, not to take discriminatory action and to avoid action that can harm the civilian population," the official told Itar-Tass.
You can share this story on social media: