Dogged by misfortune: Famous Russian biker hound's motorbike stolen
Published time: 28 May, 2014 05:01
Edited time: 28 May, 2014 10:27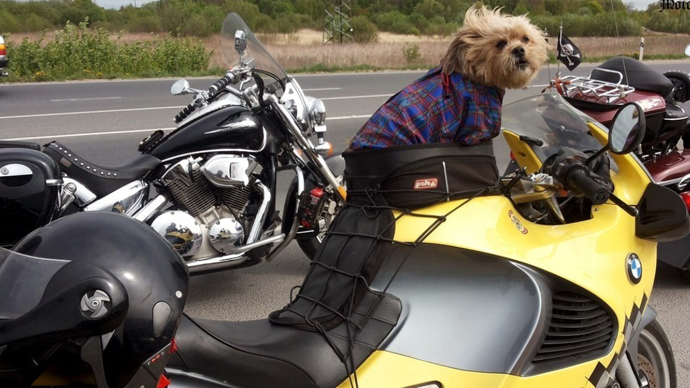 Russian police are searching for a stolen motorcycle belonging to the leather-wearing biker dog Stich, an internet sensation from Kaliningrad region.
The dog's page on Russian social network Vkontakte said that someone broke into Stich's garage and stole his 1998 BMW K1200RS motorcycle, worth just over US$5,000, while ignoring all the other valuables.
"That is why Robert and I are orphans today, and many reposts about the stolen motorcycle online did not yield results. I really hope that tomorrow morning I will wake up and the powerful, yellow BMW will be standing outside the house," the statement reads.
Local police are investigating the robbery after the dog's owner reported the theft. The public is being asked to inform the police if they have any information about the stolen bike.
Stich the biker dog became an internet sensation, with thousands of YouTube views of him riding his motorcycle. He was born in 2004 in Kalinino, a village in Russia's Kaliningrad region.
He recently became the first Russian member of the Biker Dogs Motorcycle Club. Other members hail from countries such as the US, Canada, Japan, the UK, and Italy.
One of the most famous biker dogs is America's Chopper, with a YouTube video of him driving away from San Diego police gathering over 67,000 views.