3 civilians killed in shelling of Slavyansk residential area (GRAPHIC VIDEO)
At least three civilians have reportedly been killed and several wounded when the Ukrainian Army launched a mortar attack on the town of Slavyansk in eastern Ukraine. One of the shells fell near a local teachers college, according to Ridus news portal.
Residential blocks were ruined as a result of the assault by Kiev's forces on Monday, the Ridus correspondent reported from the scene. At least two apartment blocks were damaged and "at least two people – a man and a woman – were killed," the reporter said.
"We came up to look at the man but he was already dead. A shell had fallen right next to a 9-storey apartment block, all the glass was out. The man's head was bleeding, his arms and legs were broken. When we went further, we found a dead woman near a teachers college, a shell hit there too," a local told RT, adding that after that a third man was found nearby.
При обстреле #Славянск, один из снарядов упал возле педагогического института, погибла женщина http://t.co/rXHaIbI5Gopic.twitter.com/SdCMOdgSm7

— Ридус (@RidusNews) May 26, 2014
The woman was identified as Olga Prokhorenko, 60, Ridus news portal writes. The published photo depicts a woman lying on the grass with a large blood stain on her back.
URGENT: Ukrainian army shells #Slavyansk residential area, 2 civilians killed http://t.co/cT02yIo6jopic.twitter.com/NOOfusMLKI

— RT (@RT_com) May 26, 2014
"For the first time in a month and a half of my staying in the south-east [of Ukraine], I see real panic among the people. They've been running out of their homes in Slavyansk with their children, half-dressed," reporter Andrey Krasnoshchyokov tweeted.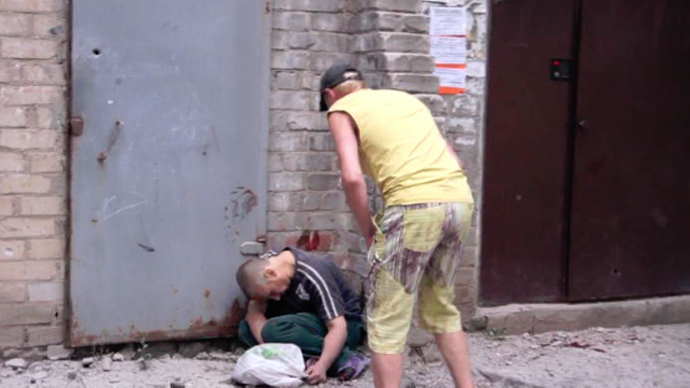 The journalist did not rule out that the military began firing in response to artillery shooting by forces of the self-proclaimed People's Republic of Donetsk.
"It's unknown who started first," he wrote.
Roman, a witness who was at the site, told RT that there were "around six or eight shell craters" near the college where the woman's body was found.
"There were many wounded. About ten people," he added.
RIA Novosti, citing local self-defense, reports of gunfights on the outskirts of Slavyansk, in the villages of Vostochny, Semyonovka and Slavkurort. Ukrainian army launched several artillery salvos from the mountain of Karachun near the town.
Meanwhile, clashes continue in Donetsk spilling over from the airport to the city center. The Mayor of Donetsk called on residents not to leave their homes.
"The situation in Donetsk remains tense. Today there have been armed clashes between Ukraine's artillery units and supporters of the People's Republic of Donetsk," Aleksandr Lukyanchenko said in a televised address, adding that there are victims among civilians.
Donetsk airport has been shut down following fighting between Kiev forces and self-defense squads earlier on Monday.
Clashes in Donetsk and Slavyansk come after the early results of the elections in Ukraine were announced.
Ukraine's likely president-elect, Petro Poroshenko, announced Monday that Kiev is not going to stop the military operation in the east of Ukraine, neither will it hold negotiations with armed people.
"They don't want to talk to anyone," he told a media conference.
Poroshenko said the "anti-terrorist" operation in the south-eastern regions will be held in a more efficient way, with soldiers getting better ammo and their lives and health being insured.
You can share this story on social media: