'Chechens in Donetsk?! I didn't order it, tell me more' – Kadyrov on CNN report
The head of Russia's Chechen Republic, Ramzan Kadyrov, denied allegations of Chechen fighters being sent to eastern Ukraine, spun by Western and pro-Kiev media. CNN even interviewed one man on the subject, claiming he was a "former Russian cop."
Looking for "Moscow's hand" destabilizing Ukraine and its presidential elections, the news machine of the Ukrainian authorities and their Western allies has gone at length – finally producing reports of Chechen fighters arriving to assist the self-proclaimed People's Republic of Donetsk.

When asked about the allegations, Chechnya's President Kadyrov said he was unaware, but very interested.

"If there are Chechens there, I know nothing about it. But if this information is correct, I'd love to know who exactly is there and why," Kadyrov told Russian media on Monday.

"If the West wants to portray this as if we were sending our guys there, well, all our fighters are at home," Kadyrov stressed.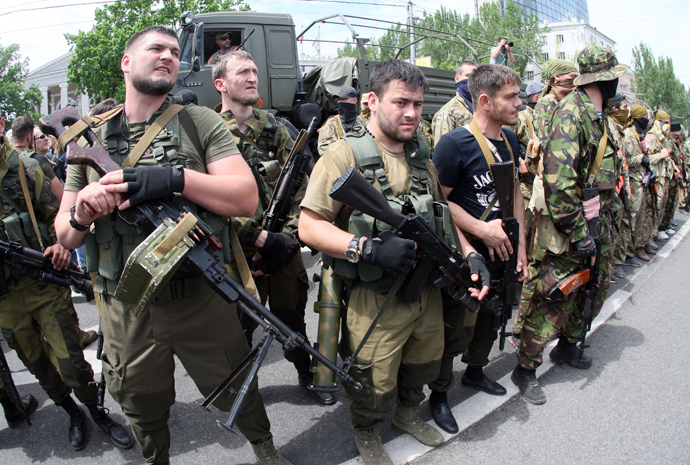 To this date, the allegations of foreign involvement in the Ukrainian conflict – except the well-documented American-EU interference in Ukraine's internal affairs – have been based on poor photographic evidence and rumors, which even once got the US State Department into trouble.

On Sunday, however, luck was seemingly on the side of the US media frantically looking for signs of Moscow's meddling in the crisis, as CNN found a truckload of alleged Chechen militants, right in the center of Donetsk.

Calling it "a startling insight into how involved Russia may be here," a CNN journalist approached the "gunmen from Chechnya" grouped with several other trucks of the Vostok Battalion, recently formed from Donetsk Region self-defense fighters.
When asked, a man introduced as a Chechen national told CNN that he was there "to protect the interests of the Russian Federation," adding that his group arrived to Donetsk "on our own, as volunteers." The unnamed man also said he was a former "Kadyrovets" – meaning, one of Kadyrov's men, and that he previously fought in Chechnya.

The CNN reporter got no reply on whether the man used to serve as a Russian law enforcement officer, but appeared to be willing to push his own line of Russia's involvement in the Ukrainian crisis. Commenting on his findings, the journalists said that "it is hard to imagine how a former and armed policeman from Grozny could have got here without [Russian President] Putin's government knowing about it." It is unclear, how the reporter learned the man was indeed a policeman from Grozny, as nothing in the footage seems to confirm that.
You can share this story on social media: