Russia ready for dialogue with likely Ukraine President-elect Poroshenko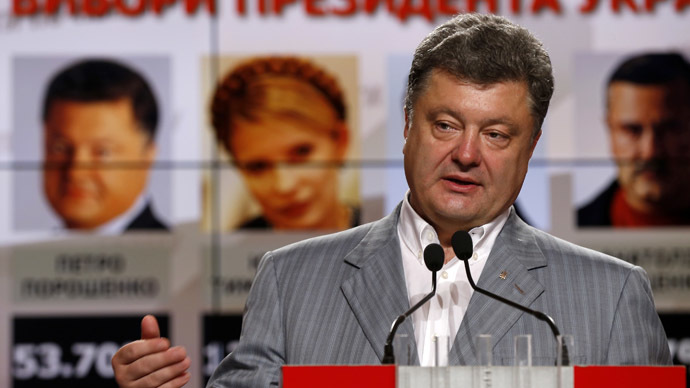 Russia's foreign minister says Moscow is ready for dialogue with Petro Poroshenko, current leader of the presidential vote tally, but would like to see him end the military operation in Ukraine's southeast. Poroshenko believes the operation must go on.
Sergey Lavrov shared Russia's first reaction to reports of Poroshenko winning the election at a press conference in Moscow.

"We hear Petro Poroshenko describe relations with Russia as of the utmost importance," Lavrov said. "We, as [the Russian] president repeated many times, are ready for dialogue with Kiev, ready for dialogue with Petro Poroshenko."
Lavrov believes Russia and Ukraine do not need any mediators to get relations between the countries back on a friendly footing.

"We are ready to cooperate with the EU and the US in what comes to implementation of the [OSCE's] 'roadmap'. But I doubt we need a mediator in our relations with Ukraine," he said.
Moscow would like to see Poroshenko deliver on his election campaign promise to stop the military operation in southeastern Ukraine.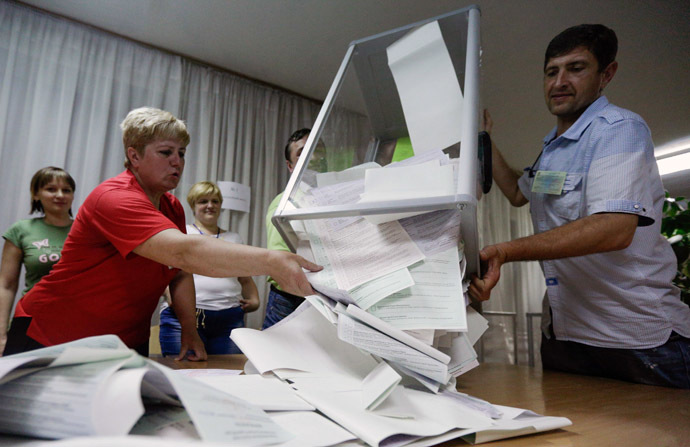 "We cannot close our eyes on the fact the so-called anti-terrorist operation was not suspended [during the elections]," Lavrov said. "And only yesterday Deputy PM [Vitaly] Yarema said that now the voting had taken place, the authorities in Kiev would resume the active phase of the operation. That would be a huge mistake."
Since April, Kiev has been engaged in a military crackdown on dissent in the volatile southeastern regions of Donetsk and Lugansk, which had their independence from Kiev supported by a majority of voters in May 11 referendums.

The military stand-off between Ukrainian troops and self-defense forces have already led to dozens of casualties. An Italian reporter and his Russian interpreter were killed in a mortar attack on Saturday.

The self-proclaimed authorities in Donetsk earlier announced the region would boycott the presidential election altogether. However, according to the Ukrainian Central Elections Commission, 12 percent of the Donetsk Region's population took part in the voting.
Poroshenko: Military op to go on, will be more effective
Billionaire Petro Poroshenko, who is currently leading in the Ukrainian presidential election, is supporting continuing the military operation in the southeast of the country.
"I don't have the information, denoting that it [the operation] must now be stopped," Poroshenko said at a news conference, as cited by RIA Novosti. "I support its continuation, but demand a change in its format – it must be shorter and it must be more effective, military units must be better equipped."
Although the statement runs contrary to expectations voiced by Russia's Foreign Minister, Poroshenko said he was ready to accept Moscow's help in solving the crisis in the southeast of Ukraine.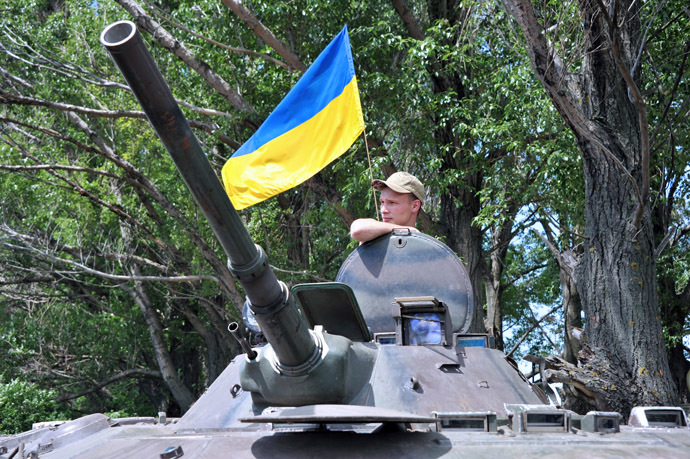 "Russia is our biggest neighbor and taking into account the fact that we must stop the war and give peace to the whole of Ukraine and stability to its eastern part, that's impossible to do without Russia's participation, and meeting with the Russian leadership".
Poroshenko said he planned to schedule a meeting for the first half of June.
"This is not just to shake hands and to part… we expect important consequences from the meeting," Poroshenko said.
The likely Ukrainian President-elect said he was ready to have a dialogue with the southeast of the country, and promised amnesty to those self defense fighters who took up arms, but did not use them.
"Those who reject the dialogue, won't be a party to the negotiations. We do not negotiate with terrorists," Poroshenko said.
He added he was ready to grant "official status" to the Russian language in the largely Russian-speaking southeast of Ukraine.
Head of OSCE mission: Many were violently prevented from casting votes
The Organization for Security and Cooperation in Europe sent over 1,200 observers from 47 countries to monitor the presidential elections in Ukraine. Though in the end the organization commended the process, Ukraine mission head Tana de Zulueta told RT that many people were obstructed from voting.
"We had no observers from our team in Donetsk city on May 25, because there was no polling. We moved observers to open polling stations in the western region," Tana de Zulueta said.
"We are not in the business of legitimizing elections, we report the process. And we had to take note that there was a high number of voters who were not able to cast their vote, because they were violently prevented from doing so – had they wished to do so. We cannot discount the fact they were denied their right," she added.
The OSCE did not get direct reports of serious violations, but several were brought to attention by witnesses and will be followed in the court, Tana de Zulueta assured.
Watch RT's full interview with Tana de Zulueta
You can share this story on social media: