Ukrainian oligarch Poroshenko leading pres race with over 50% votes
Ukrainian confectionary tycoon Pyotr Poroshenko is winning the presidential election in the first round of voting, having secured more than 50 percent of votes, according to the early vote count.
Follow RT's updates on Ukrainian presidential poll
With 60.15 percent of the election protocols counted, Poroshenko is leading the race with 53.72 percent of the votes cast, according to the Central Elections Committee. According to Ukrainian law, a single round of voting is enough for a candidate with more than 50 percent of votes to win.
Poroshenko is one of the richest businessmen in Ukraine. He has been dubbed the Chocolate King because of the fortune he has made in confectionery, worth more than $1.3 billion. Unofficially, Poroshenko also controls Ukraine's Channel 5.

"He is an oligarch and people here are saying 'Has this revolution not come full circle?'" RT's Paula Slier reports from Kiev. One of the things participants of the so-called EuroMaidan movement protested against was too much involvement of big business into Ukrainian politics. Now it turns out another oligarch can become the country's leader.

Poroshenko earlier appeared to be ready to give up his wealth for political victory, promising to sell his business right after elections are over.

"Concerning my business: right after this [election], there will be a contract signed with an investment company that will search for a buyer," Poroshenko said as quoted by RIA Novosti.
Poroshenko's main election rival, ex-PM Yulia Tymoshenko of the Batkivschina (Fatherland) Party, who has called for having a referendum on Ukraine's accession to NATO, has garnered 13.09 percent of the vote, according to early counting.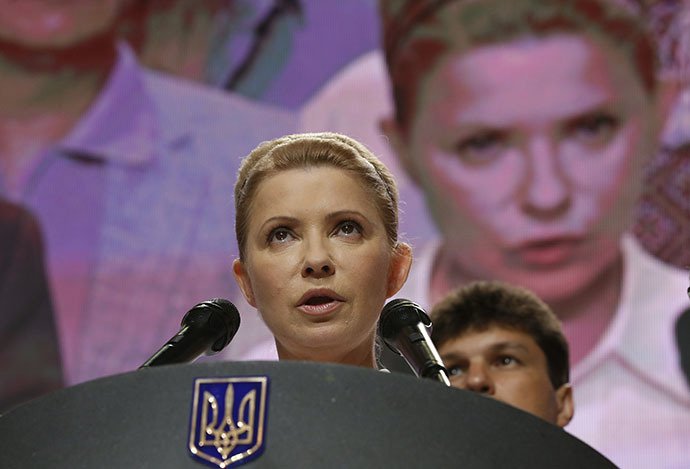 Tymoshenko reacted to the preliminary results by saying that she is "ready to cooperate with the winner to build a strong Ukraine." Earlier in May, the Batkivschina leader blasted all the Ukrainian channels as being owned by oligarchs, calling her supporters to fight for their choice and even threatening to call "Maidan 3.0" if she loses the election.
All other candidates gathered less than 10 percent of votes each, with anti-Russian populist Oleg Lyashko, the head of the Radical Party, running behind with 8.47 percent, former defense minister Anatoly Gritsenko taking 5.47 percent and expelled Party of Regions MP Sergey Tigipko – 5.24 percent of votes. The candidate picked by the Party of Regions of the ousted Ukrainian President Viktor Yanukovich, Mikhail Dobkin, gathered just 3.37 percent.
Around percent voted for Ukrainian Communist Party leader, Pyotr Simonenko, despite his recent announcement that he had withdrawn from the elections.
Ultra-right radical nationalists appeared to have completely failed in the elections, with Svoboda (Freedom) Party head Oleg Tyagnibok securing 1.17 percent of votes and Right Sector leader Dmitry Yarosh less than one percent.
'First, I will tour Donbass'
Poroshenko's UDAR party, whose leader, ex-boxer Vitaly Klitshko, decided to withdraw from elections in favor of the oligarch, has started celebrating victory even as the official vote count began at 8pm local time (5pm GMT). Incidentally, Klitshko is likely to have his moment of glory later at Kiev mayor's elections, where he is the indisputable favorite, according to ratings.
As the results of exit polls emerged, Poroshenko delivered a speech outlining his plans for the near future as president.
"My first presidential trip will be to Donbass," Poroshenko said at a party briefing, using the popular name for the historical region in eastern Ukraine.
"We can now state firmly and with confidence – the whole Ukraine cast its vote, this is the choice of the whole Ukraine," he said.
Poroshenko also thanked "thousands of Crimeans" and "hundreds of thousands of Donbass residents" for taking part in the elections. It was not immediately clear if the assessment matched the reality, as the vote was effectively disrupted and/or boycotted in eastern Ukraine, where anti-election rallies took place Instead. Several hundred Crimean Ukrainians indeed took part in the election after having been transported to the closest ballot box in a city bordering the Russian region by buses.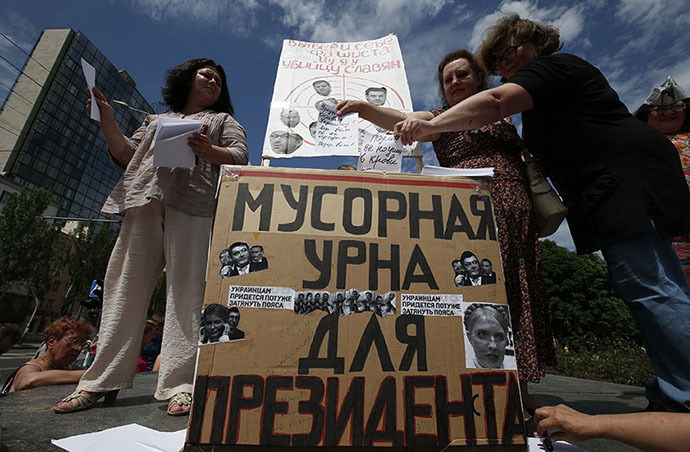 According to the prospective winner, parliamentary elections will be held in Ukraine before the end of 2014.
Speaking on the possible outcome of the raging political crisis in Ukraine, Poroshenko promised that "we will have a united and unitary, not federative state."
Poroshenko claimed that his first "decisive step will be aimed at ending the war, ending chaos, and bringing peace to a united and free Ukraine."
"I am certain that our decisive actions will bring fairly quick results," the 48-year stated without clarifying what these "actions" would entail, as earlier it was announced that Ukrainian troops are to resume what Kiev calls an "anti-terrorist" operation in eastern Ukraine.
Poroshenko is certain that he will meet his counterpart Vladimir Putin, once official results are made public.
"We cannot discuss the seriousness of security in our region without the participation of Russia. We will find the format and definitely will meet Putin."
Earlier, Poroshenko noted that he will recognize neither the results of the Crimean referendum, in which the vast majority of Crimeans voted for joining Russia, nor the referendums held in several eastern regions, which resulted in the proclaiming of Donetsk and Lugansk as "people's republics."
A UK-based journalist, blogger and writer Neil Clark believes that - if elected – Poroshenko will face a big challenge in rebuilding bridges with Russia.

"Ukraine needs a good working relationship with Russia, its biggest trading partner," Clarke told RT. "Of course it's heavily dependent on Russian gas. And so he [Poroshenko] needs to go to Moscow and meet President Putin and get relations back on a much friendlier footing than they have been since the disastrous collapse in relations.

"But the trouble is, if he does that – and he needs to do that – than he'll have the hawks in Washington undermining him. And we already heard his rival, Ms. Timoshenko, who's called for demonstrations of the Maidan if the results did not go her way. And so we could get this situation where [Poroshenko] could get under the same kind of pressure as [ousted president] Mr. Yanukovich did".
Election 'valid' despite boycotts, violations
While the vote count is still underway, Ukraine's Central Elections Committee has announced that the presidential elections have taken place and are valid. Some of the regions were unable to vote, but the country's laws have recently been changed to allow presidential elections regardless of the turnout in any particular region.
With around 35.5 million Ukrainians eligible to vote – some 5.1 million are registered in Lugansk and Donetsk regions, which recently held referendums and declared their independence, saying the presidential race in a neighbouring state was none of their business now.
Despite their announced boycott and protests, the Ukrainian Central Elections Commission said that according to preliminary results the turnout was 12.09 per in Donetsks region, compared to the announced average 60.65 percent throughout the country.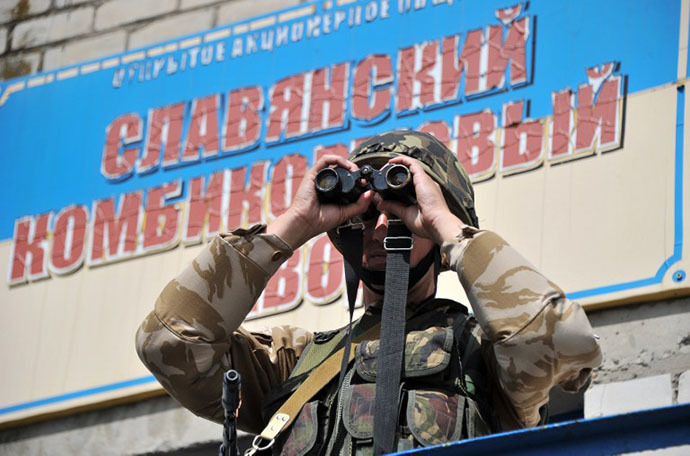 All in all the regional administration in Donetsk said only 426 of 2,430 polling stations in the region were open Sunday. Sources in Donetsk city administration told Ria Novosti that elections did not take place in large parts of the region –23 cities and 6 districts.
In the nearest future the "active phase of the anti-terrorist operation" will resume in the restive regions, the first deputy PM of Ukraine Vitaly Yarema vowed, claiming that Ukrainian armed forces have completely blocked off parts of the areas under the control of the self-defense forces in Lugansk and Donetsk regions.
Ukraine's army has only temporarily halted its active actions, Yarema said, "so that the residents of the eastern areas could get to the polls and vote."
Yet despite the promised calm, a number of armed clashes involving Ukrainian troops have been reported in the east of Ukraine on the day of the vote. The so-called "anti-terrorist" operation with the involvement of air forces and armored vehicles has been dragging for several months now, with dozens of people killed in the shelling – many of them civilians and even international journalists caught in the damage.
In the meantime, while the election officials and international observers say the vote went without major violations, videos and photos have started surfacing online showing the facts.
The press Service of the Ukrainian Interior Ministry reported 19 violations, which they claim all happened in the turbulent east of the country.
The OSCE monitoring mission of 1,200 observers from 47 countries, so far have not reported any violations. Their full report on the election process is due to be released later on Monday.
You can share this story on social media: