​Somali militants assault parliament in elaborate raid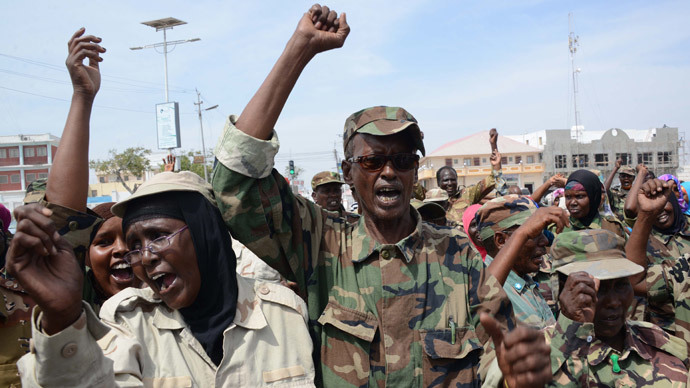 Militants attacked the parliamentary building in Mogadishu while MP's were holding a meeting, in an elaborate attack involving two suicide bombers and at least six gunmen.
Two suicide bombers, one driving a car and another who tried to enter the parliament on foot, triggered explosive devices near the building in the Saturday raid, local police reported. A firefight followed, in which six militants were killed by the guards.
One Somali soldier was killed in the attack as he tried to stop the vest-wearing bomber from getting inside.
Police believe that the attackers were members of the Al-Shabab fundamentalist Islamist movement, which has been fighting against the East-African country's weak government for years. Back in 2011 they were pushed out of the capital.
The Islamists have previously staged several attacks on the parliament building, including in 2009 and 2010. They also attacked individual MPs, with the latest two successful assassinations reported last month.
In February, Al-Shabab attacked the presidential palace in Mogadishu in a raid, which left at least 16 people dead.
You can share this story on social media: