Kiev ready for 'final stage' of military op in E. Ukraine
Acting President Aleksandr Turchinov says Kiev is ready to "clear eastern Ukraine of terrorists" in a final stage of their military operation, dubbed punitive by Moscow. This comes just after the parliament's call for immediate troop withdrawal.
"We have just held a meeting with [national] security forces, we are ready for a final stage of the anti-terrorist operation. In the coming time we are ready to mop up Donetsk and Lugansk regions from terrorists," Ukraine's coup-imposed president, Aleksandr Turchinov, declared on Wednesday.
Turchinov also ordered security forces to "restore peace and calmness in the Donetsk and Lugansk regions," an official statement posted on Ukraine's parliament website said. According to Turchinov, people there are "changing attitude" and "have begun to realize that terrorists and separatists are leading the region into the abyss."
On Wednesday, Turchinov visited the city of Slavyansk in Donetsk region, which has seen instances of the fiercest resistance to troops deployed by Kiev.
The acting president came with his Interior Minister Arsen Avakov and acting Defense Minister Mikhail Koval.
As a military operation was launched in south-eastern Ukraine in April, Slavyansk came under fire from APCs, tanks and helicopters, managing to shoot down at least two of the latter.
Residents of the city and nearby villages were pictured building human chains to prevent the military hardware roll into the region.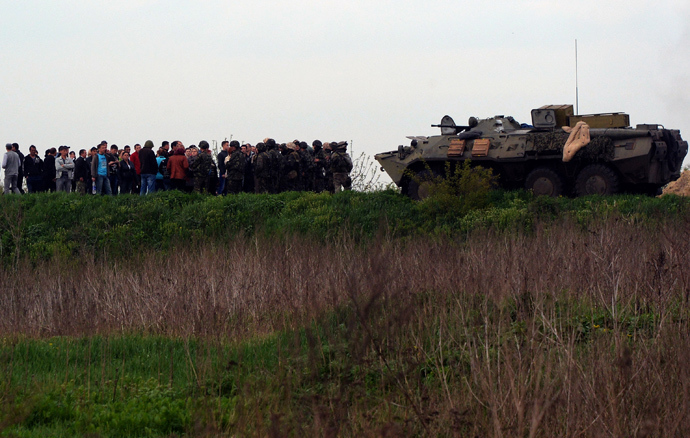 Turchinov came to Slavyansk as a part of negotiations ahead of presidential elections, which will take place this Sunday.
It follows from the statement that Kiev has re-equipped and reinforced its National Guard ahead of the planned clean-up in southeastern Ukraine.
"The material and technical base of our military is improving daily," Turchinov said on Wednesday.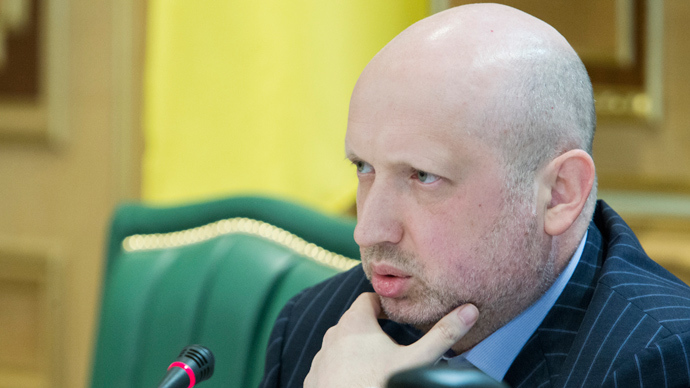 News of the final stage of Kiev's punitive operation, however, seems to be contrary to the course supported by the majority of the country's MPs.
Less than 24 hours ago Ukraine's parliament, Verkhovnaya Rada, voted in favor of the so-called 'Memorandum of Peace and Consent'.
In the document, praised by the EU, the parliament called "to stop the anti-terrorist operation in Ukraine's southeast and return the soldiers involved in anti-terrorist operations to their places of permanent deployment."
But soon after Turchinov left Slavyansk, RIA Novosti reported the Ukrainian troops resumed artillery fire in the city center.
Kiev first launched a military crackdown in the country's southeastern regions in April following mass protests against the coup-appointed government and demanding broader independence from the capital. On May, 11, the self-proclaimed Lugansk People's Republic and Donetsk People's Republic voted for the two regions' independence and proclaimed themselves sovereign states.
You can share this story on social media: