FBI has active criminal case against WikiLeaks' Assange – court documents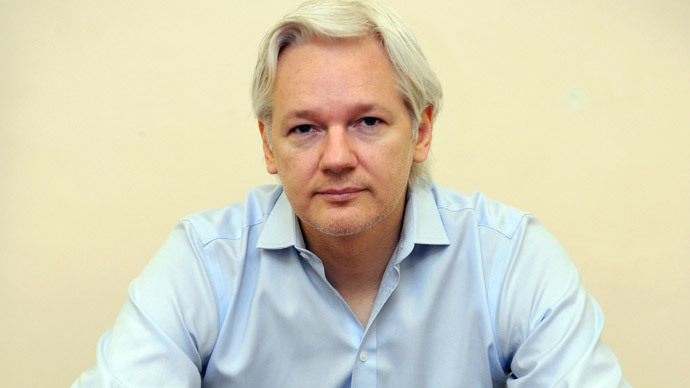 WikiLeaks founder Julian Assange remains the target of "a multi-subject investigation" by the FBI, new leaks have revealed. Assange has been unable to leave London's Ecuadorian Embassy since June 2012 amid fears he will handed over to US jurisdiction.
Four years after the whistleblowing site was founded, the FBI still has "an active and ongoing" criminal case open against Assange, court papers leaked to Australian newspaper the Age have revealed.
#Assange targetted by FBI probe, US court documents reveal | The Age http://t.co/yHefu5wePn

— WikiLeaks (@wikileaks) May 20, 2014

According to documents filed with the US District Court in Washington, DC, the "main, multi-subject, criminal investigation of the [Department of Justice] and FBI remains open and pending" making it necessary "to withhold law enforcement records related to this civilian investigation."

In addition, lawyers from the Justice Department told the Court that there "had been developments in the investigation over the last year."

The US Department of Justice opened an investigation into the activities of WikiLeaks in 2010 following the arrest of Private Chelsea Manning (formerly Bradley Manning). The former intelligence analyst released a treasure trove of classified military documents to WikiLeaks while he was working in Iraq. Manning has since been charged under the Espionage Act and sentenced to 35 years in prison.

Assange always maintained the US authorities were preparing a criminal case against him over WikiLeaks' publication of classified government material. However, last November the Washington Post reported, citing US officials, that it was unlikely Assange would be charged under the Espionage Act because it would mean a number of US news organizations would also have to be prosecuted.

Officials said unlike former CIA contractor Edward Snowden and Chelsea Manning, Assange did not leak classified information, he merely published data that had already been disclosed on WikiLeaks.

Assange argues otherwise, maintaining there is a "99.97 percent chance" he will be indicted if he leaves the Ecuadorian Embassy in London. The whistleblower was forced to take refuge in the embassy in June 2012 after a warrant for his extradition to Sweden was issued. Assange is wanted in the Scandinavian country for questioning over allegations of the rape and sexual assault of two women.

The WikiLeaks founder denies the accusations, claiming they are politically-motivated and that the Swedish authorities will hand him over to the Americans if he is extradited.

The London Metropolitan Police have so far shelled out 5.3 million pounds ($9 million) to keep the Ecuadorian Embassy guarded 24 hours a day since Assange took refuge there.
You can share this story on social media: