Chilean activist sets fire to $500 mn worth of student debt documents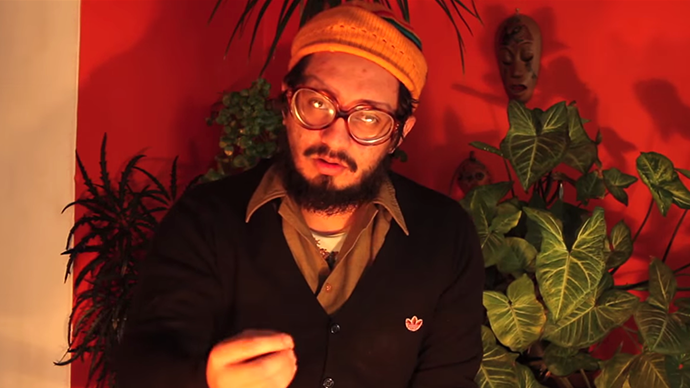 Chilean activist and artist Francisco Tapia, also known as 'Papas Fritas,' has stolen and burnt $500 million worth of "pagares," or debt papers. He then uploaded the video onto social media, claiming he had "freed" students by setting the papers alight.
The artist made his claim in a video that went viral on May 12, where he says that debt owed to the Universidad del Mar is now worthless.
The ashes of the burnt legal papers were later confiscated by police after they were displayed at the Centro Cultural Gabriela mistral (GAM) exhibition.

"It's over, it's finished. You don't have to pay another peso [of your student loan debt]. We have to lose our fear, our fear of being thought of as criminals because we're poor. I am just like you, living a shitty life, and I live it day by day – this is my act of love for you," Tapia says in the five minutes of the video, parts of which were translated by the Santiago Times.

The theft and subsequent destruction of the documents happened during a 'toma,' or student takeover, of the campus.

Authorities began closing down Universidad del Mar last year due to financial irregularities, and while most of the students had to find an alternative school, the university is still collecting student loan payments. Now the owners of the university will have to sue each of the individual students – a very time consuming and costly process.
El arte que avanza junto a las luchas del pueblo, es una arma cargada de futuro. http://t.co/SR6T3eaQbY#PapasFritaspic.twitter.com/pL49d7vW8B

— Fabián Navarrete (@Rusiohead) May 14, 2014

Papas Fritas' video comes after tens of thousands of students protested outside the National Comptroller's Office of Chile (General Accounting Office). It also follows a petition by the National Association of High School Students which demands that Nicolas Eyzaguirre carry out his legal responsibility to sniff out and sanction educational institutions that are making a profit.

There have been widespread protests in Chile since 2011, with students calling for reform of the university system and for free, high quality education. Newly elected President Michelle Bachelet waged an election campaign promising widespread change to education – but two months on, tens of thousands of students have again taken to the streets demanding she follow through on her promises.

Eyzaguirre is under pressure to put an end to profits being made in public education establishments. Although profit-making in education is outlawed by law, more than half of Chile's students now attend publicly subsidized universities, which are privately run and for-profit, making Eyzaguirre's task all the more difficult.

Seven institutions are already under investigation by the education ministry and Eyzaguirre will soon reopen probes into four more, El Mostrador newspaper reported.

On Thursday, several students from Arcis University stripped down to their underwear and jumped into a fountain outside the presidential palace in protest that their university was heading down the same path as Universidad del Mar, where the debt papers were stolen from.

Students from Universidad del Mar may actually get away with not repaying a single peso, as attorneys representing them will argue that the contracts were fraudulent in the first place. And Tapia may also get away lightly, as a clause in Chilean law means that because he has admitted what he did, he may get a suspended sentence and serve zero jail time.
You can share this story on social media: